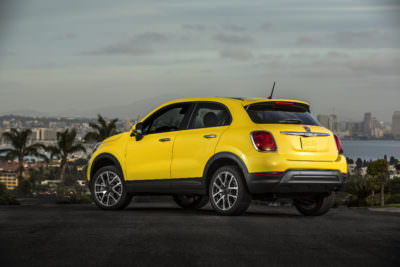 Many cars can play gay, and they do it for the often cash-rich LGBTQ audience. (Yes, everyone thinks that because you are gay, you must be fabulous and rich.) It's sorta like being Gay For Pay in the porn industry: these hot models aren't really gay, but the money is good and they can fake a…compassion.
But some cars are the real deal.  The Fiat 500 in all its transmogrifications is a gay, gay, gay, gay car, 24/7, always and forever. Don't let anybody tell you otherwise.
Believe it or not, the Fiat 500X is consider a crossover SUV. Okay, well, I call myself a lot of things depending upon which nightclub I am patronizing, so I guess you could call the 500X a mini-SUV of sorts.
To be sure, there is plenty of room for passengers.  Whereas most cars with some quirk and 'Italian Flair' (as Edmunds.com calls it) can be parked easily but struggle to get the girth in, the 500X has plenty of interior room, almost 50% more from the first incarnations of the U.S. Fiat 500 that were advertised by Jennifer Lopez and barely had enough room for two adults and a carry-on bag. (That really was almost a generation ago.  Where did the time go, J. Lo.?)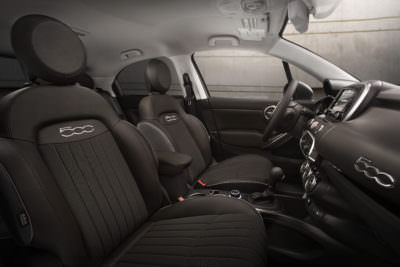 The interior is less on the sides and more in the head, which means that you can get tall people in and out easily with the 500X. While it can hold five adults, it does get a smidge tight, so as always, caution is advised, but consider this: sometimes the party just simply involves more than just you, the love of your life, the love of the day and the cute bear couple that just opened a sandwich shop / counseling center.
If having the power of a roaring engine is important to you, or fuel economy that will save you enough money to buy furniture every month, the 500X is not your car. The engine can sometimes seem sluggish and slow, but once you get on the highway, it does rather nicely. Mileage is a combined 24 mpg, which ain't bad but there is better small car fuel economy out there.
Price-wise, however, this car really is worth consideration.  You can get into a manual for $20K, but given that this car really isn't made for burning up the road (with speed), the automatic transmission would be worth the extra $1,500+.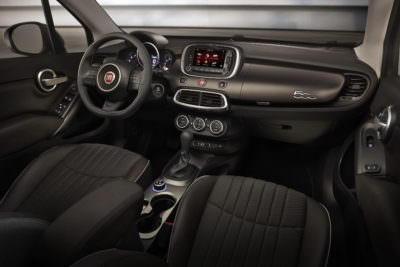 For what it's worth, I was able to get two dining room chairs, two antique end-tables and several large boxes of kitchen goods from a friend's failed marriage into the 500X. Once that was unloaded, the party was on with friends and family who were in need of mini-Priscilla (Queen of the Desert, or Dessert, in this case) adventure to shopping malls and cabarets around town. The fun never stops with the 2017 Fiat 500X…
…which makes it a very, very, very gay car.  See, being gay is all about celebrating life and living it to the fullest every moment.  Back during the horrid days of AIDS, we didn't know how long we had to live so we made every minute count, and that meant LGBTQ life was one continuous party. It had to be, and even though HIV is now a manageable, chronic medical condition, does that mean we should turn off the Bubble Master 5000 and all go back to our desks?
Caution: the 2017 Fiat 500X may make you fully realize that there really is more to life than work.