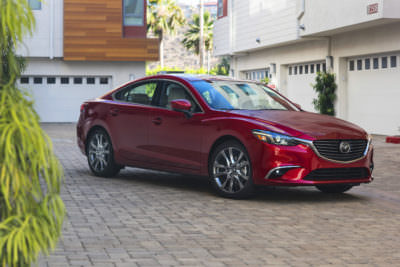 Mazda can certainly be viewed as a survivor, a company that has stayed the course despite some pretty dismal automotive sales over recent years. In the midsized car game, such top-sellers as the Toyota Camry, Honda Accord, and Ford Fusion, all seem to keep leaving the basement dwelling Mazda6 behind.
But why is the most athletic competitor of the group constantly trailing behind the popular set? The Mazda6's tepid sales can probably be attributed to a bunch of factors like marketing, segment saturation, or maybe even perception? I dunno! But here is what I do know, the 2017 Mazda6 is a definite smile inducer and will make you look.
The Mazda6 was refreshed last year and the current model was slightly tweaked. Giving the family sedan the once-over, I was drawn to its taut muscular stance and Euro-like design highlighted by a coupe-like roofline, wide fender flares, trapezoidal grille, dual chrome exhausts, overall nice lines and graceful swoops. Overall, the vehicle's rakish and brawny look flowed.
Sitting inside the Mazda6 I was pleasantly surprised by all of the wonderfully executed placements and high-grade materials–soft touch surfaces, neat stitching, everything fitted together so nicely. For a New York minute, I thought I was sitting in a luxe number as the Mazda6's interior is truly class-leading with supportive and well-bolstered seating, headroom enough for talls not to slouch and ample legroom all around.
Zeroing in on the Mazda Connect infotainment center with voice control and text messaging capabilities, there was a rotary dial that operated an uncomplicated 7-inch color touchscreen display. The graphics on the screen were vivid and all operations, intuitive. The tilt/telescopic steering wheel design looked like a part on a sporty hoity-toity model. A panoramic roofline on the Mazda6 would have really been the pièce de résistance on the sedan but unfortunately, the automaker is not there yet. Storage was just enough for the average Joe's needs. Cargo space was a smidge on the chintzy side at 14.8 cubes which put the Mazda6 behind the segment pack. However, the trunk does open up very wide so feeding it bulky stuff is a no sweat feat.
The front wheel drive Mazda6 comes in a 2.5-liter four-cylinder engine that pumps out 184 horsepower and 185 lb-ft of torque. Taking the Mazda6 (Grand Touring) on the road, I found it handled better than many of its formidable four-cylinder, four-wheeled, haters. The family sedan was agile, responsive, transitioned smoothly and did not jar me around when I cornered thanks to its G-Vectoring Control technology that improved precision and grip. The overall visibility on the five-seater was great. The vehicle's steering was tight and on center, brakes were firm. Even though the Mazda6 had some spirited slick moves, I only wish it were offered in a turbo for a few white-knuckle thrills. On the fuel front, the Mazda6 was a pretty cheap date, 26 city/35 highway.
There is an ensemble of noteworthy standard safety technologies in the Mazda6 such as airbags, antilock brakes, traction and stability control, rearview camera, and rear parking sensors. Other trims can come equipped with blind-spot monitoring with rear-cross traffic alert and forward mitigation, lane-keeping assist, automatic high beams and forward collision warning. The government agency, National Highway Traffic Safety Administration awarded the 2017 Mazda6 their highest five-star rating for overall safety.
If you're in the market for a family sedan, you might just stop kicking tires after checking out the 2017 Mazda6 because it will definitely hold your attention. Great reflexes, easy on the eye, the Mazda6 is truly a compelling choice.
Prices start at $21,945, Need more info? Visit MazdaUSA.com.