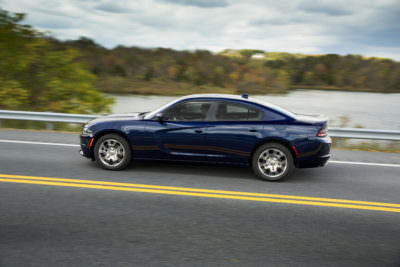 The Dodge Charger has pretty much always been an attention-grabber. For as long as I can remember, the Dodge family member has had an in-your-face sporty automotive design, ballsy balance of power and weight, and a kind of road-demon-in-street clothing rep. Even though in later years, the Charger became domesticated in a sense by morphing into a family sedan, don't get it twisted: it still maintained its muscle car DNA.
The 2017 Dodge Charger is certainly no punk. Yep, it looks mean with its unique chiseled exterior styling cues like sinister looking front and rear end (depending on which model—exterior hood, roof and deck lid graphics, side sills and spoiler), as it snarls, grunts and it makes its way around, yet, it is far from uncouth!
The performance-oriented full-sizer is actually quite family-friendly and welcoming once you settle inside. With wonderfully bolstered seating that soothes finicky backs, the Charger's innards offer palatial spaciousness for five. The iconic nameplate's cabin décor is not fussy but attractive and straightforward. The higher you go in trim, the more attention you'll notice was given to the vehicle's interior like Nappa leather seating, embroidered seat backs, Tungsten accent stitching, glossy and aluminum accents. The quality of the materials used inside the Charger is not that far from first-rate, and the retro-inspired touches add some nice flava. The sweep of the dash is driver-focused with a gauge cluster that is clear and the user-friendly touchscreen interface offers sharp graphics and quick/intuitive processing time.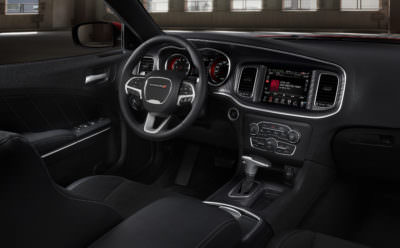 On the technology front, the Charger gets a standing ovation for its Uconnect voice command system that includes hands-free calling and voice prompts–it's a system that does not frustrate! Bluetooth pairing in the Charger is a cinch, and so is using the available nav system. There are also two USB ports and two 12-volt power outlets in the car. The sound system in the Charger is the absolute shiznyee! The available BeatsAudio pumps out primo sounds via 10 speakers and there is also a 19-speaker Harmon Kardon system.
Muscle cars come with a safety badge too! The Charger's standard safety features include antilock brakes, airbags throughout, active head restraints, traction control and electronic stability control. Other available noteworthy safety features include: full-speed forward collision warning with active braking, lane departure warning with lane keep assist, rear park assist system, and rear cross path detection. NHTSA awarded the 2017 Charger an overall safety rating of five stars.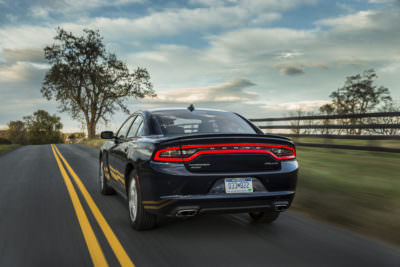 There are eight trims in the Charger line—SE, SXT, R/T, Daytona (tester), R/T Scat Pack, Daytona 392, SRT 392, SRT Hellcat (which at 707 horses, you should probably seek a doctor's approval to drive this one). At highway speeds, the 370 HP, 5.7L HEMI, V8 engine Charger Daytona gets mean, which translates into…well, it'll keep you awake for the entire ride! A total show off, the Charger is sporty, fast and furious; you can feel its heft, but this doesn't stop it from still being very maneuverable. A no-nonsense accelerator, real road-hugger when cornering, along with its precise steering, stability and all done with a beastly growl, the Charger takes driving to a fun level and making other drivers VERY envious. At the pumps, the Charger is not that far off from being a teetotaler at 19 city/30 highway.
The 2017 Dodge Charger is a formidable muscle car that has nevah been a sideline player, and one that definitely won't lose its badass with mucho swagger status anytime soon!
Prices start at $27,995. Need more info? Visit Dodge.com.