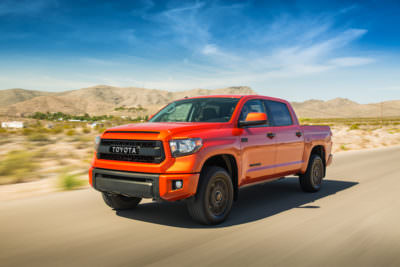 I love trucks whenever I feel like playing dress-up as a cowboy, a cop, a seaman or a construction worker. (When I want to play leather daddy, I try to get a motel room.) Trucks were always a lot of fun for play as a child, or so I'm told, as I liked handling cold hard cash as a kid, as well as redecorating Barbie's Malibu dream house.
As adult, however, trucks need to be taken more seriously, as the fun can quickly turn dangerous with the wrong vehicle or wrong trick. My advice is not to get near a truck unless you need one (helping boyfriends move every month doesn't qualify), or have a pile-driver who knows how to steer and accelerate safely.
The 2017 Toyota Tundra 4×4 TRD Pro is a fun truck that acts like it's ready to go down the Slip 'n Slide with your butt firmly in its hands, and indeed it is ready for all kinds of off-road water and land sports. Take caution, however, because it is also a big truck that needs to be taken seriously and really should be pampered, just as your first wife from the Hamptons demanded. Well, no, this is a workhorse truck and it can take a lot of abuse, by why would you want to do that to such a loveable beast, even if he wants you to flog him and stick his face in the mud?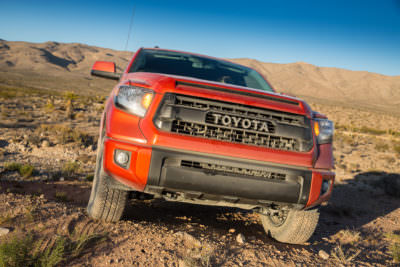 This is a truck for serious off-road activity. It's a full-size truck, can tow more than five tons and comes in all kinds of gay colors like Sunset Bronze, Blazing Pearl Blue and "Inferno", all of which sound like some of my ex-boyfriends during the day. You can get into the Tundra for just over $30K, and if you need a solid work truck and aren't one of those Miss Nancy or Aunt Fancy types (like me), then this base model should work well for you. Standard features include 18-inch steel wheels, keyless entry, Bluetooth and even a CD player. Yet if you want to go off-road with serious conviction, you should check out the 4×4, or the Tundra TRD Pro….
Admittedly, if you are considering a monster truck, the Toyota Tundra TRD Pro in all its incarnations is catching your eye. Plus, you also can't help but also notice the Ford F-150 Raptor, which is also an off-road brute in this Mr. Extreme Bear contest. Last century, closeted gay comedian Paul Lynde replied, when asked about the difference between a pixie and a fairy, "looks aren't everything".  And indeed, that surely applies here.  Still, take a look for yourself, or better yet, my buddy Tim Esterdahl (a big butch brute by every stretch of the imagination) has already done the comparison for you.  Click here to see what he found as the true difference between the Tundra TRD Pro and the Raptor. Sometimes, you just shouldn't say yes to the first brute who can take you into the wilderness. Take 'em all for a spin to see how they handle your dirt.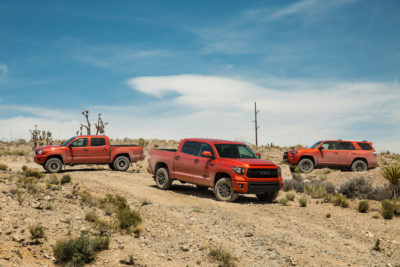 As more and more gay mecca dwellings offer less and less, even a midsized vehicle becomes out-of-the-question, as sometimes you don't even get off-street parking for a cracker box that costs $200K. Like a lot of wild animals, the 2017 Toyota Tundra needs room.  You can't enjoy it if its kept in a cage most of its days. You need land, lots of land under starry skies above.  'Don't Fence Me In', you can hear it calling. No one should ever be fenced in. Or fenced out.
When will Trump supporters learn that they can't even see a doctor or take a crap without people from around the world, especially south of the border, assisting them?