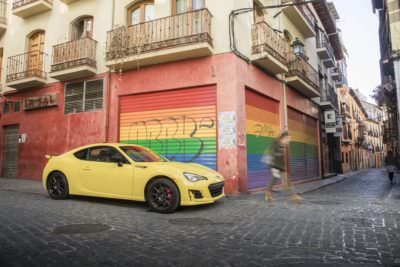 Some automotive mash-ups make you wonder who was driving the projector when they were presented, but the Subaru BRZ is not one of them. It may be an automotive mutt, conjured between Subaru and Toyota, but it turned out to be a pretty spunky little sports car with quick moves. It's especially fetching in Limited trim.
Whether you choose the BRZ or its counterparts, the Scion FR-S and Toyota 86, there's not much deviation in style. There's a hint of other Subarus in the squared taillamps, and the LED headlamps shine bright, but it attracts eyes with the long curvy hood/short bespoilered deck proportions. From some angles, it looks like a Japanese Porsche Boxster, though the BRZ's engine resides up front. Classic proportions should prove timeless. I especially like the 17" wheels fronting red Brembo brake calipers.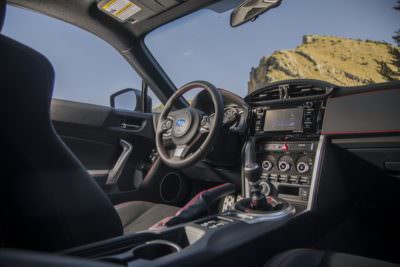 Sliding into the seats, the BRZ's relative practicality comes into focus. Sueded inserts with red stitching grip you in corners, but are cushy enough when just heading to the galleria. There's enough legroom for taller drivers, but only kids fit in what are supposedly rear seats. Start by gripping the sporty leather-wrapped steering wheel and looking at the Porsche-inspired gauge cluster with tachometer front and center. Dual-zone automatic climate control, touchscreen, and push button starting add a few conveniences. A rearview camera enhances safety.
While the rear-drive BRZ is the only Subaru without all-wheel-drive, it adheres to the family tree under the hood. That's where you'll find a 2.0-liter horizontally-opposed "Boxer" four-cylinder engine that kicks out 205 horsepower and 156 lb.-ft. of torque. You have to row the snick-snick six-speed manual transmission and rev it near the 7,000 rpm redline to extract power, but once you find the sweet spot, it howls and moves out. Fuel economy ratings of 21/29-MPG aren't particularly impressive, but rise by three MPG if you choose the automatic transmission.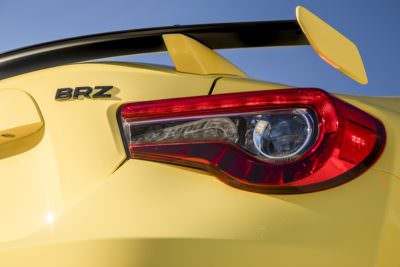 Friends have compared driving the BRZ to the Honda S2000. I'd say that's high praise – and deserved. Like the S2000, steering is quick, the short-throw shifter feels delightfully mechanical, clutch action is light, and you have to rev the snot out of the engine. Lightweight, rear-drive with limited-slip differential, and the flat-four's weight low down in the chassis provide exquisite balance. There's even enough trunk space to load up and get away for a week (but, pack carefully).
If there's a key downside to the BRZ, depending on your viewpoint, is the lack of a removable top. Porsche sells plenty of Caymans, but I suspect most sports car buyers would like the option of ingesting open air on nice summer evenings. Unlike the Mazda Miata or Fiat 124 Spider, the BRZ is always tightly sealed. I can't help but think how much better it would be with a targa panel you can throw in the trunk.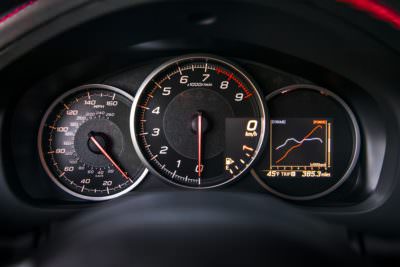 It doesn't really matter who created this child of mixed-marriage; all that matters is it works. The BRZ would be better with a convertible option, but it's a pure sports car that is perfectly livable whether you want a weekend toy or a daily driver. The fact you can buy one for a base price of just $25,495, or $29,660 as tested, seems almost a dream. Drive one while you can.
Storm Forward!
Watch Casey's video of the Subaru BRZ above, then follow him on YouTube and Twitter: @AutoCasey.
2017 Subaru BRZ Limited
Four-passenger, Rwd Coupe
Powertrain: 205hp 2.0-liter Boxer-4, 6-speed manual trans
Suspension f/r: Ind/Ind
Wheels f/r: 17"/17" alloy
Brakes f/r: Brembo disc/disc
Must-have features: Chassis, Powertrain
Fuel economy: 21/29 mpg city/hwy
Assembly: Japan
Base/as-tested price: $25,495/29,660