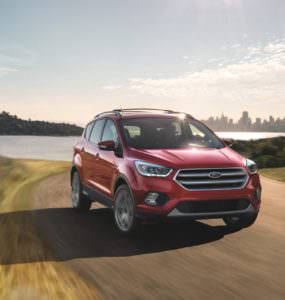 We here at Gaywheels.com realize that some of you want (and perhaps need) a car that doesn't scream or even whisper "gay".  You need something that comes off very straight-laced with no hint that there is a rainbow, taffeta, mimosa or Elaine Stritch hiding inside the cabin.  If you need a great car that doesn't say gay no matter how hard it tries, have we got the perfect downlow car for you.
The 2017 Ford Escape is one of those cars that, if put in a lineup at the Pride parade, might be left on the sidelines with its cucumber water and wrist corsage melting. The Escape is the kind of spouse your parents said you should marry: not exciting and may indeed be dull in a truck stop restroom, but it is reliable, frugal and will stand by you no matter what ditch in life you happen to careen into. If you are marrying for love and not money, this may be the car to which you give the rose.
Fans of the 2017 Escape include U.S. News and World Report, which lists the crossover as a Finalist for both its 2017 Best Compact SUV For the Money and 2017 Best Compact SUV for Families awards. It's a bit unfair for me the call this year's Ford Escape a Plain Jane, but I didn't feel very sexy driving one that was a simple beige-and-sand dollar swirl color on the outside. But that's the point. This car is for people on a mission: save money, maximize space, haul people and projects and get there and back in one piece.  There's not a whole lot of sexiness in those tasks, but this year's Escape (or in Spanish, Es-cop-pay) clearly gets the work done. (Variations on sapphire, onyx and oxblood are also available for the exterior.)
You can get into the Escape for under $24K and still get the average mpg of 23. There are just three trims, with the top hottie coming in at just over $29K. I tested the midrange SE trim, and I will admit, I felt midrange but comfortable (but no matter how comfortable I get with all things heterosexual, I am not going back; not that I ever was convincingly straight, mind you).
There is some prettiness inside the car.  I just love the touchscreen graphics, which are simple and clear and for me came in a shade of talcum powder blue (not to be confused with prom dress bluebird or crushed velvet tuxedo blue). Ford got rid of its MyFordTouch infotainment system because, well, there were concerns.  This year, a new system called Sync 3 is installed and it works nicely, at least when playing the best of Darlene Love and Ronnie Spector. (An upgrade to a Sony audio system is available, and, no, that's not a Bang and Olufsen, but for powerful singers like Darlene and Ronnie, two classic breeder and queer favorites, such amplification is not necessary).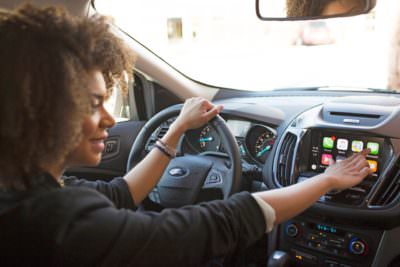 This is a small crossover vehicle, so it parks like a small car (hooray!) but it has room like a bigger sibling who still has room to grow (double hooray!). Steering seemed to be a little off for me, but power and acceleration were impressive, and that helped me feel better about myself while pretending to be an orientation that I am not.
Seems like everybody loves this car, just as Everybody Love Raymond (a top breeder TV favorite, right up there with ThirtySomething). It's a practical smart crossover, so you would think that would make it a gay car, but if you need something to fly your pride flag every minute, this may be a bit of a letdown.
The Ford Escape is proof that heterosexuals are more boring that LTQGBs but they do serve an important purpose on the planet.  If you need a car that really is gay but can act straight in public, this is it.
Gosh, that sounds so queer…