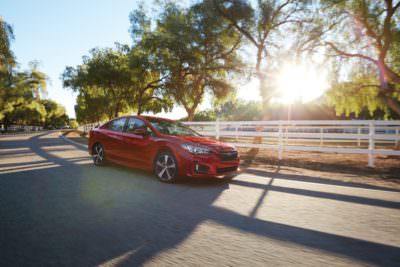 In recent years, Subaru focused its efforts on the Outback, Crosstrek, and developing its upcoming three-row crossover. In the middle of that onslaught, was the BRZ sports car. But now, minds are focused on the Impreza compact and an all-new model has our attention.
You may be a little hard pressed to detect the Impreza's all-newness from the curb, but take notice. Look for its styling themes to become part of Subaru's design language going forward. Our Sport model wears Subaru's trademark grille, but rendered in black alongside black surrounds for the vertical LED running lights in the lower facia. Look close to notice a heated wiper park.
Along the side, there's a line that trails off the front fender and becomes inverted as it flows rearward. It looks great over 18" alloys. Around back, a contrasting black lower valence, bright exhaust outlet, and black-topped spoiler crank up the attitude. Absolutely get it in Lithium Red Pearl paint. As with all Subarus, the car looks sturdy and tough, but with a bit more sass.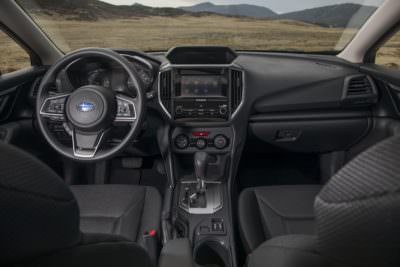 Interiors are vastly improved too, feeling durable and more upscale. Heated canvas seats with rotating headrests hug yourself and go nicely with red stitching on the dash, leather-wrapped steering wheel, alloy pedals, and simple gauges. Check the faux carbon fiber on the dash and doors. Open the power glass roof to enjoy a little fresh air.
Subaru also gave attention to the 8" touchscreen, which is now much more intuitive to use. There are voice controls, Bluetooth, USB, direct tuning for satellite radio, and sweet Harman Kardon speakers. Scroll through channels and music as if on a brightly colored iPad. It's made better with Apple CarPlay and Android Auto compatibility. Press the starter button to get this show on the road.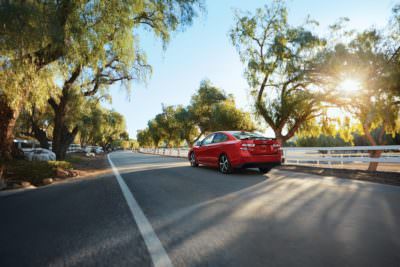 If you asked me what really separates an Impreza from its competitors, the powertrain would be near the top of my list. Under the tightly-drawn hood is a 2.0-liter Boxer four-cylinder engine that delivers 152 horsepower and 27/36-MPG city/hwy. Porsche also uses horizontally-opposed engines because they keep weight low down in the chassis for superior handling. Of course, teaming it with standard torque-vectoring all-wheel-drive and continuously-variable transmission, with seven pre-set "gears" in manual mode, adds to the specialness.
Underway, you start to notice all of the effort that went into engineering. It feels more solid, steering is more direct, and the suspension channels its inner Audi as it simultaneously possesses the ability to glide over rough pavement, ride comfortably on the highway, and still hang curvy roads. I wouldn't argue with more power, but it's pretty good for a sporty compact.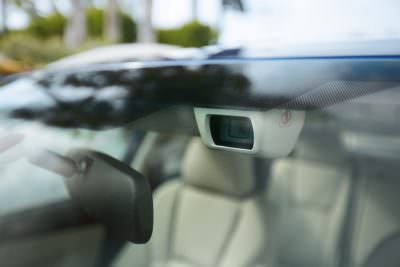 All that, and it's pretty safe too. Subaru's available EyeSight crash avoidance suite employs twin cameras that enable adaptive cruise, pre-collision braking, blind spot warning, lane departure warning, and lane change assist systems. Unlike some competitive systems, EyeSight does not overreact in traffic.
Take the Impreza 2.0i Sport in total. For $26,560, you get a spunky compact sedan with an upscale interior, refined ride, slick infotainment system, and elegant lines. That would be enough, but the Impreza adds a unique powertrain, advanced safety gear, and standard all-wheel-drive. On top of all that, it moves from Japan to Indiana. Count me in.
Storm Forward!
Watch Casey's video of the Impreza 2.0i Sport above, then follow him on YouTube and Twitter: @AutoCasey.
2017 Subaru Impreza 2.0i Sport
Five-passenger, AWD Sedan
Powertrain: 152hp 2.0-liter Boxer-4, CVT auto trans
Suspension f/r: Ind/Ind
Wheels f/r: 18"/18" alloy
Brakes f/r: disc/disc
Must-have features: AWD, Safety
Fuel economy: 27/36 mpg city/hwy
Assembly: Lafayette, IN
Base/as-tested price: $18,395/26,560