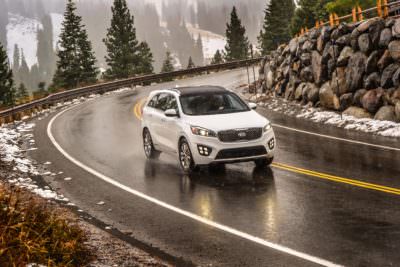 If you're looking for a decent midsized SUV that's powerful, reliable, pretty and functional, a car to consider is the 2017 Kia Sorento.  Across the internet, the 2017 Sorento gets high marks (if not necessarily applause) for its ability to be everything to every buyer, starting at a reasonable $26K for the base L trim, which has few luxuries but many practicalities.
Every trim has an automatic transmission, which telepathically says this car is not for racing but for those days when you need to juggle something other than a shifter. As you go up the food chain, you can get just about any combination of engines, to include a turbocharged one. Front-Wheel Drive is standard but you can get the optional All-Wheel Drive.  In my opinion, AWD is always optional until you need it, so, well, that's just something to think about.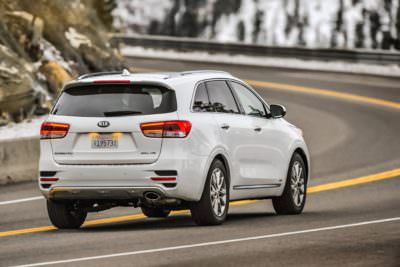 The 2017 Sorento is considered a crossover SUV, which means it lies somewhere in between a shoebox and a double-wide when it comes to interior room, girth and prowess. There is plenty of room inside for four meaty adults, as well as bulk purchases intended to last until the Emmy Awards in September. (If you have not seen Feud: Bette and Joan, your gay card will be suspended until you see it and root for it on Emmy night.)
All kinds of trim levels and packages are available, and if you aren't careful, the price of the Sorento can double by the time you add in everything you want. I had the opportunity to test the Sorento SXL AWD, and I must say, it was fun, reliable and stylish.  And had a sticker price of $46,595. You really don't need a panoramic sunroof or 18-inch chrome-alloy wheels, but extras like forward collision mitigation (to keep you from crashing) are worth consideration. It's too bad you still have to pay extra to protect yourself from poor drivers, including yourself. Again, many combinations exist, so look closely when putting together your spreadsheet of pros and cons.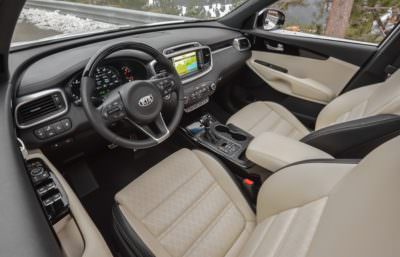 U.S. News and World Report, always a trusted real news source, ranks the 2017 Kia Sorento Number 1 in two categories: Midsized SUVs and SUVs with Three Rows of Seats. This is a pretty high honor for anyone who takes a keen look at information about cars and wants to know everything about a car without having to spend days translating spec sheets. I have to agree with US News: the 2017 Kia Sorento should be a top consideration for anyone looking for a solid middle-of-the-road and price-range SUV…
But honestly, gentle readers, you need to know that Kia still doesn't offer LGBTQ workplace protections for the Qs who make the Sorento. It's hard to fathom why they haven't come up to speed when sister manufacturer Hyundai has.  We have no reason to believe LGBTQ employees are treated badly, but when something goes wrong for these hard workers (and it will), will there be anyone or any policy to aid them?
How nice it is that in 2017, we have only one car manufacturer that has failed to establish protections for some of its most valuable and vulnerable workers.
If we had a woman in the White House, you might even be able to tell me that I'm overreacting….