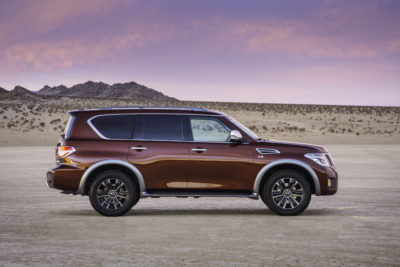 The Nissan Armada has come a long way since its launch back in 2003, when it was known as the Pathfinder's "Country Cousin" and had one of the highest number of consumer complaints listed by Consumer Reports. The latest version the 2017 Nissan Armada Platinum 4WD (a less-expensive version of the Infiniti QX80, kind of like a bear in the Emperor's clothing) looks nice from the outside, opulent with appointments.
Under the hood lurks a powerful beast in the form of a 5.6-liter, 32-valve Endurance V8 engine capable of delivering 390 horses. This Armada has such a smooth ride you might think you were in a Town Car or Caddy–until you put your foot down.
While I was testing the Armada, I got to try out one of its competitors at the same time (which is pretty rare): the Toyota Land Cruiser. Much to my surprise, the Armada was noticeably superior in luxury, power, performance, and overall ride quality. The Armada also benefited from an X factor: it's bigger and badder.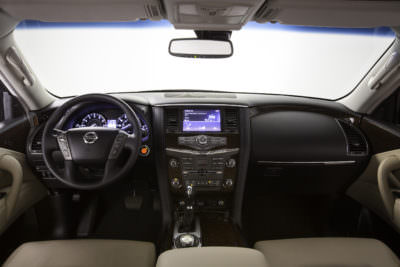 The Armada is able to seat eight human beings of "ample" size comfortably and has a standard towing capacity of 8500 lbs, with a maximum payload of 1584 lbs. In other words, it can haul all the things you'd ever need or want, while keeping everything safe and secure.
It also boasts an impressive list of safety features including advanced airbag systems, dual-stage supplemental front air bags, and front side-impact and roof-mounted air curtains to protect occupants during collisions. An alphabet soup of other safety features can be found, too, including ABS and ABLS (Anti-lock Braking System and Active Brake Limited Slip), along with VDC and TCS (Vehicle Dynamic Control and Traction Control Systems). Also onboard, you'll notice Predictive Forward Collision Warning, Forward Emergency Braking, Lane Departure Warning/Prevention, Blind Spot Warning/Prevention, Backup Collision Intervention, and Moving Object Detection.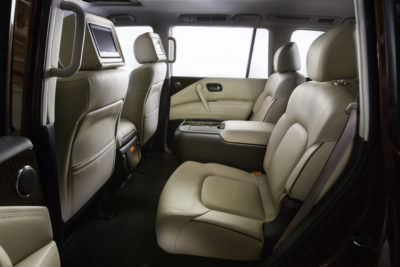 Some of the neat features I liked included the power folding mirrors with puddle lights, heated seats and steering wheel, the tri-zone entertainment system with dual 7″ head-restraint-mounted monitors with wireless headphones, and dual-zone automatic temperature control. All of those creature comforts make for an enjoyable and comfortable ride experience. That goes double if you're like me and have a lot of beary friends, who can behave like children when they're unhappy on a car ride.
So, whether you have a big family or a big bunch of buddies, the 2017 Nissan Armada Platinum 4WD could be the ride you're looking for.
2017 Nissan Armada Platinum AWD SUV
4.5/5 · Edmunds
Model: 2017 Nissan Armada
MSRP: $60,490
MPG: 13 city / 18 highway
Horsepower: 390 hp @ 5,800 rpm
Towing capacity: 8,500 lbs
Engine: 5.6 L V8
Curb weight: 5,963 lbs
Gross vehicle weight rating: 7,500 lbs