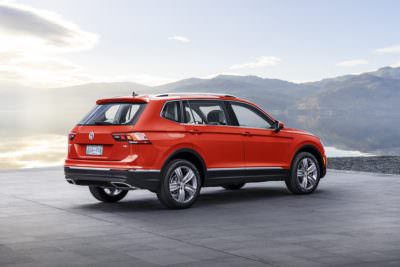 Volkswagen admits up front that it has work to do before it can regain the trust of U.S. shoppers.  It's starting by offering a 6-year / 72,000-mile transferable warranty on the new 2018 Tiguan, which is 11 inches longer than the old Tiguan from 2017.
In short, the all-new 2018 Volkswagen Tiguan is bigger and sexier, and hopefully it can capture an elusive slice of the American car market: that person with the active lifestyle who still needs lotsa room for equipment and people.
The new '18 Tiguan has almost 60-percent more cargo space than the 2017 model, maxing at just over 73 cubic-feet of space. That's also enough room for a third row of seats, which is standard on the base Front-Wheel Drive trims but optional on All-Wheel Drive trims. Que dice? Given that the Tiguan is still considered a small-to-midsize SUV, I would forgo the third row of seats and just pack the cargo space full of stuff.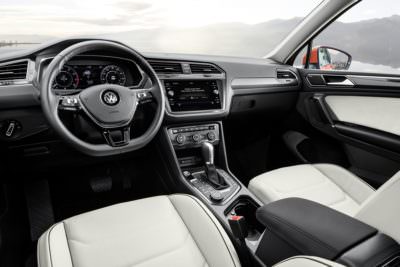 The drive was nice and solid and perhaps not much to write home about. Today, we as consumers expect to have peppy, go-get-em engines all the time, and the 2018 Tiguan does not disappoint there. The engine is a 2.0-liter 4-cylinder turbo offering 184 horses and 221 pound-feet of torque. Average mpg is 23 to 24 depending on the transmission you choose.
To be clear, there is still much demand for the old Tiguan from 2017 and prior, which will continue to be manufactured for at least another two years. The current, or old, Tiguan is less heavy, less flashy and more practical–so much so that practical people across the land bought many of them.  Just in case you like the old ways of the old tiger, know that it will now be called Tiguan Classic, sorta like Coke Classic but hopefully it will meet a better fate.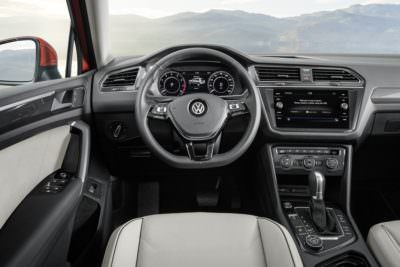 I must say I enjoyed driving the 2018 Tiguan around the Colorado Rockies. It is an attractive car that has many gay qualities, like style, comfort, will and grace. The new Tiguan may take off like a rocket once it arrives in dealer lots.  We shall see.
The 2018 Tiguan goes on sale later this summer. Prices for the base S model with Front-Wheel Drive start at just over $25,000 and will go past $37.5k for the All-Wheel Drive SEL trim, VW's top-tier offering. Standard features will include a rearview camera, stop/start technology (saves on gas), Apple Car Play and Android Auto, and (drumroll, please) Automatic Post-Collision Braking.  It's about time this life-saving technology became standard, but keep in mind that this technology will not prevent the crash. It will just, in theory, keep it from getting worse by applying the brakes more forcefully once the airbag sensors are triggered.  As expected, if you want items like panoramic sunroof, remote start, blind spot monitoring or a Fender premium audio system (nine speakers, 480 watts), that will cost extra.
As before, the Tiguan is taking on some popular competitors, like the Honda CR-V, the Nissan Rogue and the Toyota RAV4. This all-new Tiguan is really stylish looking and quite attractive, so if you can wait, I would advise going shopping once school is back in session. Test drive and compare and see what you think and consider what you can afford, though I am a big fan of automatic braking, whether it is pre-collision or post-collision.
Goodness, is it already time for us to be thinking about returning to school and singing See You in September?  Or Carole King's It Might as Well Rain Until September? Seems like it was Only Yesterday when I was watching Grease and wondering, just like Olivia Newton John and Stockard Channing, what I would be after I graduated….
Indeed, where did my life go?