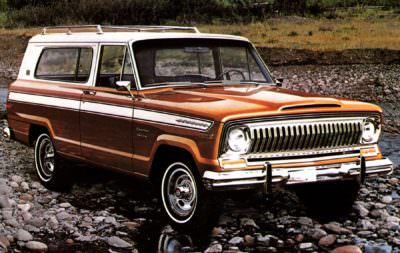 The Jeep Cherokee Chief, with its distinguished white roof and body stripes, was memorable enough that it was reimagined as a concept car a few years ago. But look under the skin and inside the cabin of the baby blue SUV with white striping, and you realize it's just a re-bodied Wrangler Unlimited. Sensing there might be an opportunity for yet another special-edition Wrangler Unlimited, Jeep launched the Chief with much of the Cherokee's and Concept's colored accouterment.
You can get the Wrangler Unlimited Chief in the concept's light blue, but ours arrived in light beige with white stripes and chrome "CHIEF" lettering down the side. I think the blue is cool, but beige rides a bit more under the radar. Around back is another bit of nostalgia where "4-Wheel Drive" is written in classic script on the tailgate. A white top, step bars, and 17" wheels complete the concept car illusions – as do LED headlamps, bull nostril Rubicon-style hood, and big round bumper foglamps.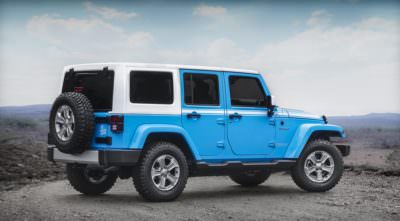 Climb over the useless step bar for access to a very comfortable interior with heated black leather seats, automatic climate control, and leather-wrapped steering wheel. Cranked Alpine audio, navigation, and tilt steering column add summer tunes and convenience. Remote start gets it going no matter the weather. Want sunshine? Click off the hard panels over the front seats or remove the solid roof completely. There's a convertible canvas roof beneath should it rain. Remove the doors, buckle in, and enjoy the day.
Moving this mass of style and off-road accomplishment is a 3.6-liter V6 delivering 285 horsepower and 260 lb.-ft. of torque to the four-wheel-drive system through a five-speed automatic transmission. You can get Wrangler Unlimited with a six-speed manual, but that's a bit agrarian. Get the automatic if most of your driving is on paved streets. Fuel economy is horrendous for what's aerodynamically a brick: 16/20-MPG city/highway.
Supporting the powertrain for serious off-roading is a heavy duty rear axle, sold front axle, locking rear differential, low gear, and electronic roll mitigation. All of that means the Wrangler can crawl over boulders and climb like a mountain goat, but it drives like a big, heavy, fully-framed truck. You don't so much steer as encourage it in the right direction. But, a tight turning radius that's ideal for off-roading enables the Wrangler to maneuver into tight parking spots like a far smaller car.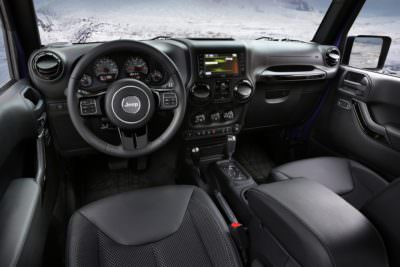 There are two types of Jeep people: Those who love all of that capability (and don't mind the bouncy ride) and those who like the idea of owning a Jeep for about five minutes, then trade them off. Wrangler Unlimited keeps diehards happy while taking the rough edges off for the second group as the longer wheelbase and four doors make it livable. No matter your persuasion; crushing potholes, stomping through a foot of snow, and maneuvering tightly breed happy thoughts. If none of that comforts you, there are other domesticated Jeeps to soothe your urban soul.
It's time for a redesign and the Wrangler will get one in about a year. The interior works well, but is a decade old with a tiny touchscreen and inexpensive knobs and buttons. Expect FCA to bring Wrangler fully into the current decade without losing anything that's made it Chief for over 70 years. A base price of $27,895, or $45,700 as-tested, puts the Wrangler Unlimited Chief against the Land Rover Discovery, Chevy Tahoe, and Toyota 4Runner.
Storm Forward!
Watch Casey's video of the Jeep Wrangler Unlimited Chief above, then follow him on Twitter and YouTube: @AutoCasey.
2017 Jeep Wrangler Chief
Five-passenger, 4WD SUV
Powertrain: 285hp 3.6-liter V6, 5-speed auto trans
Suspension f/r: Solid/Solid
Wheels f/r: 17"/17" alloy
Brakes f/r: disc/disc
Must-have features: Comfort, Performance
Fuel economy: 16/20 mpg city/hwy
Assembly: Toledo, OH
Base/as-tested price: $27,895/$45,700