When you think of old-style glamour and glitz along the lines of the original Oceans Eleven, you think of nightlife, lotsa flashing lights, martinis, tuxedos, men's cologne and jazzy lounge music that sets the bar low enough so you can get high on just the excitement and the smell of men's VO-5 hairspray. Well, to me, that sounds like a good time.
All that glitz and glamour is not going to fit into a small car. You need a lot of room to take that from red velvet casino to posh powder room poker and then for a floating crap game accompanied by the sounds of a talented scat singer. You need room–lotsa room.  In the olden days, the car you drove was a Lincoln Town Car or a Mercury Grand Marquis.  Maybe a Buick Park Avenue.  If you really wanted to look and feel like a cop, you drove a Ford Crown Vic(toria). You needed room and lotsa metal–and a convenient ashtray that would not interfere with the 8-track tape player's operation….
All those images came to mind as I was driving the 2017 Infiniti Q70, a big snazzy car with a lot of oomph. This car is, believe it or not, considered a midsized luxury sedan.    Inside, you get a back seat that truly envelops passengers, and has all the hints of first class (ya know, warm nuts and a hot face towel). This car is luxurious all the way around, which means it may not be for you if you're having to choose between heat and health care.
I drove the 2017 Infiniti Q70L 5.6 AWD trim.  Does one really need a big strong 5.6-liter V8 engine with 416 horsepower and 414 pound-feet of torque? That's a lot of engine for a lot of car, and if you've ever been on a date with someone who can drink, this car will make all of them look like lightweights.  Add in items like Japanese Ash wood interior trim, leather-appointed seats, heated steering wheel, heated rear seats, power sliding/tinted moonroof and welcome lighting on front door handles, to name a few…and gosh, this traveling Four Seasons hotel might make you feel like you'd rather live here than in your spartan studio/efficiency space at garden/gutter level.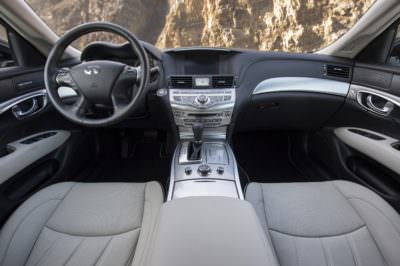 The one I tested has a Monroney sticker of $71,605, but you can get the base 3.7-liter V6 for just $50,100. All this comes with an average MPG of 18, but assuming another Hurricane Harvey doesn't wipe out our U.S. Secretary of State's oil wells, gas prices should remain below $3 a gallon.  There, you feel better now, right?
Hey, this car ain't cheap and neither are you.  Sometimes, as classy people, it takes a lot of money, time and effort to keep us roaring at our best.  It's the same way with beautiful objects, especially cars.  To keep it beautiful, you'll need more than elbow grease.  You will need money, but if you've got the money, honey, the 2017 Infiniti Q70L is great place to park it.
But let's be honest: money isn't everything.  Would you have found that kooky love of your college years had you been in a dorm room in the Hamptons? Would you have found a dream job where you really are helping people if the only cayenne powder in your life were paint flakes from a hand-me-down Porsche?
Then again, would you have been able to fund your own grassroots campaign for elected office like Donald Trump and Dianne Feinstein did?