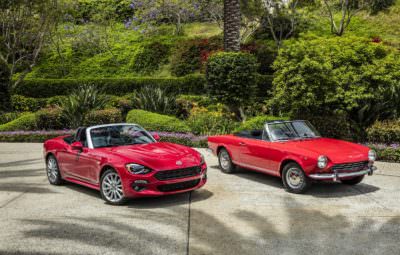 There's a statement on Fiat's USA website that reads, "The best-value roadster in America just arrived from Italy." Yeah, it's not from Italy. It's from Japan, though the engine is Italian. The transmission isn't. You following this? No? OK, then, let me explain.
Unlike the original Pininfarina-designed Fiat 124 Spider that debuted in 1966 and ran into the 1980s, the current edition is essentially a Mazda Miata with Fiat body and engine. The student has become the master as Fiat sought Mazda to build it a classic roadster. Before you start screaming things that would have made The Golden Girls' Sophia Petrillo blush, this is molto buona!
The Mazda Miata is a sweet little roadster with a high-revving, normally-aspirated four-cylinder engine. It can change speed and direction as if it's Fred Astaire on rocket skates. The manual soft top deploys using the "Miata Hat Trick" (bend backwards and pull forward) from the driver's seat. And, the body structure squelches squeaks, creaks, and rattles common in convertibles. But, I think Fiat does one better with the Spider 124 Lusso.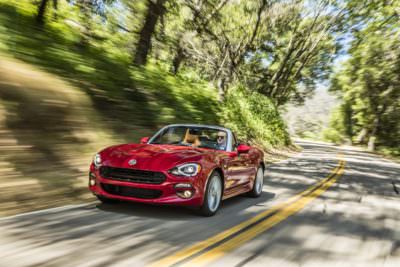 While the original Spider was designed by Pininfarina, this one isn't – though it is designed by Fiat in Italy. The mesh grille shape, large round projector beam headlamps, fender upturn towards the rear, and rectangular taillamps all connect to the original. There's nothing like seeing that long hood stretch out in front of you from the driver's seat. Dual chrome exhaust tips, silver windshield header, silver rollbar covers, and 17" wheels bring it up-to-date. It's a thoroughly modern roadster that recalls its heritage.
The tight interior is pure Miata with a few flourishes. Large analog gauges with tachometer center, thick leather-wrapped steering wheel, and supportive heated leather seats are a start. Piano black accents and Mazda's joywheel-and-screen infotainment system betray their origins, but Fiat dresses the Spider with stitched upper and lower dash coverings – very classy. Automatic climate control, audio with headrest speakers, Bluetooth, and a storage cubbie between the seats add convenience. Our car added a back-up camera, rain-sensing wipers, blind spot warning, rear cross path detection, and front proximity sensors to enhance safety.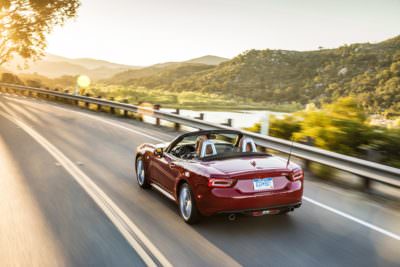 You have to rev the sake out of the Miata's engine to roll it along, but Fiat provides its own engine. The turbocharged 1.4-liter four-cylinder engine delivers 160 horsepower and 184 lb.-ft. of torque, giving it nice low-end torque and easy cruising on the highway. The engine connects to Miata's last-generation six-speed manual transmission, which still links to one of the world's most enjoyable shifters. A six-speed automatic transmission is available, but that's just wrong. Fuel economy ratings of 26/35-MPG city/hwy. mean the Fiat drinks as if sipping espresso.
Comparing Fiat to Miata is like portioning spaghetti and meatballs to sushi. Sure, both have carbs and nicely-packed protein, but they take diverging paths. The Miata is an icon, styled and powered to look and rev like the high-spirited roadster it should forever be. The Spider Lusso takes the best of the Miata's chassis, handling, and interior, but calms the Touring suspension for a softer ride, imbues gentle torque for smoother take-offs, and uses a transmission that's less temperamental. I could go for either car depending on the day, but I may choose the Fiat 124 Spider to drive every day.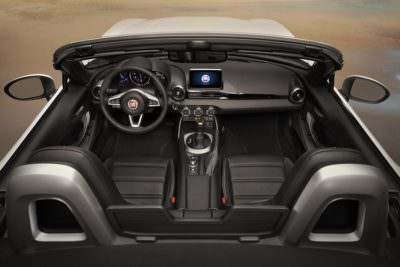 The Fiat 124 Spider is not simply one of the best sports cars available today; it's one of the best sports cars available ever. That's a credit to Mazda's engineering, Fiat's flair for style, and the marriage of the two making each better. In the end, who cares where it's built if it turns out this good? If you want a nastier Fiat, there's always the track-ready Abarth edition to tighten it up. A base price of $24,995 – $29,985 as-tested – puts it against the Subaru BRZ, Toyota 86, and BMW X4.
Storm Forward!
Watch Casey's video review of the Fiat Spider above, then follow him on YouTube and Twitter: @AutoCasey.
2017 Fiat 124 Spider Lusso
Two-passenger, RWD Roadster
Powertrain: 160hp 1.4-liter Turbo-4, 6-speed manual trans
Suspension f/r: Ind/Ind
Wheels f/r: 17"/17" alloy
Brakes f/r: disc/disc
Must-have features: Handling, Drop top
Fuel economy: 26/35 mpg city/hwy
Assembly: Hiroshima, Japan
Base/as-tested price: $24,995/29,985