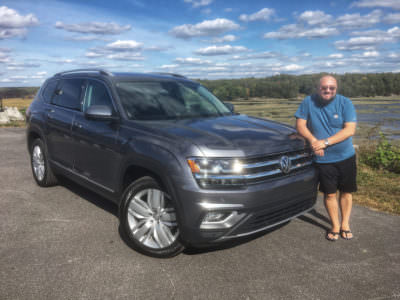 Imagine giving a big queen like me the keys to a 2018 Volkswagen Atlas V6 SEL Premium with 4Motion and allowing me to drive up and down the Atlantic coastline of Maine. Naturally, I had a blast and couldn't help but think about that very cheesy and very faux-gay 1980s TV show Murder, She Wrote, starring gay fave Angela Lansbury, the second Auntie Mame in the Broadway production of Mame. Cabot Cove, Maine, was the fictional city where a murder took place every week as part of a normal Sunday evening of family entertainment of television. How 80s gay is that?
I loved driving the Atlas.  It was an easy-going, non-invasive procedure to motor up and down every road in the Pine Tree State–smooth, elegant, calming, just like a bubble bath. I ate pounds of lobster and enjoyed every bite, no matter how it was prepared.  Maine lobster, soft music and the VW Atlas…hey, this will be an entire paragraph in my holiday letter.
How do I love the Atlas? Let me count the ways.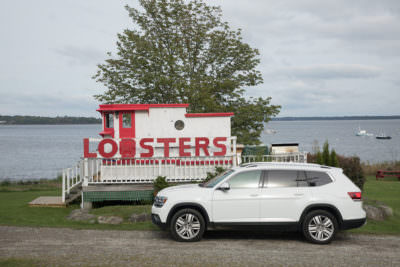 For starters, Volkswagen is offering a six-year, 72,000-mile transferable warranty on nearly every 2018 model, including the Atlas. Volkswagen admits that it has a lot of trust to earn back, especially with American customers, but it also wants to broaden its appeal, and a warranty like that will certainly help.
I also love the Atlas' size. The SUV can seat seven people rather well, assuming the total human tonnage is indeed well under one ton. Few people actually buy a seven-seat car with the intent of carting around seven adults every day.  This feature is more for families who need a lot of room, even when a little room will suffice.  Sure, I can (maybe) get everything in a carryon suitcase, but if I can get two bags checked free at Southwest Airlines, why not take the extra clothes and leather gear and fly?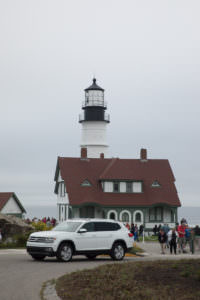 Admittedly, fuel economy is a bit of a concern, coming in at a combined 19 mpg, but to me, it's a trade-off.  Yes, I could get better mileage from a compact SUV, but how cramped am I going to be?  Sure, I could get a better airfare if I fly at 5 a.m., but when I factor in baggage fees and lack of sleep, how much is it really costing me?  Again, just something for your consideration.
Simply put, I like the brand-new VW Atlas.  If you have family (and also need to do occasional butch jobs) and don't want to be an efficiency expert every time you go shopping, you should check out the Atlas, which starts at $35K. U.S. News and World Report ranked it number one in the Midsized SUV category (tied with the Toyota Highlander Hybrid, another good car) as well as in the SUV-with-three-seats category (also tied with the Highlander Hybrid). That's no small accomplishment for the brand-new kid on the block. I remember when Volkswagen first introduced an SUV to the American market, long after most other manufacturers had a variety of offerings in the category.  I expected it to bomb, but almost right out of the gate, the Touareg was a big hit. VW has proven more than once that it can rise from the near-dead.
In the midst of all the political and societal turmoil being generated and perpetuated by Donald Trump (let's call the disease what it is), I often long for a simpler time, at least in TV Land.
Ya know, when we were entertained by one murder a week in Maine.