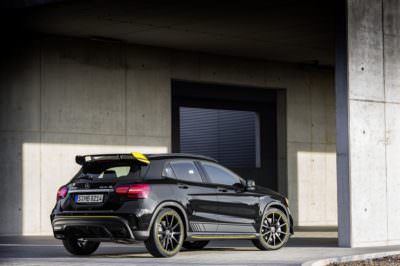 So, yeah, this be-winged and be-dazzled Mercedes arrived a few days ago – in Kryptonite Green Metallic paint. All I could shout was, "Holy Guacamole!" Which, is the polite way of saying, "Super shiz, Batman, what in Gotham is that?" Well, as it turns out, that is the 2018 Mercedes-AMG GLA45.
The basic car is the GLA crossover, but there's not much shared beyond the body shell and dashboard. Ride height is dramatically lowered over 20" AMG alloy wheels and the car sports a bolder grille between LED headlamps. The aero package adds more aggressive front splitter, styled rocker extensions, and rear hatch spoiler. Add on the AMG Night Package for gloss black trim. Whether looking at red brake calipers through the big wheels or getting an eyeful of the car's menacing face in one's rearview mirror, the GLA45 looks ready snarl its way around a track or flash wing to little pretty poseurs.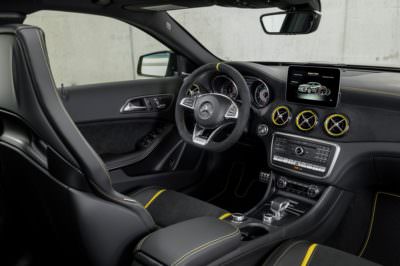 It takes a little practice to wiggle into the suede and leather sport seats, but once installed, driver and passengers sense the car's potential. A thick leather and suede steering wheel, AMG specific dash insert (no wood here), and stitched dash coverings feel truly special. Hard plastic on the console, not so much. Fitting full-frame adults in the back is not such a hot idea, but kids will love it. Power open the rear hatch and toss in a few duffle bags for a weekend away.
On the other side of the comfort equation are dual zone automatic climate control, heated front seats, and Harman/Kardon LOGIC 7 surround sound. It's the perfect audio system, whether rocking out or seeking tranquility. A rearview camera, rain-sensing wipers, and navigation add convenience. The joywheel and screen infotainment system is not the easiest to use, but becomes more intuitive with practice. Lane departure, front collision, and blind spot warning systems stamp the safety card.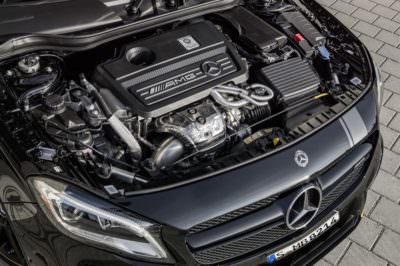 Given what's hidden within its snout, there's good reason for all of the winged accoutrement. Hang onto your kabobs because the little turbocharged 2.0-liter four-cylinder engine whollops out 375 horsepower and 350 lb.-ft. of torque. Power is sent to the 4MATIC all-wheel-drive system through a 7-speed paddle-shifted automatic transmission. Summer tires allow rapid acceleration up to 167 mph. Accelerate less rapidly to see 22/28-MPG city/hwy.
My husband, daughter, and I love to see fall colors. So, we found a pumpkin patch in a cool resort town a couple of hours away. The roads there and home are curvy and hilly – perfect for some AMG seat time. I flipped through the driving modes until settling on "Sport", which enables a more enthusiastic throttle response combined with the Comfort suspension setting (Comfort mode softens the throttle response while Sport+ stiffens the suspension). In no mode is the AMG GLA45 an old-school Mercedes with soft suspension. No matter as it chewed through the curves like a champ, never putting a wheel wrong. My passengers were just glad to get to the pumpkin patch, where they filled the car's little cargo hold.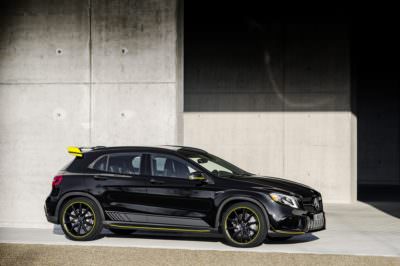 I had a hard time understanding the Mercedes-AMG GLA45 at first. A base price of $50,600, or $71,605 as tested, puts it about $20,000 more expensive than cars like the Subaru WRX STi, Ford Focus RS, or Honda Civic R. For the price of our car, you can buy a very nice E-Class Coupe. It seems younger buyers would go for the lower-sticker rockets while Mercedes aficionados would prefer the gorgeous E-Coupe. But, driving is understanding. If you can afford the sticker, you'll enjoy the drive.
Storm Forward!
Contact Casey at [email protected] Follow him on YouTube and Twitter: @AutoCasey.
2018 Mercedes-AMG GLA45
Five-passenger, AWD Compact
Powertrain: 375hp 2.0-liter T4, 7-speed auto transmission
Suspension f/r: Elect. Ind/Ind
Wheels f/r: 20"/20" alloy
Brakes f/r: disc/disc
Must-have features: Style, Performance
Fuel economy: 22/28 mpg city/hwy
Assembly: Rastatt, Germany
Base/as-tested price: $50,600/71,605