Before we start talking about this groovy little hybrid, our gentle readers should know that as of now, Kia still does not have any protections in place for its LGBTQ employees.  Oversight? Possibly. Lack of civil rights and protections are often chalked up to being just an 'oversight'. Just sayin'.
---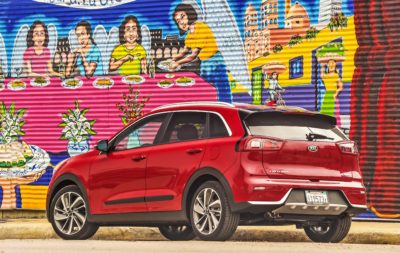 Every major automaker in now has some sort of hybrid or even electric car offering, so it makes sense that one of the newer kids on the block, Kia, would follow suit.  The shift to hybrids and electrics is a big trend in the car game, and Kia has cleverly hopped on the bandwagon by leveraging America's endless love of SUVs.
Introducing the brand new 2017 Kia Niro, a hybrid 'subcompact' SUV that's more small car than SUV, but it does have a certain 'something' to it.
There are really only two numbers to keep in mind when considering a Kia Niro.
First number: $22,890. Nowadays (post dinosaur, that is), that's a great starting price for a new vehicle, especially one that offers some room and excitement.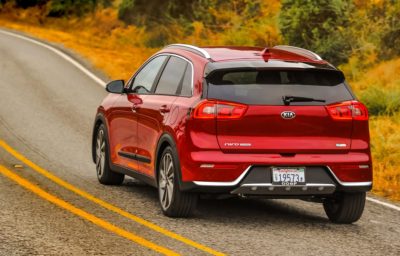 Second number: 52 mpg in the city. We here at Gaywheels know that you're spending far too much of your money and your life paying for the "privilege" (as some Republicans would call it) of having a job and renting a cracker box that is little more than a half-million-dollar home. Girl, you gotta save your coins where and when you can.  In addition to being a (kinda) functional, smallish SUV with some zip, the Kia Niro can be what you need when you want to splurge at Costco and carry everything home in one trip. Plus, it seats five non-bears.
Performance is decent IMHO. For a hybrid, it drives rather seamlessly, and that's always welcome, given that hybrids can be a challenge (e.g. it sounds like the car dies when you're at a stop light) for even the best drivers. I think Kia is onto something here.  I think.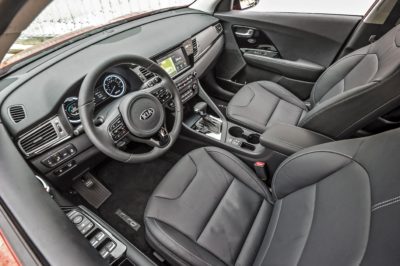 U.S. News and World Report sees the brand new Niro as Kia's attempt to build a car that will  "fit in rather than stand out". Whereas Kia's style in the past was to stand out and proud in the crowd, the Niro does blend in, perhaps a bit too well, as I can't say there was anything over-the-top or fabulous about it. That's bad news for you out-and-about TLQBG types, but for those who prefer more subtlety, you should check out the new Niro–which is thankfully nothing like the old Nero.
Should you buy it? I'll be honest: I rarely advise anyone to purchase a brand-new model during its first year off the production line, when problems are prone to pop up. I'm not entirely sure what to make of the Niro, so I'd wait to see what's in store for 2018, which is just around the corner.  I guess I'm also waiting to see if any of Kia's big cheeses discover that "oversight" in LGBTQ employee protections.
To date, I've already given Kia more time than I would have given the Brawny Paper Towel guy or any other man who has asked me to give him some time….