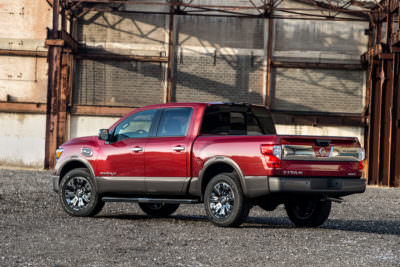 Sometimes, words just catch your eye:
"It can still pull a respectable load, and it doesn't feel strained while doing so."
That's what U.S. News and World Report says about this year's Nissan Titan, and let's be honest, a gay man like me couldn't have written a more gayly clever phrase. When you can do a load and not feel like you're straining, what's not to like?
The Nissan Titan has struggled to be taken seriously among the other brutes in its class, including classics by Chevy and Ford. For 2017 though, things are looking up. The Titan got an entire makeover this year, resulting in a more-upscale cabin, a big improvement over the utilitarian interior that used to entrench the Titan of yore.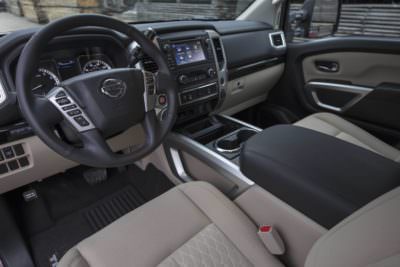 Of note are 2017's big-ass seats for, ya know, big asses. It's about time a truck maker realized that its buyers are not petites like country-western heartthrobs Luke Bryan or Jason Aldean. This year's seats provide more room for the man of size who really can't stop eating meat and potatoes, no matter how hard his spouse tries to curb that appetite. I will admit, my big manly frame (giggle) enjoyed not feeling like I was trying to squeeze into a jump seat.
You can get into the basic Titan (single cab, short bed) for just under $30,000, which is a pretty good price for a brand-new truck.  Mileage is combined 17 city / hwy, so your annual fuel costs will most likely go over $2,000. Wow, that's a lot of money, but when you are this big, well, you drink a lot…of fuel. That's because the standard engine across the Titan family is a 5.6-liter V8 engine that offers 390 horsepower and 394 pound-feet of torque. At this base level, you get a base truck, to include vinyl floors that can be cleaned easily. There aren't a whole lot of butch effects standard at the base S trim, but as you move up the wish list, you can mix and match as you desire.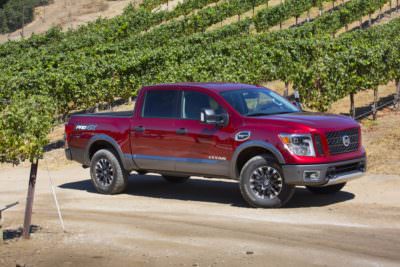 I got to test the Pro 4X 4WD CC trim, and as I came down the street, everyone noticed…because I took up so much room. Then again, this is not a street vehicle.  This is a truck, and almost all trucks are working trucks. Their DNA says they really should be working. Caution is always advised when buying something for work when you really have no intention of going to work.  Just saying.
(For simplicity's sake, the regular Titan is different from the Titan XD, which has a Cummins diesel V8 engine, as well as being more of a show pony than its plain-Jane harder working fraternal-twin brother.)
All in all, I like the Titan. In years past, Nissan has be kind enough to loan us one for the annual Gay Pride parade, and there's nothing like coming down a big gay street in a big steaming vehicle that is both beautiful and functional.
And really, kids, when it comes to living a big gay life, does anything else really matter?