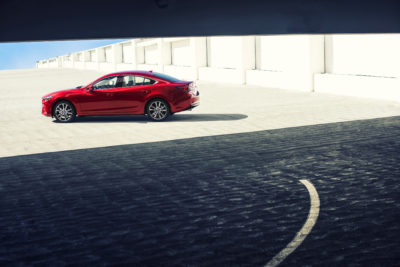 I must say, I enjoyed driving this year's Mazda6.  It's a nice, smooth midsized sedan that has a bit of a sporty feel to it.  No jerking or issues as you drive along the roads of everyday life. Combined mileage is 34-35 mpg, and you can get into one for as little as $22K. It's got some wow-ness to it, but mostly it's a nice, stable car that looks good in Soul Red Metallic or any of the other fancy exterior colors offered. The 2017 Mazda6, the biggest sedan offered by Mazda, is so gay that you almost miss it as it passes by you at an LGBTQ (planned or impromptu) parade.
One thing I really like about the Mazda 6 is how conveniently that dashboard is laid out.  All the buttons for temperature, volume, defrost and other functions are within easy reach–once you get to know the layout of the dashboard, that is. (To be honest, I'm not fond of the new high-tech all-touchscreen dashboard where you have to use the right touch to get to the right menu to do something as simple as change the station when it starts carrying Donald Trump speeches live.)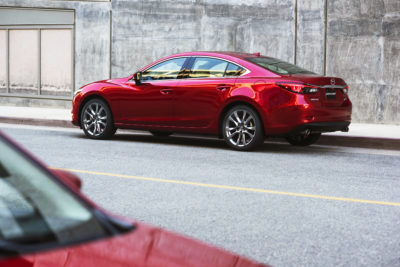 As for safety, the Mazda 6 gets the highest ratings all the way around. The Insurance Institute for Highway Safety gave it its highest rating of Good (yes, that's as good as it gets) and named it a Top Safety Pick, which is very high honor that comes with a sticker worn proudly on the rear driver's side window. In government tests, it earned five out of five stars; again this is as good as it gets. For many people, safety and security are the top concerns no matter what they do.  With the Mazda6, all that is taken care of for you.
The only item I wasn't crazy about was the standard seven-inch screen.  The graphics are simple, and maybe a bit too simple since I am used to seeing a lot of color and glory on dashboard screens.  Yet the connectivity of the Mazda Connect infotainment system is impressive.  Once my phone was connected, that was it.  My phone stayed connected with no issues.  Still to this day with many manufacturers, you really do need to thoroughly check out how it works with your phone and other devices.  You can spend a lot of time just trying to take a call or find that favorite song by Tony Bennett. Mazda Connect IMHO is one of the easiest and best systems on the market.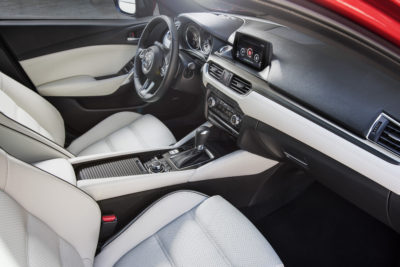 Across the web, praise for the 2017 Mazda6 is almost universal, with only a few reviewers finding some pretty detailed flaws.  Meh. Mazda has proven to be a reliable car maker, so it's not like you're trying something new like, say, protein-infused kale burgers or personal lubricant that is also a whipped topping. You can't go wrong with the Mazda6 IMHO, but do shop around.  Never take the decision to buy a car lightly. A regular car payment has always been an investment, and now more than ever, depending on your income, buying a car comes close to being a lifetime commitment. Sorta like marriage.
As Mae West once quipped, "Marriage is a fine institution, but I'm not ready for an institution."