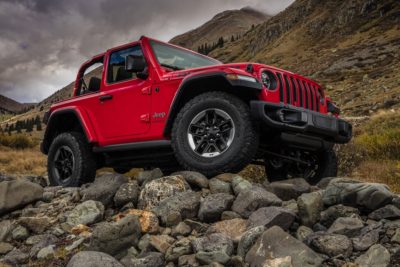 When you're clinging to the side of a mountain, hanging in peril, you'd better have four capable wheels beneath you. By extension, when you redesign an icon like the Wrangler, you'd better pay close attention. It better look like a Jeep, and it better master trails like one too. In creating the new 2018 Wrangler, current customer expectations were paramount, but it's also a lot more enticing for the less adventurous.
The larger Wrangler's shape is instantly familiar, but stylists improved aerodynamics with a faster windshield rake and canted grille. Headlamps bend the outer slots of Jeep's trademark grille as did the classic CJ's. Fender vents look cool, but minimize hood flutter. LED headlamps, running lights, foglamps, and taillights imbue a modern ethos. The jacked up and nostriled Rubicon model is especially menacing.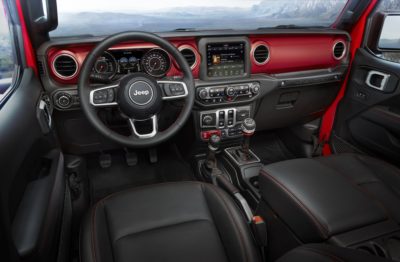 But, it's not just a veneer. The new Wrangler is 200 pounds lighter, enabled by an aluminum hood, doors, and tailgate. The windshield requires removing just 4 bolts to fold as opposed to the previous 28. Doors are removable and have convenient carry handles inside. All great, but prepare to flip your lid!
Gone is the cloth erector set of previous generations, replaced with a choice of tops that includes a proper hardtop, available with removable front panels, but that's where generations diverge. Integrated frame rails let the soft top fold back in about 15 seconds. Add another 15 seconds to slide off and stow the rear and side curtains. Or, choose Unlimited models with a one-touch power-opening canvas center section that reveals sky to both rows of seats. Absolutely brilliant.
Inside, designers were inspired by the CJ7's horizontal row of gauges, so they created a wide contrasting panel that connects the analog dials to round air vents and the new center console cradling Chrysler's baby-simple infotainment system. Click through icons for radio, media, climate, and navigation on the touchscreen. Or, use redundant buttons and knobs below. Or, command by voice. Your choice.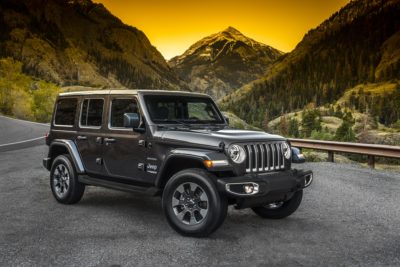 Sport models have plenty of hard plastic, but Sahara brings stitched dash coverings and soft-touch door panels. Rubicon embraces red for the dash. While it may seem sacrilege for Jeep purists, you can choose heated seats and heated steering wheel. It's the most sophisticated interior ever fitted to a Wrangler. Beautiful, but Jeeps don't run on styling flourishes.
The base engine is a 3.6-liter V6 delivering 285 horsepower and 260 lb.-ft. of torque, but hold your Jerry can because an optional 2.0-liter turbocharged four-cylinder engine, assisted by a light hybrid system, manages 270 horsepower and 295 lb.-ft. of torque. Take a breath because a 3.0-liter diesel V6 arrives in 2019. Choose between a new shorter-throw six-speed manual or eight-speed automatic transmission. Only fuel economy for the V6 four-door has been released: 18/23-MPG city/highway.
From the first turn of the wheels, this Wrangler is different. Rear axle hop and wandering steering are diminished. Launching down a rough gravel road, the suspension soaked it up more like a Grand Cherokee than classic Wrangler. On-road, the new automatic transmission and chassis upgrades added a level of calm never experienced in a Wrangler. Sahara models can finally be optioned with full-time four-wheel-drive.
For those who think Jeep emasculated your beloved Wrangler, take a seat…and head for the hills. During our drive, Jeep guides plotted a course through cactus and boulders, heading straight up a mountainside. They showed us the red panel in the lower dash that houses switches to lock the front and rear differentials – and electrically disconnect sway bars to enhance suspension articulation. We shifted into 4Lo and gently eased up the face of Hell's rock garden, skid plates clanging the entire way. This was all accomplished in a Rubicon Unlimited with turbo-four and automatic transmission!
As assuredly as Saguaro cactus grow in Arizona, Wrangler remains true to form and mission. Purists can appreciate it for improved capability, but it can also serve as a legit family car. Power back the canvas roof and enjoy your new mountain.
Base Sport two-door models start at $26,995 while 2-door Rubicons roll out for $36,995. The 4-door Sport has a base price of $30,495, but up-level Sahara and Rubicon versions begin at $37,345 and $40,495 respectively. Go forth and conquer!
Storm Forward!
Send questions and comments to Casey [at] AutoCasey.com; follow him on YouTube @AutoCasey.
2018 Jeep Wrangler
4-5 passengers, 4WD SUV
Powertrain: 285 hp 3.6-liter V6, 270 hp T4, Diesel; 6-spd manual or 8-spd auto trans
Suspension f/r: Dana solid axles
Wheels f/r: 17-18"/17-18" alloy
Brakes f/r: disc/disc
Must-have features: Style, Capability
Towing Capacity: 3,500 lbs. Fuel economy (V6): 18/23 mpg city/hwy
Assembly: Toledo, OH
Base price: $26,995-40,495