There's nothing wrong with owning a Mercedes E-Class sedan. They're very respectable, undeniably responsible luxury cars for the respectable and undeniably responsible. But, chop off two doors, lower the roofline and suddenly you're wearing a red dress. Since the 1970s, E-Class coupes have been some of the most desirable and timeless cars to dance out of Germany. The 2018 E400 is especially ravishing.
As in the 1980s and early 90s, during Mercedes' golden era, designers are reducing bodylines and rendering simpler, more sensual forms. As the E-Coupe moves from C- to E-Class architecture, stylists could lengthen it physically, but also visually with a low star-strewn grille, long hood with Gullwing-derived power domes, and an elongated roofline. A wide curvaceous rump, taillights that echo the exhaust of a fighter jet, and 19" AMG wheels accentuate the positive.
Cribbing the big S-Class, the E400 embraces horizontal themes for the dashboard. Mercedes' "widescreen cockpit" centers on twin flatscreens–one for reconfigurable instruments and the other for infotainment. Below, wide expanses of optional Black Piano Lacquer "flowing lines" wood looks decadent dressed with turbine inlet-inspired air vents. Red leather drapes the seats while a perfume atomizer, 64-color adjustable ambient lighting, and divine Bermester 3D audio system set the mood. Heated and ventilated front seats with massagers, heated steering wheel, and heated armrests caress the soul.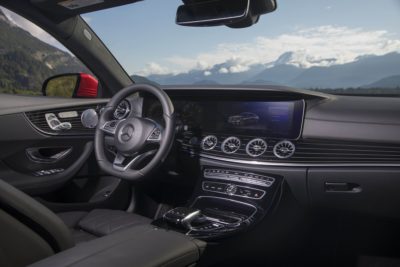 Engineers layered in technology. Infotainment is controlled through a joywheel in the console and connects iThings with Apple CarPlay, Android Auto, Bluetooth, and USB ports. Keyless entry/starting, rain-sensing wipers, and a power steering column are included. Keeping everybody safe are radar adaptive cruise, crash mitigation automatic braking, evasive steering assist, and blind spot warning. Parking sensors, around-view monitor, and head-up display assist drivers.
Decades ago, "E400" would have highlighted the car's 4.0-literV8, but now identifies an engine producing V8 levels of acceleration. Beneath the power domes is a 3.0-liter biturbo V6 delivering 329 horsepower and 354 lb.-ft. of torque–adequate to blip from 0-60 mph in 5.2 seconds and to a 130 mph top speed. It's no supercar, but power is smooth and luxurious, shifted smoothly through a 9-speed automatic transmission. The 4MATIC all-wheel-drive dispenses with winter muck. Drive lightly and leave ECO Stop/Start enabled to realize 20/26-MPG city/hwy.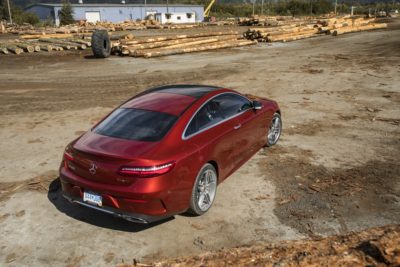 There's some fancy footwork accompanying the powertrain. Our car came with the Air Body Control multi-chamber air suspension that can adjust from old-school comfortable to ultra-stiff track star. Drivers can also change throttle response and shift points for Comfort, ECO, Sport, Sport+, and Individual to customize all drive attributes. If you want a comfortable ride combined with hair-trigger throttle, no problem.
It won't matter how long you own the E400 Coupe; it will always be desirable. The benchmark W124 series coupes, sold from late '80s through the late '90s, are becoming one of the most collectible "young classic" Mercedes for their combination of conservative personality combined with a more personal cabin. Then and now, a girl can be conservative or flamboyant; it doesn't really matter. Widen her stance, lower her roof, lop off two doors and suddenly she's clearing the dancefloor.
A base price of $58,900, or $86,685 as-tested with all-wheel-drive, puts the E400 Coupe against the Audi A5, BMW 4-Series Coupe, and Lexus RC.
Storm Forward!
Contact Casey at [email protected]; follow him on YouTube and Twitter: @AutoCasey.
2018 Mercedes-Benz E400
Four-passenger, AWD Coupe
Powertrain: 329 hp 3.0-liter TT V6
Suspension f/r: Air Ind/Ind
Wheels f/r: 19"/19" alloy
Brakes f/r: disc/disc
Must-have features: Red dress style, bank vault value
0-60 mph: 5.2s Top speed: 130 mph Fuel economy: 20/26 mpg city/hwy
Assembly: Bremen, Germany
Base/as-tested price: $58,900/86,685