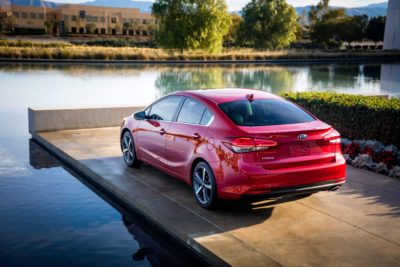 (Remember: Kia offers no workplace protections or benefits to its LGBTQ employees.)
Kia has come a long way since landing in America last century to sell the Sephia. Today's smallish-to-middling Forte is just the latest example of how far the brand has evolved.
For starters, I liked driving the 2017 Forte.  It handled well (though perhaps a little flat) on most roads and had a bit of kick when necessary.  There is plenty of room inside for everyone and their holiday shopping. (Caution is advised for us bears, who do take up a lot of room.) The interior is a nice shade of everyday luxury, and the styling is attractive in the light of day or the glow of the parking lot at night. If you're looking for a compact car, hatchback, small car, whatever you may need for just you and your emotional support pet, you should check out this year's Forte. There may still be some sold-as-is models on the lot, so see what's out there while these cars are moving.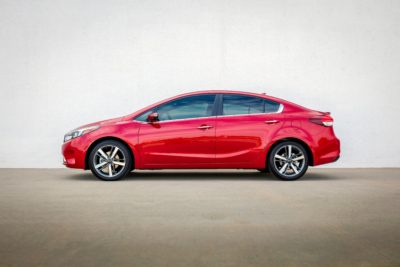 One thing that I especially liked about the Forte is that I didn't need my nephew or my World of War-crack Geek Squad bear friends to help me operate the sound system. There were plenty of old-school knobs to twist and turn, and when I did need to use a gentle swipe on the touchscreen, I didn't need to be that gentle. On all Forte trims, you get the usual audio offerings (Bluetooth, aux-in, USB), but you also get steering wheel controls as standard.  That does make life easier, just in case you're in the car with your mother and iTunes serves up "The Pussy Cat Song".
There are just four trims for this year's Forte, and the cheapest one is the base LX with a manual transmission, which starts at $16,600. The LX automatic is the typical $1,000 more, but if you're going to use your car for commutes, paid gigs, and housework, it's money well spent. Not having to constantly shift gears means that your double-caf, half-foam mochafrappalottacino and the other 'supplements' (including the ones with child-proof caps) you use to get through life won't be spilled as often.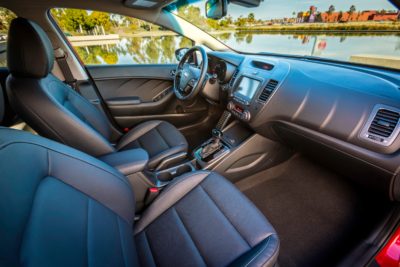 The top-tier EX trim starts at $21,300, but you can easily jack up the price from there. I got to test the top-top-tier Forte SX 5-door, which starts at $26,000 but has (almost) everything: 1.6-liter turbo, 18-inch wheels, hill start assist control (a must-have for all queens who can afford to live or luxuriate in Seattle or San Francisco), power sunroof, power everything and even some leather on the wheel and your seat.
As we slide into the holidays, be sure to put yourself on your shopping holiday list and buy something special just for you.
And we realize that may not include a place to live…..