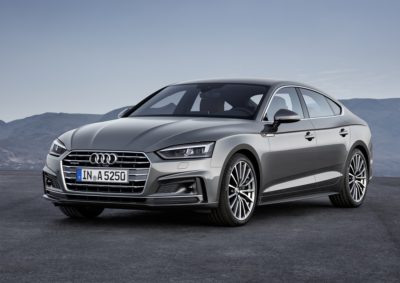 If it's January, it's time for the North American International Auto Show in Detroit. Arriving at the glitzy affair requires a comfortable car for the long drive, agile, quick performance to get you there safely, and elegant style to set valets back on their heels. It's guaranteed to be snowy, so having all-wheel-drive is a big plus. I couldn't have picked a better traveling companion than the 2018 Audi A5 Sportback.
In Audi-speak, "Sportback" equals "four-door coupe". Some of us may think that if a car has four doors and a trunk, it's a sedan, but that would be overstating things a smidge. Audi makes the A4 sedan, but the A5 Sportback is a true sibling of the A5 coupe and convertible, wearing Audi's large trademark grille and endowed with a couple of extra doors for convenience, but retaining the low, wide fastback proportions of a proper coupe. It's a car for the gentleman or lady with just a hint of familial responsibilities or a few close friends. Full LED headlamps and 18" 10-spoke alloys embellish tightly drawn forms.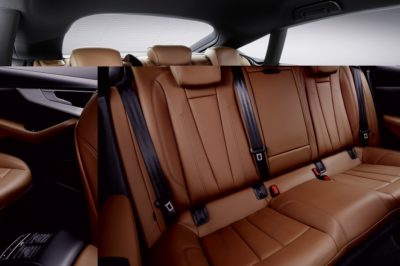 You begin to understand the Sportback's connection to coupes when you slide inside. It's low and there's little passenger space in the rear seat, but at least you have actual rear doors for access. Cargo goes in through a wide hatch with room for luggage…or camera gear.
And it's a comfortable place for a couple of journalists. Heated seats, heated steering wheel, and tri-zone automatic climate control warmed near instantly, taking the edge off 10-degree mornings. Bang & Olufsen audio and LED ambient lighting eased long days. The wide dashboard and doors receive styled walnut inlays. Driving was made easier by a head-up display with navigation, Audi's Virtual Cockpit that turns the instrument cluster into a wide screen, and safety tech that includes lane keep assist, adaptive cruise, forward crash mitigation, and rear collision mitigation. That said, the crash mitigation alerts are a bit too annoying, which only encourages drivers to turn them off and defeat their purpose.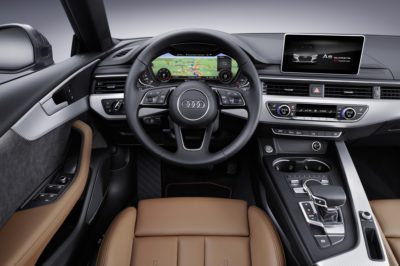 Setting wheels towards Motown, the A5 proved capable of melting miles. The 2.0-liter turbocharged four-cylinder engine made it easy with 252 horsepower and 273 lb.-ft. of torque, routed to the Quattro all-wheel-drive system through a 7-speed automatic transmission. Pin that against fuel economy ratings of 24/34 mpg city/highway, and you have a really nice balance of Autobahn acceleration and economy car economy.
That was enough power to cruise comfortably above posted speed limits, but the A5 is more sophisticated than that. When snow threatened to ruin our drive home and ice under bridges caused grief, Quattro provided the confidence to keep the pedal planted. Audi Drive Select tailors the suspension stiffness, steering firmness, and throttle sensitivity for comfort or sport, or it can be customized for individual drivers. Even over rough winter-ravaged pavement, the suspension rarely felt harsh.
I get the A5. I'm the kind of guy who likes the sleek style of a coupe, but despises the inconvenience of only having two long doors. It's a pain to get my four-year-old daughter in the back or take friends to lunch. The A5 Sportback delivers elegance, convenience, plus all of the driving pleasure and safety expected in an Audi. A base price of $42,000, or $55,400 as-tested, seems reasonable.
Storm Forward!
Watch Casey's video of the Audi A5 Sportback above, then follow him on YouTube @AutoCasey.
2018 Audi A5 Sportback
Four-passenger, AWD "Coupe"
Powertrain: 252hp 2.0-liter Turbo-4, 7-speed automatic transmission
Suspension f/r: Elect. Ind/Ind
Wheels f/r: 18"/18" alloy
Brakes f/r: disc/disc
Must-have features: Style, Performance
Fuel economy: 24/34 mpg city/hwy
Assembly: Ingolstadt, Germany
Base/as-tested price: $42,000/55,400