What is your idea of serious capability in a pickup truck? Is it the ability to move heavy loads effortlessly and luxuriously over vast distances, or perhaps having the legs and cleats to go almost anywhere? Either way, Ford has a truck for you. Meet the F-250 Super Duty Platinum and F-150 Raptor.
2018 F-250 Super Duty Platinum
This is not a truck for urbanized city dwellers. It will barely fit in my driveway. It's a serious machine meant for towing small houses, mini yachts, and egregious farm implements over hill and dale. In Platinum trim, it's also a formidable luxury car. No matter your mission, the F-250 is likely up to the challenge.
It's a pretty handsome dude. A wall of chrome up front is accented by LED headlamps and LED foglamps. The side view identifies the truck as a Ford with the front window step-down and large power-folding mirrors. Around back, LED taillights and "PLATINUM" stamped across the tailgate leave their calling cards. The bed with spray-in liner is prepped for fifth-wheel attachments. Flip down the steps and handle hidden in the tailgate to climb aboard.
Rising into the cab is even easier given power-deployed steps. Cross the illuminated scuff plates and plant your behind. That's leather that looks and feels like it came from a Lincoln. Feeling tired? Turn on the front seat massagers, cool or heat them, and if your hands are chilled, warm the steering wheel too. Sony audio fills the cabin with crisp sound from Bluetooth- or USB-connected players, Satellite radio, or your favorite local stations.
Keep looking and you'll notice an array of safety and convenience features. Adjustable pedals, dual-zone automatic climate control, voice-activated navigation, and in-dash trailer brake controller add convenience–as do upfitter switches on the ceiling, a 110v power outlet, and power sliding rear window. Ford's latest touchscreen for climate, audio, and navigation echoes Chrysler's and is as easy to use. Adaptive cruise control, lane keeping assist, and rear inflatable seatbelts fortify safety.
Mash the big pedal to unleash the turbine within. The 6.7-liter Power Stroke turbo-diesel V8 engine, an $8,995 option, delivers an earth-stopping 440 horsepower and 925 lb.-ft. of torque–all routed to the four-wheel-drive system through a six-speed automatic transmission. It's the kind of power you roll into, and it just keeps coming. The F-250 can pull up to 21,000 lbs. of conventional trailer or 27,500 lbs. as a fifth-wheel. Clicking onto a 30-foot RV and pulling it through the mountains would be like sipping lattes.
While it bounces down the road like a Piper Cub, driving the truck is more akin to piloting an airliner. It's difficult to believe that much truck can accelerate and cruise so effortlessly. Over a long weekend, my family and I drove to Louisville, Kentucky. Sure, the suspension is ultra-stiff, but out on open interstate, the diesel is an absolute joy to drive, streaming forward on a wave of torque. The big grille tends to usher slower drivers out of the way while that power lets you leave bumper nippers in your wake.
We can debate who offers the best heavy duty pickup, but not for long. A combination of ridiculous capability and unparalleled pickup luxury plant the F-250 Platinum at the top of a crowded field that includes the Chevy Silverado, GMC Sierra Denali, and Ram 2500. A base price of $32,890 rose to $77,015 as tested.
2018 F-150 Raptor
This may be my favorite pickup–ever. I mean, what other truck can take you from showroom to Baja on one straight road, charge highways like a hell-crazed muscle car, and still be a pleasant everyday ute? It's the Ford F-150 Raptor–a "super truck" for those willing to cut loose and take a ride on the wild side.
Compared to the previous generation Raptor, the truck has an additional 2" of ground clearance and 6" of track width, and is 500 lbs. lighter through the use of military-grade aluminum body panels. Rounded wheel arches, minimized front/rear bumpers, and wider fenders enhance suspension travel and approach/departure angles when off-roading. The Raptor's bad attitude seeps through the black mesh grille with FORD lettering, front fender extractors, metal step bar, and front skid plates. It's not necessary to slap "Raptor" labels on its rear fenders as if thumping its chest of manhood, but they do clearly identify Ford's thumping truck.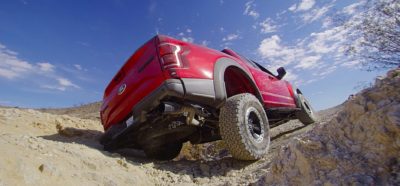 The interior is mostly stock F-150, but with notable flourishes. Deep bolstered heated leather sport seats with embroidered Raptor logo, thick leather-wrapped steering wheel, magnesium paddle shifters, and optional carbon fiber trim are clues that this is no normal F-150. A trailer backing controller, voice-activated navigation, and 110v outlet add convenience, but passive entry and push button starting would be nice.
One thing the Raptor doesn't need is a big hulking V8 engine. That's because it is stoked with a turbocharged 3.5-liter V6 that produces a staggering 450 horsepower and 510 lb.-ft. of torque. It connects to a brand new 10-speed automatic transmission that steps through power as easily as Cookie Monster makes crumbs. Dual exhausts amplify the menacing growl. It's intoxicating, but fuel economy ratings of 15/18-MPG city/highway will sober you right up.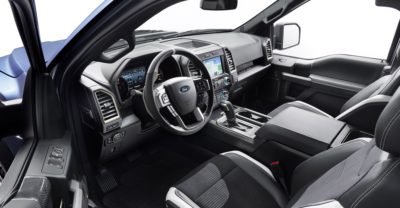 Just that powertrain would make any breathing human's heart patter, but taking it to Baja requires a bit more. Upgraded FOX shocks are 44% larger for improved damping, while integrated hydraulic bump stops minimize bottoming out. Sporty 17" alloy wheels are shod with BF Goodrich KO2 tires.
There's more. The Raptor's Terrain Management System can be adjusted for Normal (daily driving), Weather (AWD, throttle response for inclement weather), Mud & Sand (4H locked, rear differential automatically locked), Baja (4H, transmission shifting altered), or Rock Crawl (4L with locking rear differential). Steering can be independently adjusted from light to firm.
There aren't many trucks that can be driven off of the showroom and out into the boonies for extreme adventure. And to do it with the luxury and comfort of the Raptor is equally rare. Expect to pay for the privilege as a base price of $40,785 rose to $57,448 as tested. Competitors include the Chevy Colorado ZR2, Ram 1500 Rebel, and Jeep Wrangler Rubicon Unlimited.
Storm Forward!
Send comments to Casey at [email protected]; follow him on YouTube @ AutoCasey.
2018 Ford F-250 Platinum
Five-passenger, 4WD Pickup
Powertrain: 6.7-liter Turbo-diesel V8, 6-spd trans. Output: 440hp/925 lb.-ft. torque
Suspension f/r: Ind/Solid axle
Wheels f/r: 20"/20" alloy
Brakes f/r: disc/disc
Must-have features: Engine, Style
Fuel economy: N/A
Assembly: Louisville, KY
Base/as-tested price: $32,890/77,015
2018 Ford F-150 Raptor
Five-passenger, 4WD Pickup
Powertrain: 3.5-liter Turbo V6, 10-spd trans. Output: 450hp/510 lb.-ft. torque
Suspension f/r: Ind/Solid axle
Wheels f/r: 17"/17" alloy
Brakes f/r: disc/disc
Must-have features: Engine, Style
Fuel economy: 15/18-MPG city/hwy
Assembly: Dearborn, MI
Base/as-tested price: $40,785/57,448