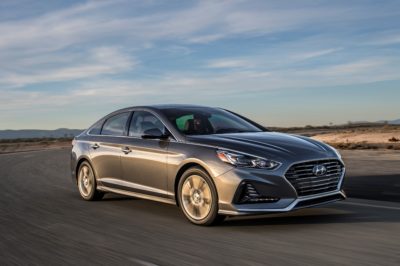 I gotta give it to the folks at Hyundai. They've survived a crowded and very American-minded car market by building great and desirable cars. What's even more remarkable is the fact that in 2018, Americans not only know how to say the name "Hyundai", they can spell it, too.
The 2018 Hyundai Sonata is garnering praise from every corner of the car review world. Inside and out, the Sonata's styling has been refined and updated to look more like something that can break the sound barrier rather than just break wind. The Sonata pulls off the "shooting star" look well–far better than many a sash queen who prances down the runway with killer style but nothing in her noggin. Indeed, the Sonata has brains and beauty. And it's a relatively cheap date to boot.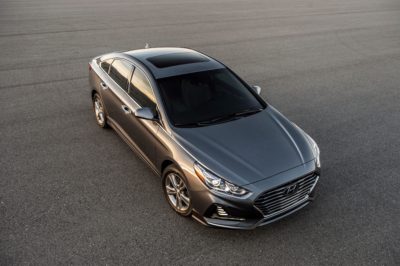 Standard features on 2018 Sonata include a host of very important safety items like blind spot monitoring, rear cross-traffic alert (always a lifesaver in those big box parking lots), and lane change assist, that little wonder that politely says "Back off, Butch" when you try to merge into someone else's lane. On all trims, you also get some useful features like a tilt and telescoping steering wheel, automatic headlights (for when you forget to turn them off), power folding side-view mirrors (a dream come true when parked illegally, so I'm told), and Android Auto and Apple CarPlay. Just $600 more and you can get the Eco trim–for those who want more fuel efficiency and less of a carbon footprint.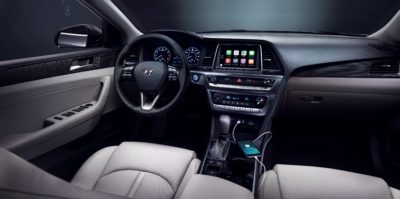 The 2018 Sonata is one of the highest-rated, feel-the-love family sedans sold currently in the United States. It gets high marks for its comfortable ride and interior room, though all you tall girlz need to be careful climbing into the backseat. You have quite a few choices on trims, starting with the base SE at just over $22,000.
About the only complaints people have about the new Sonata is that the roofline is low over the backseats, and that the engine on the lower trims could use a bit more pep. That's probably true, but not for the Limited 2.0T I tested. It proved as tame as a kitten or as powerful as a bobcat, depending on how I stroked it. Then again, the Limited 2.0T is the Sonata's top-tier trim, adding just over ten grand to the base sticker price. You get what you pay for.
As we move into a new year and still have the same idiot squatting in the White House, we celebrate the choices that car buyers have when it comes to safety, economy, style, and speed. This industry will only get better–and pricier–going forward.
Not that you need a car to flee the country, if it comes to that….