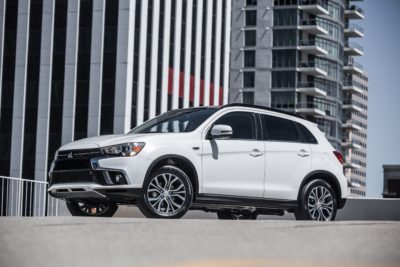 If you don't immediately think of Mitsubishi when you think of cars, you're in great American company. Why? Because here in the U.S., Mitsubishi vehicles usually suffer in comparison to cars and crossovers from other manufacturers. This year's Outlander Sport, a smaller peppier version of the bigger Outlander, is the poster child for that persistent problem.
Oh sure, there's some faint praise to be heaped on the Outlander Sport. The base 2.0 ES trim starts at just over $20,000.  That's not bad for an entry-level baby SUV of sorts. It's tough to get into any new car for that amount–though obviously, $20k isn't chump change. It could still take you many, many years to save, even if you lived and breathed in your parents' basement.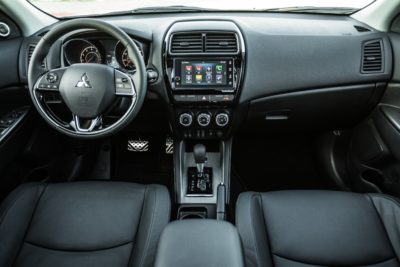 There are a few other perks to be found on the base Sport ES trim, too: 18-inch alloy wheels, heated mirrors, remote locking and unlocking, cruise control, automatic climate control, a leather-wrapped tilt-and-telescoping steering wheel, a height-adjustable driver seat, a driver information display, 60/40-split folding rear seatbacks, Bluetooth, a 7-inch touchscreen display, a rearview camera, and a four-speaker audio system with a USB port.
But none of that is particularly unique or impressive. U.S. News and World Report comes right out and says what we're all thinking: "We don't recommend buying the Outlander Sport."
Ouch.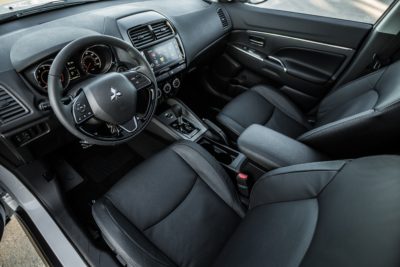 Then again, the Outlander Sport is up against some stiff competition. There are a whopping 44 models in America's crossover SUV segment, and U.S. News ranks the Outlander Sport dead last at 44. (The Honda CR-V and Mazda CX-5 are ranked #1 and #2, respectively, just so you know.)
As for me, I tested the top trim, 2.4 SEL with All-Wheel Drive. Not bad, I thought.  It got me from Point A to Points B, C, and D. The SEL starts at $24,395 and can easily go up and over $29,000 once you add in such niceties as a panoramic glass roof and forward collision mitigation. The test model had a sticker price of $29,110, and it might be worth the investment if I were in the market for a new ride, but I'd still shop around.
If you really, truly like the look of the Outlander Sport, I'd suggest taking at peek at the larger Outlander, which may be more in line with what many car buyers want: a good, solid car. But to be perfectly frank, I think you'd do best to keep on shopping. It's one of the tasks the we LGBTQs perform with flair. We always do our homework and know how to stretch our dollars in ways that our straight counterparts could never imagine.
Car shopping is one of those tasks that really does need a queer touch–as do so many other things in the U.S. of A. For our next trick, perhaps we could rename Reagan National Airport in Washington, D.C. after Harvey Milk.