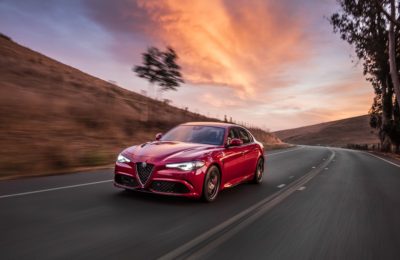 "Where is that car from?" asked the man as I exited my favorite coffee shop. "Italy," I say. He just sighs and stares. He gets it.
It's been a while since Alfa Romeo offered a seriously high-performance sport sedan in the United States, but the brand has a storied history that traces back to early 20th century race cars. In relatively recent memory, Alfa produced the Milano during the '80s and '90s, and the Pininfarina-designed 164 during the '90s. The Giulia Quadrifoglio makes a great reintroduction.
Bearing the racing team's four-leaf clover on its front fenders, the top-shelf Alfa is bad-sexy. Let's just say it. And, those 19" alloys really fill out the fenders. Check Alfa's traditional plunging neckline grille, squinty headlamps, and planted stance. The front splitter and rear spoiler are obviously carbon fiber, but so too are the hood and roof. Lightens things up.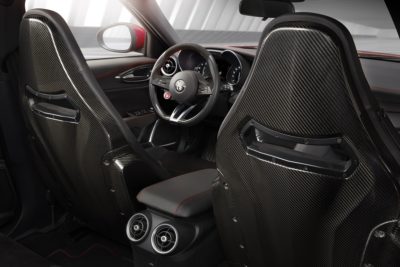 There's plenty more carbon fiber on the dash, console, doors, and most artfully, as seatbacks. There's also acres of stitched leather. The curved infotainment screen is as sleek as Murano glass, but is unfortunately controlled with a console joywheel that's laced with confusion. There are no complaints about the 900 watts of Harman Kardon audio that saturates the cabin.
Less cherubic is the annoying lane departure warning that belts wah-wah alarms, as if you're trying to steal a lane and take it home. Adaptive cruise control, forward collision alert, rear cross path detection, and blind spot warnings are much less obtrusive.
The Quad's soul is a Ferrari-derived 2.9-liter twin-turbo V6 engine that spirits 505 horsepower and 443 lb.-ft. of torque to the rear wheels. All of the power is shifted through an 8-speed automatic transmission and directed to the wheels through a carbon fiber driveshaft. Plant the pedal to see 0-60 mph in 3.8 seconds and a top speed of 191 mph. Fuel economy of 17/24 mpg city/highway seems relatively frugal.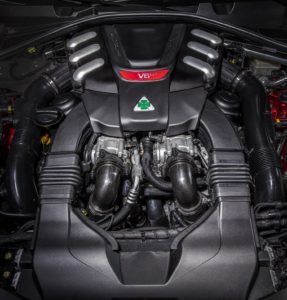 Compared to competitors, the Giulia feels lighter, crisper, more ready to tango. The torque-vectoring rear differential rotates the car through corners, imbuing behavior akin to a mid-engine roadster. There's a precision that encourages you to keep pressing your foot deeper into the carpet. That's helped by Alfa's DNA system that adjusts the throttle, steering, suspension, and transmission for Dynamic (Sport), Natural (Comfort), or Advanced Efficiency (Economy). Enormous Brembo brakes deploy the parachutes.
I just hit the highway for a long drive–plugged in music and thumped myself happy! In Natural mode, the suspension is firm, but mostly smooths pot-holed city streets. Dynamic mode embraces tracks, but shakes teeth on normal roads. Rib-hugging sport seats are all-day comfortable. Four people and their luggage fit as easily as in any other mid-size car. It's a supercar that demands daily throttling.
Given formidable competition, I wondered if Alfa Romeo would receive a warm reception in America. It has, winning 2018 Motor Trend Car of the Year. Minor interior bits are of questionable quality, but this car feels like it's more connected to your synapses. Wind it up, stomp it down, and kick back for joys you've never discovered. Just brace yourself for a base price of $73,700 or $89,895 as tested (a base Giulia costs just $38,195).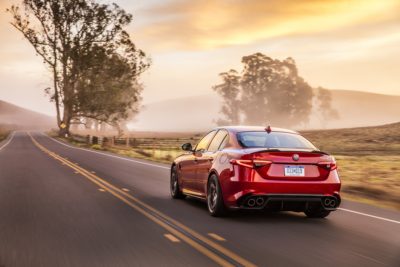 Storm Forward!
Watch Casey's video of the Alfa Romeo Giulia Quadrifoglio above, then follow him on YouTube: @AutoCasey.
2018 Alfa Romeo Giulia Quadrifoglio
Five-passenger, rwd sedan
Powertrain: 505hp 2.9-liter TT V6, 8-speed automatic transmission
Suspension f/r: Elect. Ind/Ind
Wheels f/r: 19"/19" alloy
Brakes f/r: Brembo disc/disc
Must-have features: Zip, Balance
0-60 mph: 3.8s
Top speed: 191 mph
Fuel economy: 17/24 mpg city/hwy
Assembly: Cassino, Italy
Base/as-tested price: $73,700/89,895