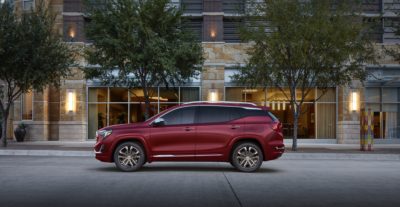 My husband and I have seen Broadway and recording star Audra McDonald twice, and tonight will make it thrice. I'd envisioned pulling up to the theater in a Range Rover or Jaguar, but the GMC Terrain Denali is our coach instead. It has its own style, harbors luxury, is capacious, and comes efficiently powered. There are worse ways to arrive.
I have to say Ms. McDonald is substantially more beautiful than the Terrain, but the SUV has its merits. In Denali trim, there's deep luxury inside and flashy bling outside–beginning with the chrome-textured grille, GMC trademark C-shaped running lamps, LED headlamps, and lower foglamps. More chrome dresses the lower facia, bodysides, roofrack, and liftgate. Check the 19" alloy wheels. The Terrain is a tall and narrow vehicle, which causes some frumpy visuals, but it spent many hours in the wind tunnel to hone interior sound and fuel economy. The broken rear pillar is becoming trite, but works well with the Terrain's upscale style.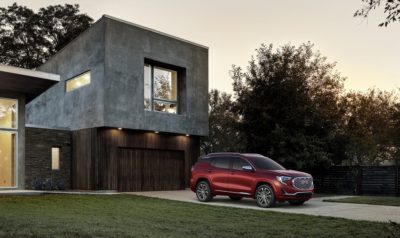 We listen to McDonald on the Bose audio system coming and going, enabled by Bluetooth and a plethora of USB ports. Accessing her music is easy with 4G Wi-Fi. For the upscale Denali feel, stylists stitched dash coverings, specified deep woodgrain for the dash and doors, and applied aluminum-look trim left, front, and right. After walking through the cold night air, we slip into heated (and ventilated) leather seats; I grip the thick, heated, leather-wrapped steering wheel, fiddle GMC's push-button gear selector, and head to the concert.
The technology suite is fairly comprehensive. GMC's latest touchscreen is easy to use–browse with the tuning knob, swipe the screen like a tablet, or command by voice. Navigation makes getting to dinner easy, while the red forward collision alert flash saves our grille when an idiot stops suddenly. Other safety gear includes adaptive cruise control, blind spot warning, rearview camera, and rear cross path detection. A rear seat reminder tells you when a kid (or heavy computer bag) is being forgotten.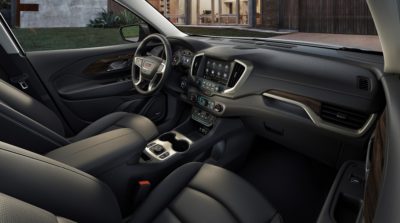 Unlike in the previous generation Terrain, there's no V6 available. But, you won't miss it because the Denali comes stoked with a 2.0-liter turbocharged four-cylinder engine that delivers 252 horsepower and 260 lb.-ft. of torque. It connects to the all-wheel-drive system through a 9-speed automatic transmission. Towing capacity is rated 3,500 lbs. to tote jet skis or a small camper. I'm not a fan of auto stop/start, and the Terrain's can't be defeated, but it's pretty smooth and enables 21/26 mpg city/highway (with AWD).
On the road, the four-wheel-independent suspension does a reasonable job of taming potholes, but it is quite firm and the turning radius is pitiful. Stepping through the gears to keep the turbo-four humming is a delight while stomping onto the freeway or easing through traffic. Most drivers will find it perfectly pleasant.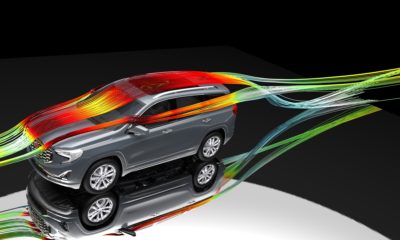 If you can make it on Broadway, you can make it anywhere. That's definitely true of McDonald–and of the GMC Terrain, which sold over 700,000 "tickets" during the past decade. McDonald sounds superb–nothing less than expected. The GMC, on the other hand, both delights and perplexes its passengers. Exterior styling is not everybody's favorite song, and the new, slightly smaller interior gets mixed reviews, but the level of luxury and style for the price is impressive. Terrain starts at $24,995, rising to $38,595 for a base Denali and $41,710 as-tested. Competitors include the Lincoln MKC, Acura RDX, BMW X1, Jeep Cherokee, and upcoming Infiniti QX50
Storm Forward!
Watch Casey's video of the Terrain Denali above, then follow him on Twitter and YouTube: @AutoCasey.
2018 GMC Terrain Denali
Five-passenger, AWD Crossover
Powertrain: 252 hp 2.0-liter T4, 9-speed transmission
Suspension f/r: Ind/Ind
Wheels f/r: 19"/19" alloy
Brakes f/r: disc/disc
Must-have features: Style, Space
Towing Capacity: 3,500 lbs. Fuel economy: 21/26 mpg city/hwy
Assembly: San Luis Potosi, Mexico
Base/as-tested price: $24,995/41,710