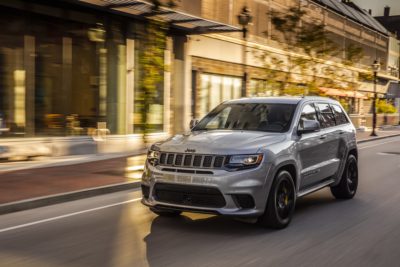 The engine rumbled and my daughter grinned. She doesn't remember, but she's heard this symphony of bottled swagger before, in the Dodge Challenger Hellcat. But, we're not in a Challenger; we're in a Jeep Grand Cherokee. I rev the engine again, rattling everything inside of pre-school, but now my daughter is cackling. I love her. Time for a drive.
Stuffed behind Jeep's familiar seven-slot grille, beneath a hood with snarling dual heat extractors, is an absolutely sinful 6.2-liter supercharged V8 engine delivering 707 horsepower and 645 lb.-ft. of torque. I'm getting misty. Power Zeus could faintly fathom is routed to the four-wheel-drive system through an 8-speed automatic transmission with paddle shifters. As if anybody cares, fuel economy is rated 11/17-MPG city/highway.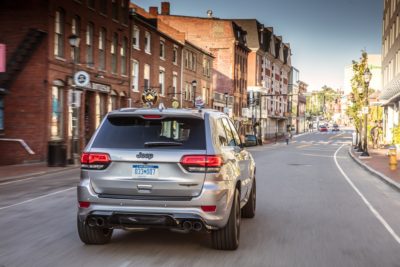 Upon seeing the debauched Jeep, a co-worker asked if I had floored it. I began snorting uncontrollably.
"There's dry asphalt outside," he said.
I snarled at him and asked, "Do you have any idea what happens when you floor over seven-hundred horsepower?" The electronic throttle allows for pretty docile driving in city traffic or while cruising on the freeway, but slam it hard, and you may well dig four holes to China. It'll toss your stomach into the backseat!
Let's put it another way: The big Jeep runs 0-60 mph in 3.5 seconds, crosses the quarter-mile in 11.6 seconds, and reaches a terminal velocity of 180 mph. That's matching Tesla's Model X the old fashioned way. Electronic Launch Control manages the brakes and powertrain for a clean sweep while five driving modes adjust the chassis, steering, and powertrain on a continuum from Eco to Demonic!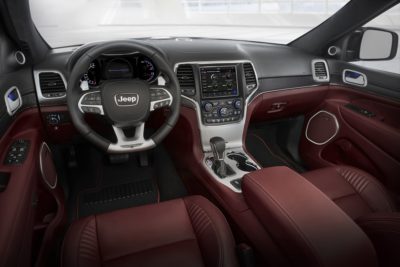 Just looking at the Trackhawk when skipping out of pre-school, my daughter knew something was amiss. Painted a color called "Rhino", our fly wagon also had 20" black alloy wheels fronting yellow Brembo brake calipers, HID headlamps, and LED taillamps. It sits an inch lower than other Grand Cherokee SRTs, adding to its contrary demeanor.
Inside, there's more evidence of mischief…and luxury. The thick leather-wrapped flat-bottom steering wheel, camel leather and suede front seats, carbon fiber dash trim, and flatscreen instruments with large tachometer betray the Trackhawk's potential. Leather dash stitching and 825 watts of Harman Kardon audio speak up for luxury–as do heated/cooled front seats, heated rear seats, and a heated steering wheel.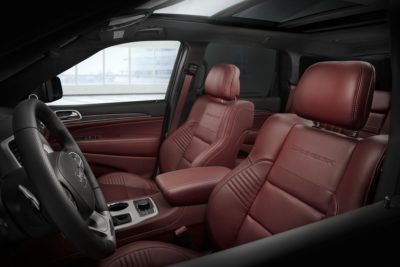 There's also quite a technology suite. Chrysler's touchscreen is among the best with easy to understand icons for radio, climate, navigation, and phone plus redundant buttons and knobs below. Proper volume and tuning knobs simplify adjustments. Or, bark orders by voice. Beyond that, safety is enhanced by adaptive cruise, rain-sensing wipers, lane departure warning, blind spot warning, rear cross path detection, and forward collision mitigation.
You'll want a cigarette after just hearing the Grand Cherokee Trackhawk exhaust note. It's obnoxiously powerful, road runner quick, and sumptuously luxurious. On my last day with the Trackhawk, I was confronted by an ice storm. I thought, "Holy Snow Monster, I have to deal with this frizzle driving a 707 horsepower supercar!" But, you know what? It was as docile as a lamb, never putting a wheel wrong. If there's a downside, it's the $85,900 base price ($90,880 as tested), but go find a Mercedes-Benz GLE, BMW X5, or Audi Q7 that will wiggle your giggle so much.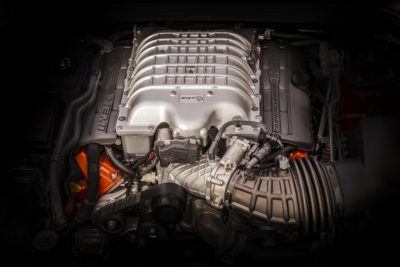 Storm Forward!
Watch Casey's video of the Trackhawk above, then follow him on Twitter and YouTube: @AutoCasey.
2018 Jeep Grand Cherokee Trackhawk
Five-passenger, AWD SUV
Powertrain: 707hp 6.2-liter SC V8, 8-speed automatic transmission
Suspension f/r: Elect. Ind/Ind
Wheels f/r: 20"/20" alloy
Brakes f/r: Brembo disc/disc
Must-have features: 707hp, Comfort
0-60 mph: 3.5s
Quarter-mile: 11.6s
Top speed: 180 mph
Fuel economy: 11/17 mpg city/hwy
Assembly: Detroit, MI
Base/as-tested price: $85,900/90,880