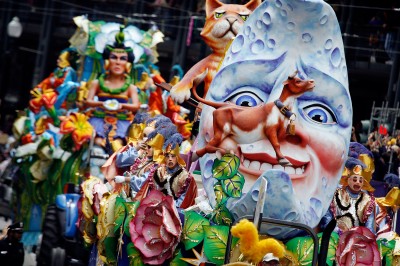 Every year, I update and repost this article for those of you who can't be with us in New Orleans for the joys and pains of Fat Tuesday. More sober posts coming tomorrow! 
* * * * *
Across most of the U.S., today is Tuesday, a normal, nothing-to-see-here workday. In New Orleans, however, it's Fat Tuesday–literally translated, "Mardi Gras". It's the climax of the Carnival season, which begins every year on January 6 and ends 47 days before Easter.
Different cities celebrate Mardi Gras in different ways, but it's typically a day of food, friends, and, of course, drinking. In New Orleans, we hang up our keys and leave the driving to Lyft drivers, float-pullers, the police, and the tourists who have to be back in their cubicles on Ash Wednesday.
If you're in that last group, or if you're simply curious to know what all the hubbub's about, here's our handy-dandy Mardi Gras driving guide, which notes some of the sights and obstacles that foolhardy motorists will face across the Crescent City today. Click on one of the highlighted areas to get the full scoop: