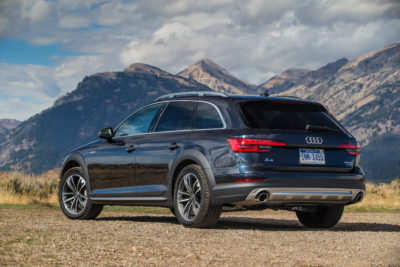 In the mood for a luxury station wagon that can catch your eye and carry all your adopted kids? The 2018 Audi A4 Allroad fits the bill–though if you're a typical, underpaid LGBTQ, you can't afford it. On the other hand, if you have money (from both sets of parents), this wagon version of the A4 sedan is definitely something to consider.
Audi has always had a keen eye for what I call "practical luxury". Let's face it: you may be rich but you still have to spend wisely, especially if there's a chance that the flow of money may stop suddenly. The A4 Allroad is superlatively practical, and it's luxurious enough to slumber in (hopefully because you're camping and not homeless). Even the base model starts with interior leather and a panoramic sunroof, all for a starting price of $44,500. (Yeah, I can't count that high either.)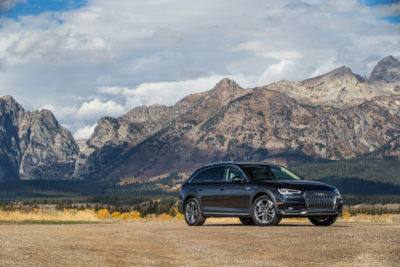 From start to finish, the A4 Allroad is a car that gets everyone's attention. I parked it in the lots of nice establishments and real dives, and lotsa people commented on how beautiful the car is, inevitably failing to mention my beauty and how it complimented my own good looks. If you're the jealous type, be careful, but if you're the kind of person who doesn't mind your pet getting all the attention, you'll get double the pleasure from the Audi A4 Allroad.
This car handles beautifully. When you think of a luxury drive that's sleek and smooth with no distractions, you should think of the Audi A4 Allroad. Honestly, I felt like a Republican congressman, driving around town knowing that the lap of luxury was my own lap, all courtesy of constituent's money. Alas, I am honest man and an extreme liberal, so I have no funds to divert. But if I did, those funds might go to Audi.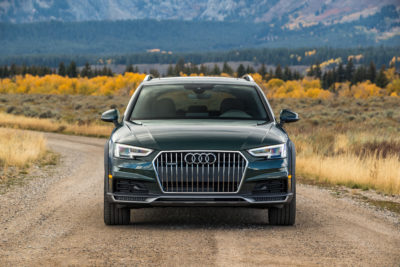 U.S. News and World Report ranks the 2018 Audi A4 Allroad at #2 in the wagons category, just a slot behind the Volvo V90, which is truly an over-the-top, luxurious car. Pricing for the A4 Allroad is a bit more reasonable than for the V90 but still out of reach for most people who do things like most people do, like hold down a job or two or three. And have a family, which may only be a cat or a crocus. Again, if you can afford it, this wagon is worth exploring because, hey, you may have money but you still have to go to Costco and get a year's supply of toilet paper and dish soap, right?
In sum, this is a luxury wagon, and it's nice. Not everyone is into that, I realize. Having a station wagon as part of my childhood, I certainly don't find them to be any big deal–at least I didn't until I drove the Allroad. This car is more of a limousine than a station wagon, IMHO. Behind the wheel, I felt bigger and more powerful. I felt like the world was quiet just for me.
I often feel like that when I'm alone in my bed with tissues and hand lotion close by.