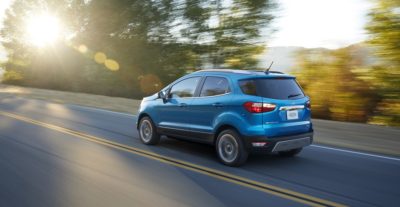 In America's fastest-growing automotive segment, Ford only has one entry. That's about to change.
As subcompact crossovers have slowly supplanted subcompact cars, slightly larger compact crossovers have become the new midsize sedans. Ford has the Escape crossover, but it's needed something a little smaller–something to compete with the Honda HR-V, Chevy Trax, and Subaru Crosstrek. Fortunately, there was the little EcoSport being built in India. It arrives stateside later this year.
The EcoSport is to the Fiesta what the Escape is to the Focus, and one glance confirms the breeding. It looks as if an Escape and Fiesta had untoward relations, and this is the offspring. That's not an insult–both Fords are pretty handsome with their Euro bodywork. A dark grille, LED signature lighting, and foglamps add glamour. It might be hard to believe because they look like tiny doughnuts beneath the tall body, but those are 17" wheels under the fenders.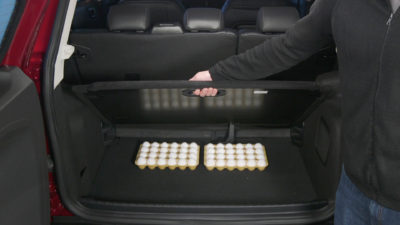 Pause for a second and look at the back of the EcoSport. It has a nice rump, but how in Hades do you open the hatch? I reached under the license plate lip, swiped my foot under the bumper, examined the key fob, and searched the interior for a button. I was cussing Henry Ford himself until I looked at the taillamps. Hidden in the right one is a chrome handle with hidden button. The hatch actually swings out to the left–very cool.
Behind that hatch is a small luggage compartment, but the inner door panel is concave and the seats split/fold to expand capacity. Most people will use the EcoSport as a daily commuter with one or two people aboard, so it's a fair balance of passenger and cargo space.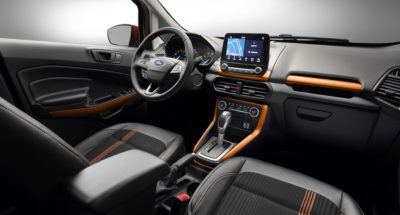 Up in the passenger section, the front seats are roomier than the rears, but four can get to dinner just fine. Keeping the party comfortable are heated front seats, automatic climate control, ambient lighting, and power sunroof. Copper accents on the dash, doors, and as stripes in the seats add style. The touchscreen, which stands proud of the dash, makes it easy to access audio and navigation. Apple CarPlay and Android Auto compatibility ease connections to smart devices. Proper tuning and volume knobs are appreciated, as are blind-spot warning and a rear camera to enhance safety.
Base models come with a 1.0-liter turbocharged three-cylinder engine delivering 123 horsepower and 27/29 MPG city/highway, but our up-level SES edition steps up to the available 2.0-liter four-cylinder that puts out 166 horsepower and manages 23/29 MPG city/highway. All that power is routed to the EcoSport's all-wheel-drive system through a paddle-shifted six-speed automatic transmission. Tow up to 2,000 lbs.
I know what you're thinking: It seems like a pint-sized gas-sucker. Mustangs earn better MPGs with twice the power, but high-riding boxes don't have especially good aerodynamics, which is part of the issue. Ford did add grille shutters and auto stop/start to help.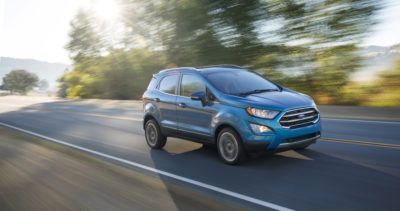 Having spent many miles in the Fiesta and Escape, I was still pleasantly surprised by how the EcoSport drives. The 2.0-liter engine produces enough power for a crossover this size, and it seems to be on good terms with the transmission, though a couple more cogs would improve mileage. As speed increases the steering feels heavier, imbuing the sense of a much larger vehicle. The suspension manages the tall body and rough pavement reasonably well. During a late-spring snow, the all-wheel-drive system made the EcoSport a poor weather champ.
Ford may have had to leverage its global resources to deliver an American-branded subcompact crossover, and it's a little late to the party, but at least it arrived in style. Prices start at just $19,995 and came to $25,325 as tested.
Storm Forward!
Contact Casey at AutoCasey@aol.com; follow him on YouTube and Twitter: @AutoCasey.
2018 Ford EcoSport
Five-passenger, AWD Crossover
Powertrain: 166hp 2.0-liter I4, 6-speed auto trans
Wheels f/r: 17"/17" alloy
Brakes f/r: disc/disc
Must-have features: Style, Comfort
Towing: 2,000 lbs
Fuel economy: 23/29 mpg city/hwy
Assembly: Chennai, India
Base/as-tested price: $19,995/25,325