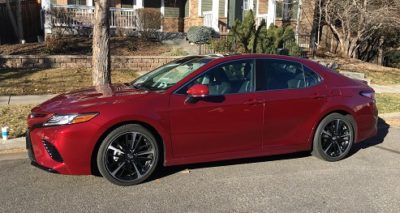 One of my favorite movies is Office Space with Jennifer Aniston, who plays a server at a TGI Fridays-type restaurant.  In one scene, her boss gives her grief because she's only adorned with the minimum 15 pieces of flair. So, when the 2018 Toyota Camry arrived in my driveway, decked out in in Ruby Flare Pearl Red, my thoughts immediately ran from "flare" to "flair"…but then I realized the reference wasn't going anywhere, so maybe I'll just stick to the review.
The 2018 Toyota Camry XSE V6 sedan has won accolades from fans and journalists alike, ever since debuting at the 2017 Detroit Auto Show. The Camry has been top selling mid-size car in America for 15 years, so you'd think that Toyota might be wary of changing too much. You'd be wrong. Toyota took a massive gamble on this complete revamp, which breaks the image of a car your grandparents might choose.
The ninth-generation Camry–and especially the XSE model–has it going on, inside and out! It looks and acts more like a Lexus with its wider stance, longer wheelbase, and a grille that always reminds me of a mouth piece from the original Battlestar Galatica. (Not surprisingly, I said the same thing about the Lexus ES350.)
Coming in a variety of configurations and options, the 2018 Toyota Camry offers the SE for sport and the LE with more luxurious appointments. The X designation indicates the upscale trim package. For me, the XSE is a great combination of styling, performance, quality, technology, safety, and reliability, making the Camry a fabulous value in the midsize car class.
The Camry's list of advanced safety features is long, including things like pre-collision avoidance, lane departure warning with driver assist steering, adaptive cruise control, and pedestrian detection. The updated infotainment system is both convenient and easy to use. The only strikes against the Camry are its lack of Apple CarPlay or Android Auto, along with a smaller trunk and reduced rear-passenger space.
Final assembly of the Camry is completed in Georgetown, Kentucky. The 3.5Liter V6 24 valve dual overhead cam, dual-injection, dual VVT-I engine is connected to a direct shift, 8-speed ECT-I transmission with sequential shift mode. On the road, that combo can churn out 301hp and 267lb-ft torque, which makes this one of the most powerful Camrys in production to date. The sports-tuned suspension with enhanced VSC, traction control ABS, brake assist, and SMART Stop technology means improved handling and stopping capability.
The 300-horsepower engine, improved driving dynamics, and long list of features and options make the 2018 Toyota Camry XSE V6 a winner in its class with loads of flair. Enjoy life, and enjoy the drive!
Model: 2018 Toyota Camry
MSRP: From $29,000
Horsepower: 206 hp
MPG: 28 city / 39 highway
Fuel tank capacity: 16 gal
Wheel size: 19″ diameter, 8″ width
Curb weight: 3,395 lbs
Torque: 186 lb-ft
Photos by Toyota and Dave Bear
---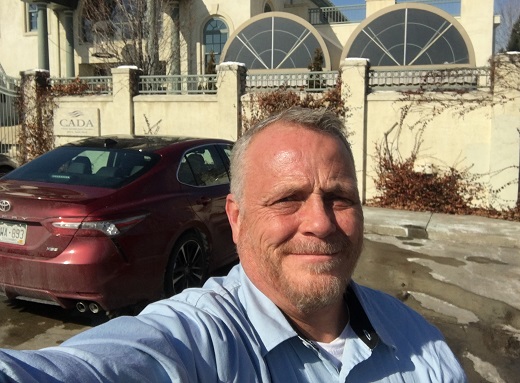 David Beardsley or Dave Bear is a content contributor for Gaywheels and Vice President of the Rocky Mountain Automotive Press . He is a true power and speed enthusiast. He was a successful IT professional and worked as a content writer for Microsoft's Customer Experience Project, in the Information Services & Technology Department for Apple Computer, and in eBay's Network Operations Center. He is a published author and subject matter expert in several fields including both hardware and software.