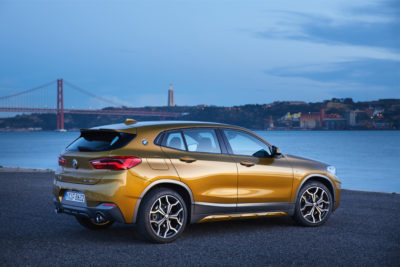 In almost every ad for the 2018 BMW X2, you'll see the X2 bathed in this honey Dijon color that's officially called Galvanic Gold Metallic, which, well, okay…. It's a color that makes it easy to find in the Menards parking lot but, I don't know if I'd want it 24/7.  Still, it's an attractive color, and it works well with the X2.
Now as for the X2 itself, this car takes the classic station wagon and turns it into a luxury Town Car with all the velvet and whistles, while still remaining capable of handling all your butch/family demands.  BMW will always be the mark of luxury, something to which you aspire. (Notice how I did not end that sentence with a preposition.) The X2 is just a bit more practical, not as big as the X5 SUV or the X3, which is a bit smaller. This is a baby luxury SUV, and trust me, that doesn't begin to explain what it is.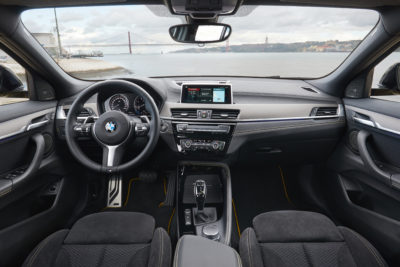 So, your first question probably is "Can I afford a BMW?" Starting price on the X2–which doesn't really have any "direct competitor(s)" according to Kelley Blue Book, is $36,400. Affordable? What is affordable anymore, and how are we defining it?
There's only one engine choice for all X2 trims: a 2.0-liter 4-cylinder turbo offering 228 horses and 258 pound-feet of torque. It's quite the little engine that could and does, and it's perfect for the size and spunk of the car.
The interior is what you'd expect from a brand like BMW: practical and sensible with a strong hint of crushed velvetiness and pretentiousness.  As for being logical, BMW still uses buttons for things like temperature and volume; for those who need high-high-high tech, all that is available as well.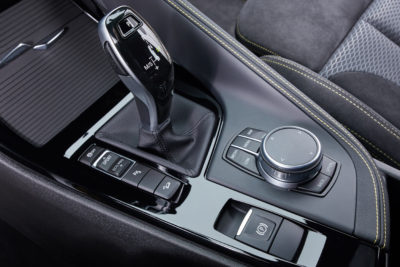 When you get in, you know you've stepped into a luxury car.  It smells like a nice car and feels like a nice car, one where even the sloppiest of dates would hesitate to bring a triple-fat, extra-whip, three-Splenda-added frosting and sprinkles skinny latte. You get the picture. This isn't a car for taking your clothes to a laundromat or having an egg salad sandwich in the driver's seat while you wait. I mean, you can put your clothes in this car, but you may prefer to enjoy the X2's heady fragrance, uncompromised by Downy or Oxi Clean.
Handling is impressive! I was able to zip in and out of spaces and traffic just as fast as Burt Ward and Adam West could more than 50 years ago, and they had the Batmobile. Remember, this is technically an SUV, but it handles like a mini sportscar–not too much grip and not too many thrills and spills.  Like Goldilocks, this car is just right…unless you're constantly carrying around passengers in the back seats.  Caution is advised if you plan to use this SUV like a traditional SUV, whatever a traditional BMW SUV is.
To be sure, I still see BMW as being out of my league.  I'm the gay in the beat-up Chevrolet looking at the A-List gays wearing all-cotton clothes and driving BMWs, wondering how they afford such luxury. I still can't tell you how anyone manages it, but more and more of the population seems to need it as a part of their everyday lives.
And we here at a Gaywheels.com are here to help spend your money however you see fit (wink).