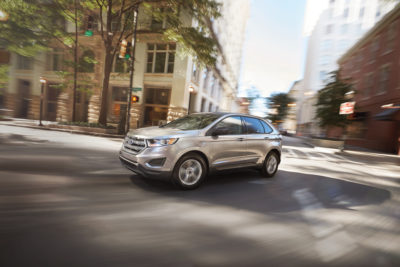 It's not that cool to admit in motoring circles, but I do love a big SUV. I'm a big guy, and I need space! So, I was understandably thrilled to test out the new Ford Edge, Ford's answer to the Audi Q5, BMW X5, and Volvo XC60. (That being said, it's only new to those of us in the UK and Europe, as it's been a popular choice for Americans for years.)
SUVs are taking over the world, with 1 in 3 cars sold now being SUVs or their baby versions known as crossovers. This dominance began way back in 1963 with the passing of the Clean Air Act, which eventually led to America's first-ever federal tailpipe emissions regulations. These required automakers to more than double cars' fuel efficiency over the course of a decade. However, vans, pickup trucks, and off-road vehicles were subject to fewer restrictions, so the automakers' solution was simple: make trucks the new family car!
In the U.S., SUVs, crossovers, and pickups now outsell all other car categories combined, and that trend is spreading throughout the world, where big cars offer a sense of status, stability on bumpy roads, and room for larger families.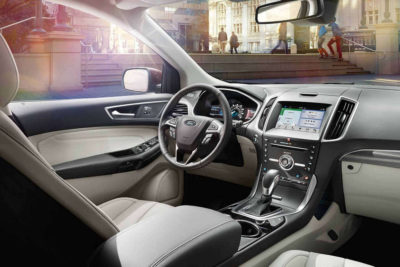 Once reviled as big, gas-guzzling ugly boxes, SUVs are now becoming more efficient and certainly a lot better looking. The Ford Edge is no exception here. I like a car that looks angry–I'm not quite sure what that says about me, but I just like it. The Ford Edge has an amazing exterior, and Ford has done a great job of the design. From the snarling front end to the raked rear, every inch of this SUV is cut out to look sporty.
The quality runs through on to the inside of the cabin, too. I drove the ST Line specification, which had every bit of tech you can think of, from heated and cooled (a strange sensation) front seats, to the Ford infotainment system, which I found to be very intuitive. It also came with an impressive Sony sound system, numerous USB outlets, and even a mains plug socket for rear passengers. The overall feel of the cabin was comfortable and of high quality. Robin's rule for a big car is that I can take it on a long drive, and if I'm not tired at the end of it, I know the car is comfy and doing what it needs to do.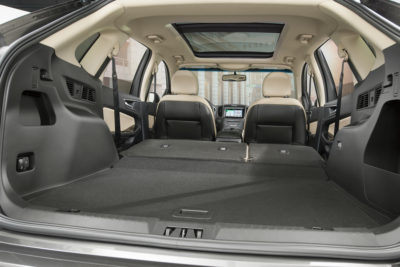 Space on the inside was ample. Ford's choice not to put in a third row of seating is great for a car of this size, considering a lot of its competitors have taken this option. Although some would argue that it's a waste not having those extra seats, I think it offers a huge amount of comfort to the rear passengers. I'm 6 foot, and in my driving position, I can sit very comfortably behind myself in the back, which is rare.
The majority of surfaces were soft touch, and the leather had a good finish. However, there was something off about the centre console: it felt very gray and like it was missing something. By all means, designers should cut down on the number of buttons and use the touchscreen system to good effect, but don't leave the space where the buttons would go. It looked very empty and could have been better laid out. Also, there were plenty of "scratchy moments"– you know those areas where you can scratch the plastic and it feels a bit cheap.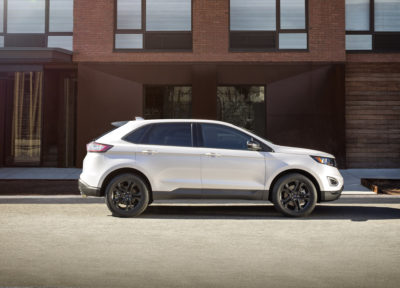 I think the problem here is that, outside of America, Ford is pitching the Edge into the premium SUV market, which is dominated by European manufacturers who can do refined interiors just that bit better.
The performance is an interesting discussion point. Due to the unique way the motor industry has to work in the UK (damn you regulations!), we only have a 2.0-litre turbo diesel engine to power a two tonne SUV! The ST Line model I drove had the higher spec'd bi-turbo option, which gave some good pulling power, and although not sharp off the line, it did offer good amounts of torque to give you the grunt you need to enjoy your drive. However, I'd have loved to have had the opportunity to drive the V6 twin-turbo available in the US. I feel that's where the spiritual home of the SUV is–in a big V6, not in a strangled turbo diesel.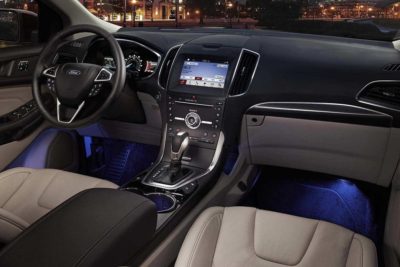 So, this is the dilemma: measured for what it is and what you get for your money, the Ford Edge is a great car and would be right up there on my list of vehicles I want to buy. It has the looks down, the interior is great with a couple of minor exceptions, and the performance is what you need from a big car. BUT, and it's a big butt (the tailgate is huge!), when you sit back and say to yourself, "What other options are there for the money?", you can't help but look over at Audi, Volvo, BWM, and Jaguar, which all offer similar sized SUVs for a similar price but with superior interiors and performance.
That's why the headline is what it is, the Ford Edge is right on the edge of glory…and you know what? I'd go for it.
My name is Robin Gray and I like big American SUVs!