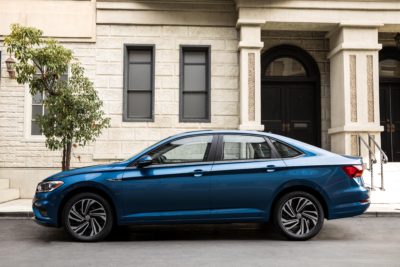 The Volkswagen Jetta has never been one of those 'wow' cars, and that's been by design.  It was always meant to be an average car for the average family who needed something average but with a kick to it–sorta like putting cilantro on your chicken-fried steak while shaking your maracas. If you want to impress the kids at the cool kids table (and why would you want to do that?), the Jetta ain't it.  But if you want to impress your spouse and wear a gold star for your forward-thinking economizing, the 2019 Volkswagen Jetta should make you feel good about yourself.
To be sure, the new Jetta is completely redesigned. It will be the seventh generation of the compact sedan, and it will have some upgrades that are very 21st century, like Beats Audio. No more enjoying Liza Minnelli or Robert Goulet on the cheap, factory-installed radio and tape player.  Now your Jetta will be a true entertainment center.  Pick your 'beat' and go.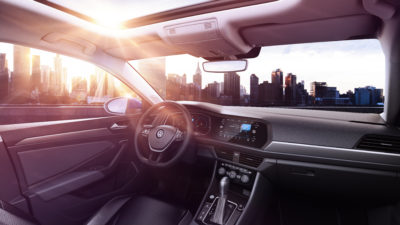 All trims get a 1.4-liter 4-cylinder turbo that offers 147 horsepower and 184 pound-feet of torque. This engine proved to be more than sufficient when I tested it in North Carolina earlier in spring. (Yes, I know: North Carolina. But we need to continue supporting the LGBTQs who have to live in that state and others that are even worse.) There was plenty of pep and pounce, and it worked just right for getting around.
The 2019 VW Jetta will start at $18,545 for a manual transmission, and that's a good entry point for a new vehicle. If you go all the way up to the top-tier SEL trim, you can still walk away from the showroom having spent less than $25K, and that too fits within most working budgets. Regardless of what trim you buy, you'll get Post-Collision Emergency Braking as standard, along with a backup camera. To be clear, PCEB (not PTSD) won't prevent crashes entirely, but by slowing it down, further damage should be minimized–like, say for example, loss of limb (in theory).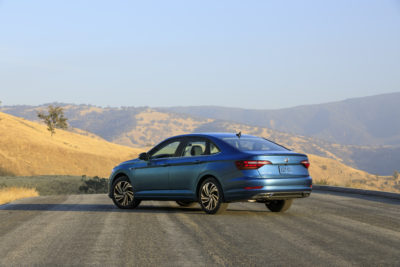 Combined mileage on the 2019 Jetta comes in at 34 mpg, up a bit from 2018 and still an impressive accomplishment in gas engine circles. The new Jetta is also a bit wider, longer and higher than in recent years, and it's a bit roomier too. Fans say it looks very European, but it still looks American to me.  When I think "European", I think of the style and sleekness that Daniel Crag or Penelope Cruise have.  To me, the 2019 Jetta is more in the vein of Melissa McCarthy–one of the most talented comediennes on the planet right now, but still very American.
On higher trims, you'll be able to get drives modes (Normal, Sport, Eco, and Custom) that should make your daily commute more enjoyable and stress-free. Well, I don't think any car can really do that, no matter how often your employers tell you how much you love your job.  But you get the picture: the 2019 Volkswagen Jetta is a small sedan gem to explore. You may want more and think you need more, but maybe not: the Jetta may be where you need to land to ensure you make it safely into your golden and platinum years.
I really enjoyed driving the 2019 Jetta, but I am by admission a simpleton.  The fewer stresses I have trying to impress other drivers and other car bloggers who live in their parents' basements, the better. I need to get in and go and not let anything interrupt the drive or my music.
Including my own big gay Fabulosa fabulousness….