Pickups have the reputation of being the realm of jerky-chewing, tobacco spitting manly men, but in Platinum trim, the Ford F-150 can not only pull parade floats, but would also be a the perfect, flashy ride for any queen. Ford's big truck has been the best-selling vehicle in America for decades, but it's about to get shade from all-new trucks made by Ram, Chevrolet, and GMC. For now though, it still leads the pack.
The Ford F-150 Platinum is both butch and glitzy with a plethora of technology beneath and within the familiar-looking skin. Flanking the bold chrome grille up front are LED headlamps and foglamps, which glisten in C-shaped signatures. The stepped side windowline hints at muscular Super Duty models. White Platinum metallic paint dresses with pearls, while power-folding mirrors and 20" wheels add accessories. Around back, LED bed lights, spray-in bedliner, and deployable tailgate steps add convenience.
Especially given effective commercials from Chevrolet that show rocks destroying Ford's aluminum bodywork, you may be worried about this truck's sheetmetal. Well, don't. Ford once owned Range Rover and Jaguar, which helped pioneer aluminum bodies. Also know that Ford was led by Alan Mulally, who oversaw development of the Boeing 777 jetliner. Ford has had all of the brainpower it needs to employ aluminum properly. Customers now benefit from the removal of nearly 700 pounds, which improves performance and fuel economy.
Open the door, step on the power-deployed running board, and climb inside your carriage. Dark Marsala red leather and real black wood trim make a beautiful first impression–as do heated/cooled front seats, heated rear seats, and a heated steering wheel. Crank up the sweet B&O audio system, power open the twin panel moonroof, and press another button to whisk open the rear window for a relaxing drive. A long cab provides ample rear seat legroom for your entourage.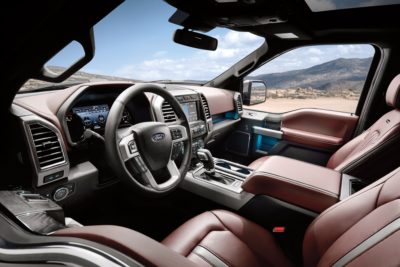 Look a little closer and you'll find an array of technology at your feet and fingertips. Navigation, power pedals, automatic parallel parking assist, and in-dash trailer brake controller are swell. Keeping everybody safe are blind spot warning, adaptive cruise, forward crash mitigation, lane keep assist, rear cross path detection, and 360-degree camera systems.
Ford made a big deal out of its turbocharged six-cylinder engines, but our truck rolls old-school with a 5.0-liter V8 delivering 395 horsepower and 400 lb.-ft. of torque. Not so old school is the 10-speed automatic transmission and auto stop/start, which help boost fuel economy to 17/23 mpg city/highway. That's with four-wheel-drive and the largest Super Crew cabin.
There are a lot of gears in that transmission, and they're not always in a good mood, but power comes in the right doses at the right time. Step into the throttle and the truck scamps away quickly. Bumps can unsettle the rear suspension, but no worse than most competitors. Put the truck into a corner and you can definitely tell there's less weight to man-handle as the truck feels more Fred Astaire than Fred Flintstone. On the road, four people travel in divine luxury.
Ford must pay attention to fend off the vultures that will be landing this year, but it doesn't have too much to worry about. From familiar design to saturating luxury and substantial capability, the F-150 earns its Platinum status. Base F-150s start at $27,705, but our luxury float rolled in for $63,055.
Storm Forward!
Watch Casey's video of the Ford F-150 above, and reach out to him at AutoCasey@aol.com.
2018 Ford F-150 Platinum
Five-passenger, 4WD Pickup
Powertrain: 395hp 5.0-liter V8, 10-spd auto trans
Suspension f/r: Ind/Solid axle
Wheels f/r: 20"/20" alloy
Brakes f/r: disc/disc
Must-have features: Luxury, Performance
Fuel economy: 17/23 mpg city/hwy
Assembly: Dearborn, MI
Base/As-tested price: $27,705/$63,055