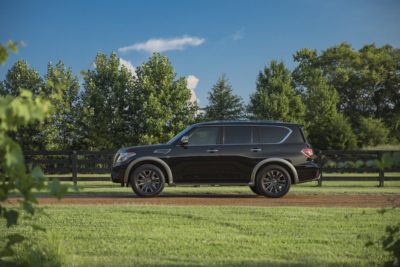 Take your pick of three-row, mass-market battle tanks that are designed to take you and your tribe cross-country on a wild adventure–or just cross-town to a ripping restaurant. Open the menu to the Chevy Tahoe, Ford Expedition, GMC Yukon, Toyota Sequoia, and Dodge Durango. If you feel the need to indulge in one of these behemoths, you should add one more big boy to the page: the 2018 Nissan Armada.
Naming the big SUV after a fleet of navy ships seems appropriate because many people came up to me this week saying, "That is one huge SUV!" Yes, but it looks especially classy in Reserve trim with 20" dark alloy wheels and dark chrome grille, mirrors, and door handles. The body shell is shared with the Infiniti QX80, which means a muscular stance, gentle curves, mile-high bodysides, and the elegant upturned rear windowline. If you think you've seen this parade before, that's because the Armada is cribbed from the global Nissan Patrol, which is most often seen painted white with UN logos on the sides.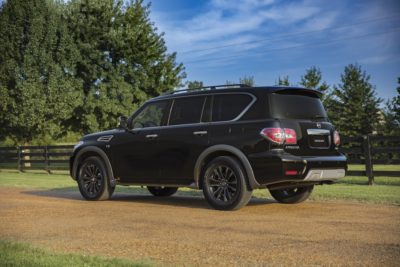 You sit high and proud once you heave yourself up inside. Everything about the interior trim feels luxurious. It is–and comfortable too. The Reserve edition's two-tone leather seats with inset waffle pattern are heated and cooled up front, heated outboard in the rear. There's also a heated steering wheel, rear climate control, 13-speaker Bose audio system, power moonroof, and remote starting. Open the power hatch and motor down the rear seats to haul almost anything.
The Armada has everything but an anti-missile system to keep you safe. Sensors of all types manage the adaptive cruise control, forward collision warning, and forward crash mitigation systems. There are also lane departure warning, lane keep assist, blind-spot warning, and back-up intervention systems. It's a ride that will do everything possible to prevent a very bad day.
Fortunately, this hunk of steel and chrome also has no trouble shoving its ample nose into the wind and cruising off at whatever speed you deem appropriate. That's obvious from the moment the 5.6-liter V8 whooshes to life and gives a hint at the 390 horsepower and 394 lb.-ft. of torque it delivers through a 7-speed automatic transmission and four-wheel-drive system. It will tow up to 8,500 lbs. As you may have guessed about this 5,963-lbs. truck, fuel economy is not its most beautiful feature. Expect 13/18 mpg city/highway.
You may take from its size and luxury accommodations that the Armada Reserve would be like piloting a sea-going yacht, but not so. It has enough power, but it also rides on a four-wheel independent suspension that does a reasonable job of soaking up rough pavement. It's not luxury-car-smooth, but not bad for a big SUV. In a nod to its legitimate off-road capability, the truck has a pretty tight turning radius that's great in the wild, but also pays off in snug downtown parking garages.
When you think about buying a full-size SUV, the Armada may not have made your short list. If so, make your list longer and put the Armada near the top. It has the presence and capability of a very capable luxury wagon that coddles passengers in silk gloves (or, comfy leather seats). To put one on reserve will cost at least $46,090 or $66,695 as tested.
Storm Forward!
Contact Casey at AutoCasey@aol.com; follow him on YouTube @AutoCasey.
2018 Nissan Armada Reserve
Seven-passenger, 4WD SUV
Powertrain: 390hp 5.6-liter V8, 7-spd auto trans
Suspension f/r: Ind/Ind
Wheels f/r: 20"/20" alloy
Brakes f/r: disc/disc
Must-have features: Style, Engine
Towing: 8,500 lbs.
Fuel economy: 13/18 mpg city/hwy
Assembly: Yukuhashi, Kyushu, Japan
Base/As-tested price: $46,090/$66,695