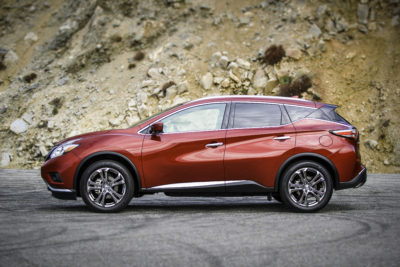 Remember the two codgers that sat in the audience of The Muppet Show?  Created by the late Jim Henson, Statler and Waldorf were known for their cantankerous opinions as they hurled heckles from their balcony seats. The elderly characters consistently jeered the entire cast of The Muppet Show, which has aired almost continuously somewhere in the universe since 1975.
Not to imply that the 2018 Nissan Murano is an old-man-mobile, but I could totally see Statler and Waldorf behind the wheel of the Nissan Murano Platinum edition. (What? It's not like Muppets don't drive–Fozzie Bear drove a 1951 Studebaker Commande.) It's stately like their own viewing box, and it's full of creature comforts that demanding characters like those two crave.
The Nissan Murano has been around since the start of the millennium. Now on its third generation, the Murano comes with a nice list of standard features and several trim packages starting under $32,000 for the Murano S and up to $43,000 for the Platinum AWD.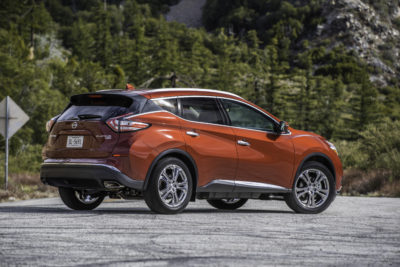 Receiving a minimal makeover for the 2018 edition, the Murano Platinum appears created for the Baby-Boomer/Gen-Xer demographic, or what Nissan classifies as "luxury-minded empty-nesters." With a litany of features and gadgets, the Platinum with intelligent AWD has a lot to offer, including an expensive price tag.
The 2018 Nissan Murano Platinum AWD provides convenience, comfort, and safety. Many of its advanced features (once only for the top trim packages) are becoming standard at all trim levels. However, only the Platinum comes standard with automatic emergency braking and the dual-panel moonroof.
Nissan's Intelligent Mobility is a comprehensive suite of integrated features aimed at increasing safety and reducing driver fatigue.  Automatic emergency braking, intelligent cruise control, forward collision warning, blind spot warning, rear cross traffic alert, and around view monitoring, are just a few of the Murano's offerings.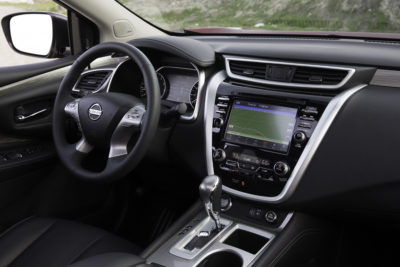 The Murano is driven by Nissan's 3.5-liter, VQ-V6 engine, a reliable powerplant with sequential multi-point fuel injection and dual overhead cams that push four valves per cylinder, which makes for a very fuel-efficient SUV. Named by WardsAuto in 2016 as one of the top ten engines, the VQ series motor can also be found in the Infiniti i30 and Nissan Maxima.
Only a few things detract from the overall high marks that the 2018 Murano received in my book. Visibility is poor, especially in the rear; the steering response is slow; and the lackluster drive performance is less than class-worthy. However, the Murano Platinum has a lavish, roomy, and exceptionally comfortable interior.  Bear-friendly feature-rich technology, great fuel economy and excellent crash safety scores take the 2018 to the top of the my midsize SUV list.
Model: 2018 Nissan Murano
MSRP: From $42,230 – $43,830
Horsepower: 260 hp
MPG: 21 city / 28 highway
Dimensions: 192″ L x 75″ W x 67″ H
Curb weight: 3,872 to 4,017 lbs
Towing capacity: 1,500 lbs