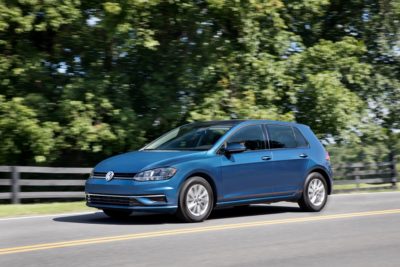 So, here was the mission over Memorial Day Weekend: Drive to see my grandma and uncle, have lunch, zip across the state to visit my parents at a state park, spend the night in their rolling condo so I can watch the Indianapolis 500 race on Sunday, and then high-tail it back home to greet my family as they return from visiting in-laws in Dallas. I needed a fast car, comfortable at speed, which could travel long and far between fill-ups. I was thinking a Bentley Mulsanne would be perfect, but no dice, so I ended up at the complete opposite end of the Volkswagen Group spectrum with a base Volkswagen Golf. Smile turned to frown, then the other way around.
On first glance, the Golf's about as exciting as the semi-truck on which it likely arrived–not exactly glamorous. That's not to say the Golf is ugly, because it isn't, with an advancement of the iconic two-box design first drawn by Giorgetto Giugiaro for the original Golf in the 1970s. Streamlined for speed, enhanced with LEDs, and chiseled for an upscale appearance, it's a precision piece. But, the 15" alloys, thick-walled tires, and gray metallic paint aren't sexy.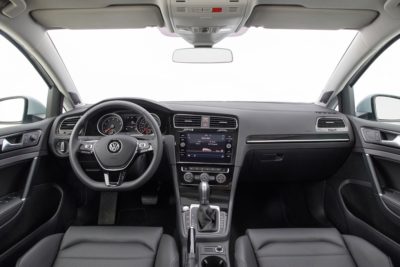 That five-door glistening wrapper enables a roomy and comfortable cabin meant to travel far and wide. I said comfortable, but not luxurious, though everything is well-made. It doesn't have heated leather seats, sunroof, automatic climate control, Fender audio, or navigation. You'll crank and pull your seats to adjust them. But, everything works easily and is well made as the dash and doors are softly padded–rare in this class. Doors close with a crisp thunk to remind you this car is very safe and very German.
Pluses work up the score. Cloth seats are well-made and all-day supportive, the leather-wrapped steering wheel is a joy to grip, and the base audio is better than upscale competitor systems. Even on a 95-degree day, the air-conditioning would cause an Eskimo to don a parka. Apple CarPlay and a simple 6.5" touchscreen make it easy to access your phone's music, texts, and maps. Why build it in when you carry it with you? Spring open the hatch and flip down the 60/40 split seats to haul almost anything. Boxy has its privileges.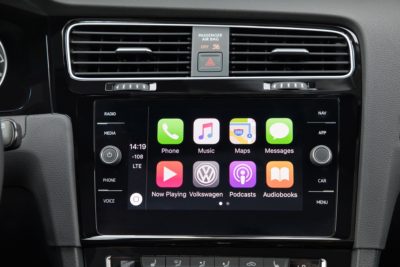 A supercharged V8 or V-12 could really propel a car across open Interstate, but you can bet the Golf has neither. Instead, the wedgy box has a 1.8-liter turbocharged four-cylinder engine delivering 170 horsepower and 184 lb.-ft. of torque. Connected to a five-speed manual transmission, it sips fuel. Think 25/34 mpg city/highway.
There's a precision to the driving experience unfound in other compacts. The four-wheel independent suspension seemingly steps down the road, erasing bumps along the way. Combined with the thick rubber, the ride is compliant, yet reassuringly firm, encouraging you to find all the turbo has in reserve while knowing the car will be there to support you. The transmission has only five speeds, but they are smoothly rowed as the turbo's torque lets you wring them out with a surprising amount of forward acceleration. It's a car that demands to be driven. Step in deeper for rewards.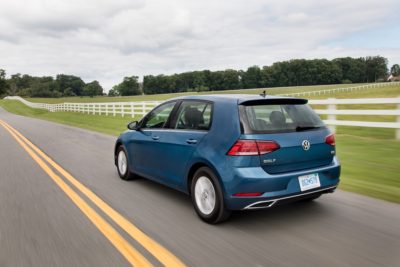 The Golf is not just good, it's excellent. Others agree. It was named to Car and Driver's 10 Best list and is one of KBB.com's Ten Coolest Cars of 2018. Most importantly, it earns a 5-star overall safety rating from NHTSA.
There is nothing sexy about the Golf, and it's no Bentley, but it is proves you do not have to spend lavishly for a thoroughly competent compact that's easy to live with no matter how far you roam. The base and as-tested price: $20,910. Competitors include the Subaru Impreza, Honda Civic, Chevy Cruze, Toyota Corolla iM, Ford Focus, and Mazda3.
Storm Forward!
View Casey's video of the Volkswagen Golf above; contact him at [email protected]
2018 Volkswagen Golf S
Five-passenger, fwd crossover
Powertrain: 170hp 1.8-liter T4, 5-spd man trans
Suspension f/r: Ind/Ind
Wheels f/r: 15"/15" alloy
Brakes f/r: disc/disc
Must-have features: Comfort, Powertrain
Fuel economy: 25/34 mpg city/hwy
Assembly: Puebla, Mexico
Base/As-tested price: $20,910/$20,910