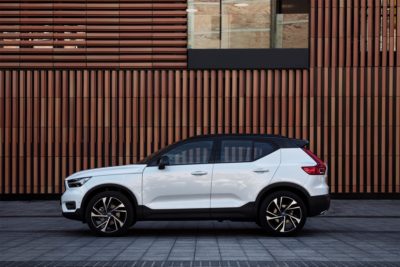 Volvos were like the nerdy little kid you knew in elementary school who was incredibly smart and sensitive, dressed like a geek, and was overly-protected by his parents – a reliably safe kid who seriously needed to have some fun. Over the last decade, through ownership by China's Geely, Volvo kept all you loved about the little nerd, but taught him to cut a rug in his stylish Swedish rumpus room.
Gone is boxy sheetmetal, replaced by a taut suit distinguished by chiseled fenders, upturned rear side window, and available contrasting color floating roof. Yet, it's still recognizably Volvo with a reinterpretation of the brand's trademark grille, strong shoulders, and curved taillamps. Modern touches include "Thor's Hammer" running lamps, LED headlamps, LED foglamps, and 20" R-Design alloy wheels. It seems a little avant-garde at first with its unique style and black accents, but quickly blends as a familiar part of the Volvo family.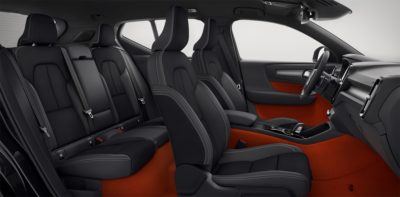 From orange carpet on the floors and doors, it was obvious riding inside the XC40 would not elicit the typical compact crossover boredom. As in top-flight autos, the instrument cluster is a large flatscreen. Aluminum inlays with black dot pattern add a touch of Euro cool. Heated Nappa leather seats, heated steering wheel, and power panoramic sunroof delight. Designers worked in storage under the driver's seat, artful air vents, sport pedals, and paddle shifters. Given 400 watts of Harman Kardon audio from 13 speakers, you'll hardly miss the divine Bowers & Wilkins system from larger Volvos.
Infotainment is controlled with a big 9" center touchscreen that looks intimidating, but after a few moments, I was swiping through logical screens to conjure music and navigation. Bluetooth, Apple CarPlay, Android Auto, and a Wi-Fi hotspot connect your toys. Swipe right for a full menu of crash avoidance systems: Lane keep assist, forward collision mitigation with pedestrian/cyclist/large animal detection, blind spot warning, and rear cross path detection with crash mitigation. Also control the automated parking system and adaptive cruise.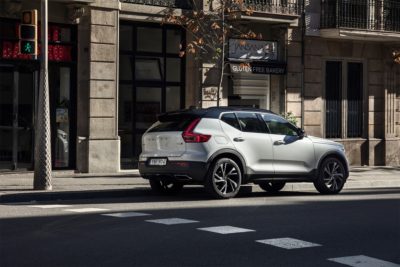 The party moves into the streets when the geek puts on his running shoes. Under the sculpted sheetmetal is a 2.0-liter turbocharged four-cylinder engine that delivers 248 horsepower and 258 lb.-ft. of torque. An eight-speed automatic transmission and all-wheel-drive puts power to pavement expeditiously. Whisking onto the freeway, or away from speedy semis, was just a snap of the ankle. Given the XC40's performance, 23/31-MPG city/highway is impressive.
None of this would matter if the XC40 didn't drive like a star. It feels heavy and safe, the suspension rumbling over rough pavement while barely bothering occupants. Flip it onto a quick on-ramp, or through curvy backroads, to be absolutely delighted. Seats are supportive, encouraging very long drives. From behind the wheel, it seems like a far more expensive vehicle.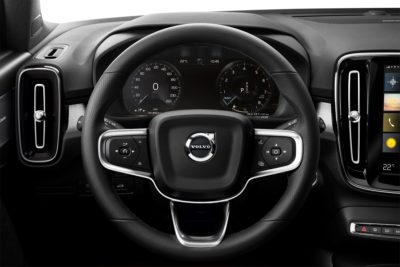 Nerdy little Volvo could have just built another perfectly pleasant and competently safe compact crossover. But, it didn't, instead choosing to be the cool kid that never forgets its raising. This is exactly the car Volvo needed. It's every inch a Volvo, but one that will have long lines of drivers looking to play in its stylish tech-laden rumpus room.
A base price of $33,200, or $45,935 as tested, puts it against the Range Rover Evoque, BMW X2, Acura RDX, Mercedes GLA, Infiniti QX50, and upcoming Cadillac XT4
Storm Forward!
Send comments to Casey at AutoCasey@aol.com; follow him on YouTube @AutoCasey.
2019 Volvo XC40
Five-passenger, AWD crossover
Powertrain: 248hp 2.0-liter T4, 8-spd auto trans
Suspension f/r: Ind/Ind
Wheels f/r: 20"/20" alloy
Brakes f/r: disc/disc
Must-have features: Style, Tech
Fuel economy: 23/31 mpg city/hwy
Assembly: Ghent, Belgium
Base/As-tested price: $33,200/$45,935