My neighbors must have thought the governor, a professional football player, or perhaps some long-lost wealthy relatives were at my house this week. It's not because I live in a grande maison or throw lavish parties, but rather because there was a ginornous glitzy black SUV hulking the driveway. There was no missing the GMC Yukon XL Denali, which is a whopping 20 inches longer than less-endowed versions. It's an upscale limousine for all you call family.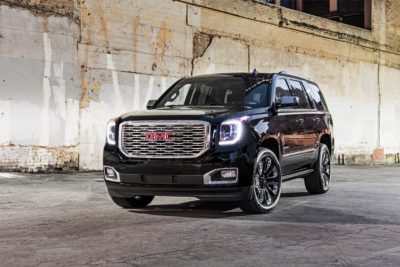 It's a parade of black sheetmetal and chrome, beginning with the big Denali grille flanked by projector beams and LED signature running lamps. A sense of formality comes from long flanks, subtle body sculpting, power-deployable running boards, and chrome that surrounds the door windows – all placed over black and chrome 20" wheels. Its size is not an illusion as XL versions ride on a 14-inch longer wheelbase than non-XL models. C-shaped LED taillamps leave impressions. Squeeze the handle to power open the wide hatch and view a luggage space that's twice as large as shorter Yukons.
Since many Yukon XLs will end up as executive transports, let's start in the rear where twin captain's chairs have access to their own climate controls, heated cushions, air vents, and overhead video monitor for movies, games, or to project images from your devices. There's another screen for those in the cheap seats. Buttons in the cargo area deploy the rear two rows quickly.
Moving to the front brings heated/cooled seats, heated steering wheel, sunroof, and automatic climate control. Brushed aluminum and wood finishes plus stitched panels posh it out. The infotainment system is a little slow to boot up, but has a simple touchscreen, with back-up from voice controls and proper knobs below, for commanding navigation and the 10-speaker Bose audio system. 4G Wi-Fi lets you conjure the Internet from almost anywhere. Drivers further enjoy a head-up display, power steering column, and power pedal adjustment. Adaptive cruise, forward auto braking, and lane keep assist enhance safety.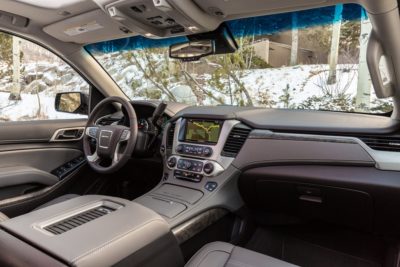 A key reason for buying the Yukon XL is the need to pull trailers weighing up to 7,900 lbs. And a key reason it can do that lies behind the big chrome grille where the engine compartment is filled with a 6.2-liter V8 delivering 420 horsepower and 460 lb.-ft. of torque – routed to the four-wheel-drive system through a new 10-speed automatic transmission. Given the beast weighs nearly three tons itself, fuel economy ratings of 14/20-MPG city/highway seem almost reasonable.
Throttling that engine brings great joy as the exhaust rumbles and it hauls off like a 707 on take-off. Magnetic ride control continually adjusts the suspension to balance a smooth ride with controlled handling. The new transmission does a better job of keeping the engine in the right power band with smooth shifts. On the highway, or in town, it steps down a cog or two without drama to keep the party moving. An in-dash trailer brake controller and electronic trailer sway control add convenience when that boat, RV, or classic car is on-hitch.
Despite its length and girth, there are a couple of areas where the Yukon comes up short. It's like a long-bed pickup with the seats folded, but a third row of passengers would be more comfortable in most mini-vans. It's also time for GM to ditch the sold rear axle and install an independent arrangement to quell bumps and lumps. And, from behind the wheel, you can really feel the truck's mass when making lane changes. It's hard to deny the Ford Expedition's aluminum body panels, independent suspension, and twin-turbo V6 thoroughly challenge GMC.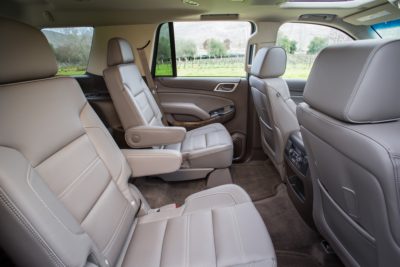 Without question, the Yukon Denali has all of the luxury, style, and capability upscale SUV buyers demand, but if there's one downside to GMC's version of the Cadillac Escalade, it's price. Base Yukons start at $49,100, but our loaded XL Denali rose to a whopping $82,190. Besides the Ford Expedition, competitors include the Nissan Armada, Toyota Sequoia, and GM's own Chevy Suburban.
Storm Forward!
Send questions and comments to Casey at [email protected]; follow him on YouTube @AutoCasey.
2019 GMC Yukon XL Denali
7 passengers, 4WD SUV
Powertrain: 6.2-liter V8, 10-spd auto trans                                                                                                                                                      
Suspension f/r: elect. Ind/Solid axle
Wheels f/r: 20"/20" alloy
Brakes f/r: disc/disc                  
Must-have features: Style, Capability
Towing Capacity: 7,900 lbs.                                                                                                            
Fuel economy city/hwy: 14/20-MPG
Assembly: Arlington, TX
Base/as-tested price: $49,100/$82,190