Audi just threw its hat into the electric vehicle ring – and this one could send shockwaves across the marketplace.
The unveiling of the e-Tron crossover/SUV in San Francisco signals a new chapter for the company's electrification strategy.
Audi's entry came on the heels of Mercedes-Benz's announcement of their new EV – the EQC. Along with the Jaguar i-Pace, the premium European brands are targeting Tesla's Model X and its "falcon-wing" rear doors. The aim is to present more conventional looking vehicles within the crossover EV segment that are both familiar and accessible to their customers.
A few things that help Audi's entry into the Electric SUV/crossover segment is that they are doing the things that make other models successful. The battery pack is located on the floor of the vehicle, in-between the two drive units. There are 36 battery cells inside the pack, designed to be easy to service and protected from potential impacts off of a collision.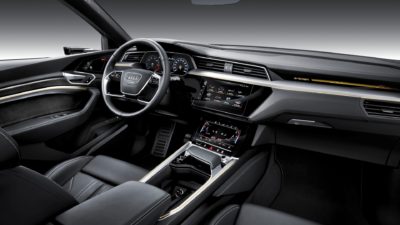 Each axle has its own motor, giving it an EV version of the quattro all-wheel-drive system. Where Audi made the most emphasis has been performance. They claim a 5.5-second 0-60 MPH with a top speed of 124 MPH while setting a maximum tow rating of 4,000 pounds.
Braking can be achieved in two ways. The electric motors can brake the vehicle in 90 percent of all driving scenarios while sending energy back into the battery pack. Friction brakes work when the system detects a need for them through an electro-hydraulic actuation system.
You can plug the e-tron into a level 2 charger from a 240-volt current, bringing it to full charge in four hours. You can also utilize a Level 3 FastCharger on the other side of the vehicle, that can be charged up to 80 percent in about 30 minutes at the rate of up to 150 kW.
Two key elements were seen on this new e-tron. One there was design continuity where the e-tron simply looked right at home alongside Audi's non-electrified lineup. It is handsome, exhibiting the "new face" of the brand up front, with full-length rear lighting across the liftgate.
Secondly, Audi made a conscious effort in terms of technology. The side mirrors are cameras, which are designed to be slimmer and slipperier than conventional door units. Expect an engaging cabin with Audi's Virtual Cockpit and other touch controls at the center of the driving experience.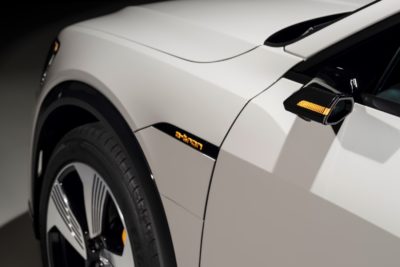 Audi also talked about practicality. While seating up to five is available, the e-tron has a cargo capacity of 28.5 cubic feet behind the rear seats. This space is expandable to 57 cubic feet with the rear seat down.
Currently, customers in the U.S.A. can reserve an e-tron for a $1,000 fee through Audi's website. Pricing starts at $74,800 with three trims to choose from, including an $86,700 First Edition. Deliveries should start in the 2nd quarter of 2019 and each Audi e-tron will be produced from their Brussels, Belgium facility.
In addition, Audi has teamed with Amazon Home Services to install charging units at customer's homes in the U.S.A. They have also partnered with Electrify America to provide 1,000 kWh of complimentary charging. For those of you that aren't too sure on the Audi or electric cars in general, there are articles specifically about Why You Should Invest in a Home EV Charging Station, and we feel like these might tempt you into being interested in an electric car. It would definitely be worth considering, as this is the only way forward for future travel by car, as diesel and petrol engines are not sustainable.
At present, no information was provided by Audi on the estimated maximum range and MPGe figures.
With just several months away, the full-battery electric SUV/crossover marketplace will expand to include new entrants from long-established European brands. Audi took a combination of familiar brand elements and advanced electric vehicle technology and created something customers might want to buy.