Quick – name the most prominent city located closest to the center of the country – meaning the core 48 states of the union? This is a city that has a metropolitan area spilling into two states.
Omaha is one guess. So is Kansas City. However, Kansas City is the correct answer for the purpose of this story. Perhaps you're even looking for day trips from Omaha, Kansas City is sure to be full of exciting activities to keep your day or weekend non-stop!
Any travel story about Kansas City would include the usual tourist spots and well-trodden locations. This will not be one of those stories. Let me explain.
A group of "car friends" – straight, but LGBT-friendly – had planned a road trip from the Twin Cities (i.e. Minneapolis-St. Paul) down to Kansas City for the past few years. I was sold on the idea of joining them this year. It was not required for me to drive in our convoy down and back. Maybe I should have…I will explain this a bit later.
As you probably guessed, Kansas City is mostly in Missouri with a companion city on the Kansas side. The metropolitan area spreads out over the two states with a network of suburbs surrounding it. The core of the city has been on a resurgence, while traditional parts of the city continue to flourish.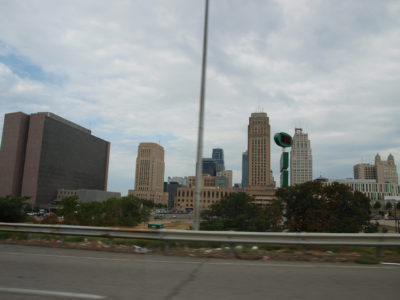 Granted, both Missouri and Kansas are not exactly friendly to LGBT citizens. Kansas City offers an oasis from the unfriendly folks of either state. For years, I have read that we tend to congregate around Westport – which is south of downtown Kansas City, Missouri. It appears that we might be all over the metropolitan area. One such evidence was a current primary win for Democratic Congressional hopeful Sharice Davis, who is not only a lesbian and of the Ho-Chunk nation. She also won in a district on the Kansas side currently held by a three-term Republican.
From an observation, it is a lovely city. A mix of leafy neighborhoods in the city and typical suburbia around it. We had a mix of both, but a bit of exurbia on our 24-hour excursion.
Our itinerary had an agenda. Our first goal was to reach what may be the northwesternmost Waffle House in this country in Liberty, Missouri. Other stops include a microbrew in the heart of the city, a Cars and Coffee south of the metro area, and a very popular Kansas City Barbeque joint.
According to Google Maps, it should take six-and-a-half hours from the Twin Cities to Kansas City. To ensure that we meet our agenda, we left our meeting spot in St. Paul at 2:30 AM. But, like most convoys, we had bathroom and gas stops. Never mind the fact that one of our cars wanted – no, needed – 93 octane fuel and there was another that drank gas no tomorrow. Oh, and we had walkie-talkies. You'd think we're in the 2000s still…
But, nonetheless, we made it to Waffle House. If you love that place, I understand why. I actually do. And, it's usually quite busy. I suppose that a Saturday morning would be a peak time for Waffle House and that we northerners became southern for a minute over waffles and coffee.
Our next stop was clear across the metro area into Kansas. The Stone Gate Motorplex south of Overland Park was home of the Cars and Coffee for the Kansas City area. It is a smaller garage condo complex with two main buildings – and that's it.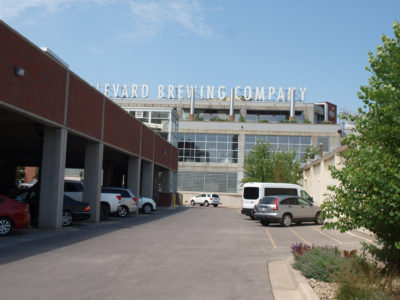 What it did have was a dirt autocross course out back of the garage condo complex. While there were some special automobiles on display, there were people sending their rally-ready Subarus and other similar cars onto the open field. My motorsports radar went off on the sound of a modified exhaust note.
Our third stop consisted of a craft brewery that is quite popular in the region. The Boulevard Brewing Company sits just southwest of downtown Kansas City in a neighborhood that has gone through some degree of gentrification. The place itself is a destination for various beers and some lite dining fare.
For the record, I did not pick this place. The rest of the crew are pretty much beer snobs. Unfortunately for them – I'm sober.
We waited a while for "lunch." Or, was it "brunch?" Maybe, dinner? But, the wait was worth it.
Joe's Kansas City Bar-B-Que is an institution in the area. There is always a line out the door to get in, but the food was superb. There are a few locations on the Kansas side, but the original – a former gas station in Kansas City, Kansas – is the one you want to go to.
Because we (well…I) wanted too long for food, my friends saw my hangriness and went across the way to get me a taco from an awesome spot across the street at Taco Republic. It was really good – and should go back there next time I'm in Kansas City.
Our last stop may seem quite silly. I do not understand why we had to stop at a Krispy Kreme in Kansas City, Kansas. They have one in the Des Moines area on the way back.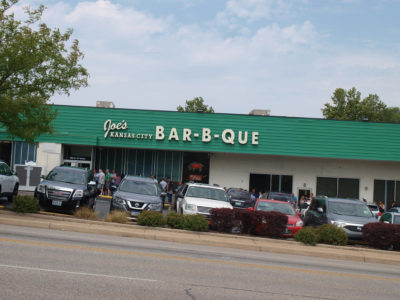 On some road trips, never question the majority. Just smile, nod, and take plenty of medication to calm you down. And, yes, eat something.
Considering where we have been, there is a lot that we were not able to get to. That list is quite long, starting with Union Station There was Country Club Plaza Also, there was the combination of the Negro Leagues Museum and the American Jazz Museum in the heart of the 18th and Vine neighborhood. For the travel and airline enthusiast, the Airline Museum was something we considered if we had more time.
Plus, there are a few LGBT spots to go to. Plus, they have a vibrant culture for us. Everything you need to know about LGBT Kansas City is wrapped up in their monthly Camp magazine as well as stopping by the Kansas City Center for Inclusion – located south of downtown Kansas City, Missouri in Westport.
Lessons learned on how to be a part of a road trip to a place you have never been before. Because they allowed me to only scratch the surface of Kansas City, there will be a next time. When? Who knows?