So, I was sitting in my office a few days ago, with my back to the window, when I received a call that my car was waiting outside. That's when I looked up and noticed an eerie orange glow on my wall. When I turned towards the window, it grew every more brilliant, nearly blinding me, until I was facing the 2018 Ford Mustang GT in full glory. Whoa, that's bright!
Beyond the Orange Fury Metallic Tri-Coat paint, the rest of the car is pretty brilliant too. This generation Mustang wears my favorite sheetmetal of any generation, perfectly balancing classic design cues with modern elements. Viewed in rearview mirrors, the car looks like it will eat you. Check the two-tiered lower splitter and "snake teeth" jaw lines that run from below the bumper, through the grille, and into the hood. Hood vents connect to the past. Edgy gray ground affects, deep side sculpting, dark 19" alloys, and sloping rear roofline pay homage to the past, present, and future. Its sexiest view may be the wide rump that's equal parts Porsche and classic Mustang with sequenced triple barrel taillamps. Big points for style!
As with the exterior, the interior references the past without living in it. The twin-cowl dash design and large analog gauges carry through, but are accented by faux machine turned aluminum between. The console is dominated by a large touchscreen with intuitive icons for audio, climate, navigation, and settings. There are also proper volume and tuning knobs below, as well as redundant buttons for the dual-zone automatic climate control. Even lower are toggles to adjust the steering feel (Normal, Sport, Comfort) and driving modes (Normal, Sport, Track, Dragstrip, Snow). Configure the steering, throttle, and suspension from all-day comfortable to track-ready aggressive. Settle into the supportive Recaro sport seats, adjust the ambient lighting color, and get at it.
Base Mustangs run with a 2.3-liter turbocharged four-cylinder engine delivering 310 horsepower, but 5.0 badges on the fenders and a quick blip of the throttle tell you this is no base Mustang. Our GT gallops forth with a 5.0-liter V8 bellowing out 460 horsepower and 420 lb.-ft. of torque through a six-speed manual transmission. Every day will be leg day with the stiff clutch, but the shifter feels precisely mechanical. Fuel economy of 15/25-MPG city/highway seems frugal for a fully-stoked pony car.
Mustangs have always had powerful V8 engines, but the chassis was rarely up to the challenge of channeling all of the power to pavement without untoward drama. Ford made excuses for years about why it couldn't (or wouldn't) trash the solid rear axle and install a modern independent suspension. Now, it seems the engineers are saying, "You want a world-class suspension? Fine, take this!" And, they delivered.
This generation's independent suspension already challenged Audi for ride smoothness and handling, but adding Magne-Ride Damping, similar to systems used by Corvette/Cadillac that adjusts firmness electronically and continuously, creates a near-magical experience. Fly over rough pavement and the chassis just deals with it. Add in the drive and steering modes, and you have a car that can change character with the flip of switches. For Mustang aficionados, it's revolution.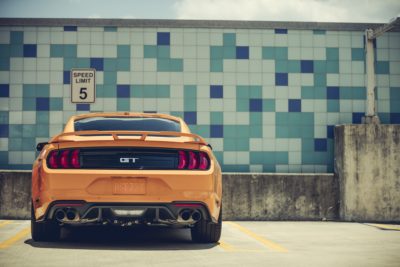 It's not all happy pony town, but the gripes are minor. Hard plastic door panels on any car above $20,000 is a big chintzy, and there are a lot of ugly vibrations with the stereo even moderately cranked. Above a certain price point, heated seats and steering wheels should also come standard. I'm also not sure I'd want to work that clutch during daily commuting for years on-end, but it's perfect for long weekend trips and quick dragstrip rips. One must remember it is a Mustang GT, not an Explorer.
Ford gave us several generations of Mustangs that were powerful and stylish, but should have embarrassed large teams of people for allowing abysmal quality and refinement. That's now all in the past. Designers and powertrain engineers delivered an expected virtuoso performances, but this is finally a car that makes no apologies for ride or handling. Crack the sinister exhaust and your brain will levitate.
You can buy a base Mustang for $26,120, and you'd like it, but go ahead and spend $45,885 to get our brilliant 5.0 GT. Competitors include the Chevy Camaro SS, Dodge Challenger SRT, and Audi S5.
Storm Forward!
Send comments to Casey at [email protected]; follow him on YouTube @AutoCasey.
2018 Ford Mustang GT
Four-passenger, RWD Coupe
Powertrain: 5.0-liter V8, 6-spd manual trans
Output: 460hp/420 lb.-ft. torque
Suspension f/r: elect. Ind/Ind
Wheels f/r: 19"/19" alloy
Brakes f/r: disc/disc
Must-have features: Style, Performance
Fuel economy: 15/25 mpg city/hwy
Assembly: Flat Rock, MI
Base/As-tested price: $26,120/$45,885