How do we fulfill our enthusiasm for the automobile?
There are really two choices. One, you can work on your vehicle for it to "strike a pose" at the local car meet or on the car show circuit. Or, just drive the vehicle you love.
Automobiles are meant to be driven, right? That is what they have been made for. It makes sense to enjoy it while discovering new roads or revisiting familiar ones on a nice, leisurely drive.
There are further choices to make here. You can either go on a solo cruise with some destination in mind. Or, get a group of your friends and their rides – and go for a cruise together.
This past weekend, I participated in the latter. I did so with some fellow LGBT enthusiasts. Sounds like a splendid time, right?
It has been one of my quests to connect with other LGBT automotive enthusiasts whether through established clubs and events or in informal settings. This cruise was organized by a group of local enthusiasts who wanted to close out the "car year" here in Minnesota. Keep in mind that we Minnesotans tend to garage our finest rides during the winter months and wait until spring to take them out again.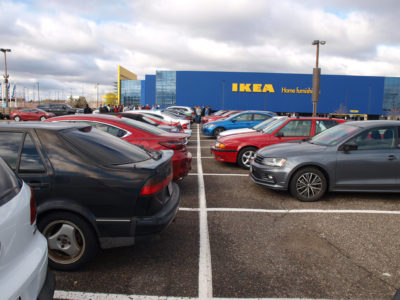 To a point, we tend to be almost like our heterosexual counterparts when it comes to our beloved automobiles. The 40-or-so vehicle lineup for the cruise consisted of everything from a Kia Rio to a Tesla Model S and a slew of BMWs. Some of the out-of-towners brought their rental vehicles, including a Chevrolet Suburban. These out-of-towners came from across state lines and as far as San Diego and Baltimore.
It appears that I may have the right ride for this occasion. That weekend, I was working with a 2018 Mazda6 Signature for another publication. It was not only good looking on the outside and posh inside, but I also had the 2.5-liter SKYACTIV-G Turbo underneath its hood – all 250-horsepower worth (on Premium fuel, that is).
After all, the myth of the turbocharger states that cooler weather means better spooling.
Our group got together at the IKEA across from the Mall of America. From there, we sprinted to the Wisconsin side of the Mississippi River to regroup for photos and further instructions on our route. We had two options – either stay on the Wisconsin side for a series of twisty roads or a rural route back on the Minnesota side, which includes one of the state's best driving roads.
At this point, we split up into smaller groups. Our particular three-car-pack took on the roads on the Wisconsin side, first. This was the right decision, as the roads were very spectacular even with not the best tarmac for these twisties.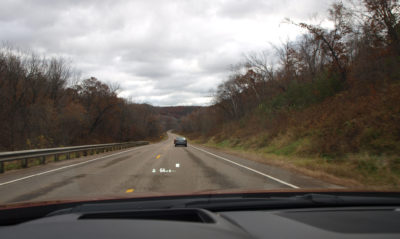 Pierce County in Wisconsin offers some of the most exciting roads in the western part of the state. While they cut through the bluffs, there is no shoulder to pull over – just two lanes and a series of right- and left-hand turns. Our reward for this leg is a crossing over the Mississippi River to Red Wing, Minnesota.
Our lunch stop in Red Wing was a respite from a morning of solid driving. It gave us a chance to connect with new people and reconnect with our friends.
The second leg involved a mix of rural driving and a run through one of the best roads in Minnesota – Goodhue County Highway 7. Also known as Welch Village Road, this twisty stretch runs through a couple of villages with a hub for innertube rafting popular with a certain group of gay/bisexual men. I heard those guys are still innertubing after all these years.
Our ultimate stop was a potluck at a fellow enthusiast's apartment building in St. Paul. It was a way to wind down, eat, drink, and reconnect again. It would cap a wonderful day with these fellow LGBT automotive enthusiasts.
Just like our heterosexual counterparts, we enjoy the camaraderie of fellow automotive enthusiasts. No matter which vehicles we drive, this sense of community is welcomed in the most informal of settings. It also proves that there is still a current of enthusiasts of all stripes who will come together with common ground and a shared love of the automobile.
But, how do you find these fellow LGBT automotive enthusiasts? One such resource is the Lambda Car Club International – a nationwide network of 32 active regions across the U.S.A. with over 1,800 members of all stripes. Another is a search of groups on the internet and social media with like-minded people that are easily relatable and share the same interests as you.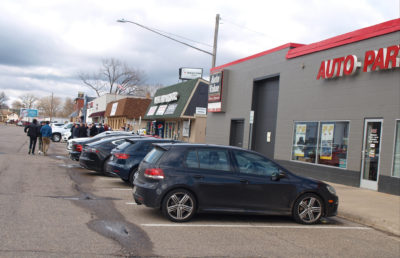 Once you find your automotive tribe, the fun begins. Literally and figuratively.
Yet, the old question comes up on whether we do need our own spaces that are safe, distinctive, and LGBT-centered? We would prefer to be with our own people, but what if we do not find them? How do we navigate through a car culture that can be sometimes unwelcoming to our people?
Thanks to the Internet and social media, we can find our tribes of automotive enthusiasts. We can enjoy these celebrations of our enthusiasm with people inside our community. And, we will find our friends, allies, leaders, and – above all – common ground.
In the end, you can enjoy a Sunday drive with your friends – and their rides.