Leading the pack in the Best Large SUV categorythis year is the 2018 Ford Expedition, according to U.S. News and World Report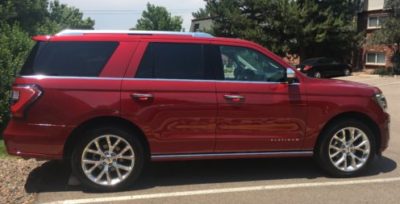 I like what they have to say because they aren't just speaking their minds, they are compiling the opinions from top journalists from the around the web. I think it's a sign of great journalism when you are confident enough in your own work that you can quote someone else's work as example of how good work is done (which is why I have my own team of experts, which includes USNAWR). If they feel it's a great car, I feel it's a great car, but admittedly, the 2018 Ford Expedition really is a great truck, even though it really is an SUV.
But let me frank, the Ford Expedition is a big big big vehicle. This is not a petite flower, no matter how you slice it, and if you think you can handle it and take it all in one shot, you are seriously mistaken. Even after years of practice, I still must do a warmup, build up my confidence, get myself psyched and then turnover (the ignition). Driving this beast requires a steady hand, regular breathing, no gasping, preparation and a very careful exit plan once you are parked and done having a good time. If you aren't careful, you will injure yourself and possibly wind up at an urgent care clinic with muscle spasms that could have been avoided. Even if this happens though, you definitely won't do it again, especially when you have experienced the pain of muscle spasms that only something similar to the best CBD brand in the UK or the US can control. So, caution is key when it comes to driving this car (or any car for that matter). It looks big and it is big, but if prepared, the joy is to be had by you and all your friends because the Expedition really can go all weekend long.
So you may be asking yourself: Why would anyone need a vehicle this big? If you have a big family, as in more than three children and you have large pets, or you are transporting extending family members a lot, then, yeah, you need a large vehicle like this, but only if you have a house and room to park it. While a garage for something this large would be nice, you can park it outside and never have to brush the snow off it; this beast will drive over any snow and ice, no matter how deep or wide. It comes standard with a twin-turbo V6 3.5-liter engine that just kicks it no matter what kind of mess you find yourself in. And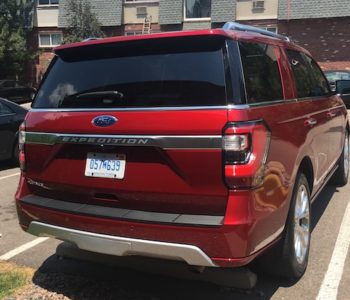 let's say your friends or family find themselves in a mess: best-in-class towing is all part of this user-friendly Expedition. Yeah, it ain't cheap, starting at over $51K. If, after three children, you are only now considering that maybe you should start watching your pennies, you should have started talking to a family planner a long time ago.
As a free and wild single gay male, I would have no practical use for a Ford Expedition on a month-to-month basis, but that doesn't mean that I can't fall in love with it. In fact, I often fall in love with the big boys that capture my heart, take me on a wild ride and leave me breathless and prove to me what a great father they would be….
… and I usually try to get out before I am completely out of cash.
Photos courtesy of Dave Bear