Some of us are lucky to be a part of activities that benefit our work.
These activities may range from media preview drives, world premieres of future vehicles, auto show press days, and media association events. They require some travel, nights in hotels alone, presentations, and other banter with colleagues and manufacturer representatives.
I am lucky to be a member of two media associations in the U.S.A. – the Midwest Automotive Media Association (MAMA) and the Washington Automotive Press Association (WAPA). My membership with the former has stretched for six years now and is based closer to where I live and work.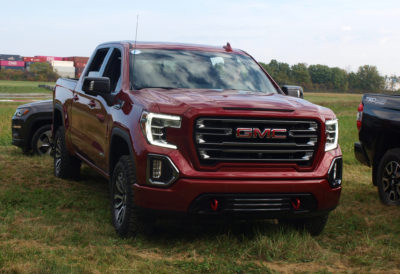 Every year, MAMA hosted various drive events at motorsports venues. Every spring, we are at Road America in Elkhart Lake, Wisconsin for two days of driving on the track, in the countryside, off-road, and on a karting course. In the fall, we switch to the Autobahn Country Club in Joliet, Illinois – a combination of road courses and two small off-road courses, along with some impressive private garages on site.
The MAMA Fall Rally (#MAMA18FR) is a smaller, more concentrated event for us media members. We can drive selected vehicles between a 1.5-mile road course, the roads around the property near the Intermodal Terminal, and two off-road courses inside of the road course. Total, we had 73 vehicles available for us to drive – ranging from the Nissan Kicks and Chevrolet Volt to the Maserati Levante GTS and Mercedes-AMG GT-R. At last count, there were 82 members of MAMA on hand for the experience.
During our time, two vehicles were highlighted for MAMA's members at the Fall Rally. One, was the new 2019 Lexus ES, with its sharper styling, based on a new platform. Powerplant updates, along with advances in technology and design over the outgoing model were highlighted.
Perhaps the biggest emphasis was on the introduction of the first-ever ES 350 F Sport – a trim level never seen on one of the original Lexus models. The F Sport version of the ES exploits the new platform by expanding its performance and driving dynamics to include a firm, but balanced ride in Sport S+ mode. Not to mention a more driver-focused environment seen on other F Sport models, now available on the 2019 ES.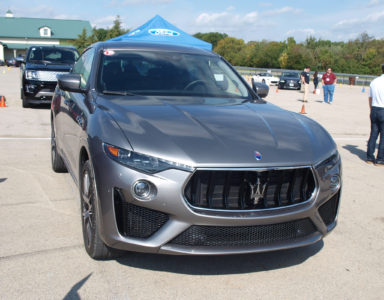 The other model highlighted at the MAMA Fall Rally was the 2019 Maserati Levante. This year, the luxury crossover/SUV gets a version of the Ferrari-built 3.8-liter twin-turbocharged V8. The GTS gets one version with 550 horsepower on tap, while the Trofeo version gets a bigger bump to 590 horsepower, capable of a 0-60 MPH sprint in 3.7 seconds.
I had the chance to drive the Levante GTS and found it to be a vastly improved vehicle overall. If one did not put it into Sport mode, the vehicle would be "tame" yet wanting to be uncaged. To unleash the fury of the twin-turbo V6, put it into Sport and the exhaust note will tell that it's "go time."
Plus, I found major leaps in quality inside of the Levante. The transmission lever was redesigned, along with several enhancements throughout the cabin. In all, one can now justify the purchase of a Levante without having to spend at least double the money on something more exclusive and of a higher pedigree – namely the Bentley Bentayga, Rolls-Royce Cullinan, and Lamborghini Urus.
In the off-road course section, I sampled two pickup trucks while riding around in a third. The 2019 GMC Sierra AT4 stands as an answer to the Ford F-150 Raptor, Ram 1500 Rebel, Toyota Tundra TRD Pro, and Nissan Titan PRO-4X. Chevrolet also offers a Trail Boss version on their 2019 Silverado 1500.
While the Raptor and Rebel offered more stability in uneven situations, the Sierra AT4 felt like it was all over the terrain. There was a lot of later pitching when taken to the limit in tight sections, yet it all smoothed out on the two-track run of the open section of the course.
In comparison, the 2019 Ram 1500 Rebel was much better in all sections of the course. The suspension has a high degree of stability built into ensuring a quick run through the back roads. The experience was further enhanced by its 5.7-liter V8 that pulls extremely nicely.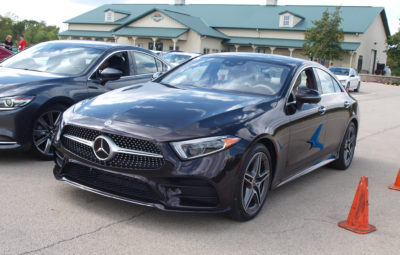 Most of my time was spent outside of Autobahn on the "street course." There I found the new 2019 Mercedes-Benz CLS 450 4MATIC coupe to be a more balanced and exemplary car than before. The new 3.0-liter in-line six-cylinder with the light-hybrid EQ Boost system told the tale of something that had been missing in Mercedes-Benz models for decades – proper performance balance without anyone at AMG handcrafting it.
One flip side of the new Mercedes-Benz CLS coupe was its cabin size. Someone of my size (a tall, larger framed person) would have to negotiate a space behind the wheel to operate and enjoy this third generation four-door coupe. One colleague described the new CLS as a very tailored suit fitted onto an E-Class.
There were plenty of other vehicles driven on the street course. Sadly, I was unable to take to the 1.5-mile twisty course for a lead-follow session. I can tell you that some of the coolest rides available to the media members had plenty of laps under their belts.
Just to mention a few vehicles on here help to understand why these events are important to those of us working in this business. It also helps to tell their stories when necessary, GayWheels' own team of vehicle reviewers have access to their vehicles to work with – expect some deeper evaluations to come.
Even with warm temperatures with blustery winds making things challenging for us, the MAMA Fall Rally gives us an opportunity to test an assortment of vehicles on varying conditions. It is always something we look forward to delivering to you.