The Audi A3 is a fine little car, looking handsome in its German suite as it spoils passengers in comfy cabins and glides over all forms of roads. It's nice, but is a bit pricey for what it is. So, what if you could get most of what makes A3 owners giddy with a big discount? What if it came from Kia? Completely redesigned for 2019, the Forte is a pretty convincing alternative – fortified with considerable luxury, safety, and powertrain options. Let's go for a drive.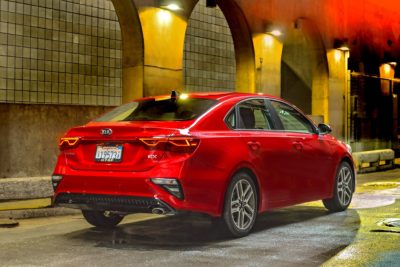 I'd like to say the Forte looks like a downsized Stinger, but looks handsome in its Euro sheetmetal, penned under former Audi designer Peter Schreyer. Up front, are LED taillamps with quad driving lamps that echo those on modern Porsches. Kia's trademark tiger tooth grille, black lower facia, and straked accents around the foglamps add attitude. The side profile is more conservative, but looks handsome over 17" AMG-style alloy wheels. Around back, LED taillamps and black diffuser-look lower bumper continue hints of performance.
Audi interiors are exquisite, but there are several $40,000 cars that would do better with the Forte's interior. Stitched dash coverings and piano black trim on the dash and around controls adds class. Most of the dash and doors are soft touch (we'll forgive hard plastic on rear doors). A perfectly-sized leather-wrapped steering wheel and leatherette seats, heated and ventilated up front, encourage engaging drives.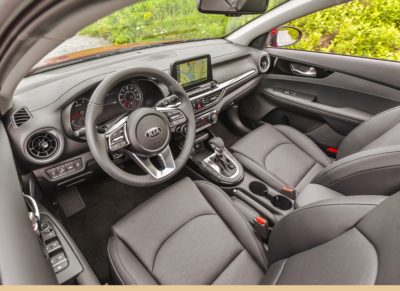 Go deeper to discover all the interior offers. Kia's 8" touchscreen is easy to swipe and controls the Harman Kardon audio system and navigation. Mobile devices are integrated with Bluetooth, Apple CarPlay, Android Auto, and a wireless charger in the console. Dual zone automatic climate control with rear vents and power sunroof keep everybody comfy. There's also a full suite of crash avoidance systems that includes adaptive cruise, forward collision alert with auto crash mitigation, blind spot warning, lane keep assist, and rear cross path detection.
Scooting this baby luxury sedan is a 2.0-liter four-cylinder engine delivering 147 horsepower and 132 lb.-ft. of torque. Power is routed to the front wheels through a continuously-variable transmission, but a drive mode selector lets pilots amp up the throttle sensitivity and shifting aggression for a more spirited experience. Drivers can also put the CVT in manual mode to shift through pre-set gear ratios that imitate a proper manual transmission. Advantages of the CVT are fuel economy ratings of 30/40-MPG city/highway.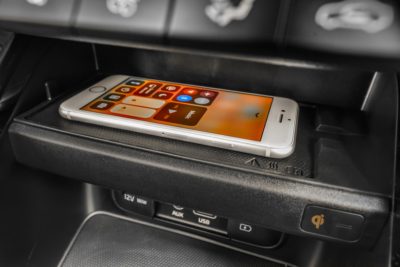 Performance and handling are not quite up to Audi standards, but they're close. Without turbos, nobody will get giddy over the powertrain, but it is plenty to keep this little front-drive sedan from embarrassing itself getting down the road. Combine that with a tight suspension and steering, plus a body structure that squashes squeaks, creaks, and rattles, and the Forte feels more like a VW Jetta or A3 than a value-priced compact.
The Kia Forte is not quite an Audi, but is a surprisingly desirable car without the big brand mark-up. It is ready for commuting or a spirited romp down your favorite two-lanes on weekends. Even better, it looks handsome with a fully stocked cabin. While an Audi A3 starts at $31,950, the Forte begins at just $17,690, rising to $26,515 with all the trimmings.
Storm Forward!
Send comments to Casey at AutoCasey@aol.com; follow him on YouTube @AutoCasey.
2019 Kia Forte EX
Five-passenger, FWD Sedan
Powertrain: 2.0-liter I4, CVT
Output: 147hp/132 lb.-ft. torque
Suspension f/r: elect Ind/Torsion beam
Wheels f/r: 17"/17" alloy
Brakes f/r: disc/disc
Must-have features: Style, Luxury
Fuel economy: 30/40 mpg city/hwy
Assembly: Pesqueria, Mexico
Base/As-tested price: $17,690/$26,515