I will admit, I have had difficulty writing about cars during the coronavirus pandemic.
Dealerships are closed, 2020 inventory is drying up, manufacturers are (kindly) shifting gears to make ventilators and Personal Protective Equipment…… It's a rough world out there.
Should you even be thinking about buying a new car right now?
Some of you may not have a choice because you need a new car. Now. So if you do need to buy, it will need to be done totally online. That said, if you are shopping, a favorite to always consider is a Honda. And one Honda to always consider is the ever-popular midsized-SUV: the 2020 Honda Pilot.
I like the 2020 Honda Pilot. It's been on the American market for several years now, and if you are looking for a solid SUV that's not too big and not too small, this one fits the bill. Honda knows how to build cars well, and the Pilot is indeed one that can meet your needs, though in some really tight parking spaces in the city (do those really exist anymore?) it still could be a bit challenging.
The base price is $31,650 and that will get you mileage of 20 city / 27 highway. It is a three-seater, so to speaker, so you can (in theory) get seven to eight normal-sized people in the car. For your getting around town (which we all will be doing again soon, I hope), this could be just what you need. I do feel this is a car worth checking out, especially the all-new all-black edition pictured here. It really is sleek, and if you can get your hands one, go for it.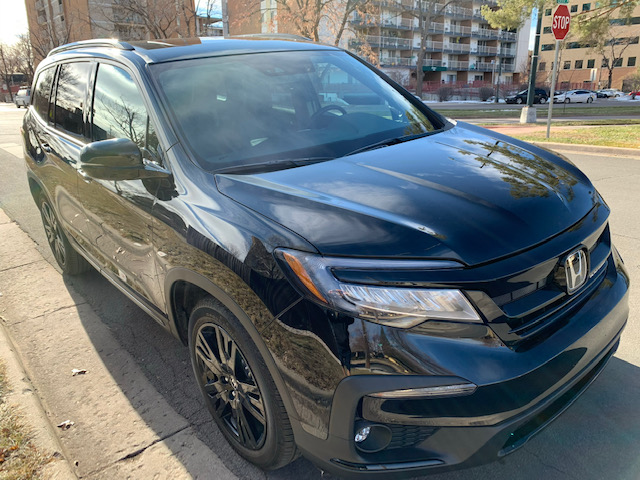 If you're looking for comfort and space inside the cabin, this is your car. There is a hint of luxury, but only a hint, since that's not really what the Pilot is all about. Instead, the Pilot is a workhorse (sorta) with a lot of fun (yes) mixed in with a lot of practicality (definitely). Which really describes most of us, no matter how hard we try to put ourselves into a box, just like we try to put the cats we just adopted into a box.
The 2020 Honda Pilot may be just what you need to get you through the years of uncertainty ahead.
As always, shop carefully – especially now that, for the most part, it must all be done online. And, as always, do your research, but know that when it comes to LGBTQ+, Honda has been there for us.
But brace yourselves, as Maggie Smith, portraying the Reverend Mother in Sister Act warned her fellow nuns as they charged through a Reno casino looking for an always-in-danger Sister Mary Clarence (Whoopi Goldberg).
This will be a long journey, even when the salons fully reopen.
(Editor's note: The 2020 Honda Pilot was test-driven before the stay-at-home orders were put into place.)