LGBT automotive enthusiasts are indeed a reflection of our community at large. Indeed, we are the most diverse culture in American society – encompassing race, age, gender, identity, body type, physical and mental capacity, and so forth. We are also equally diverse in the kind of vehicles we are enthusiastic about.
If you scan the social media channels of your fellow LGBT brothers and sisters, you will find a garden variety of vehicular pursuits. We range from having the most bourgeois rides to vehicles that simply have to go from home to work, school, and other essential travel.
How often do you find an LGBT person with a muscle car? We're talking a real one from an era where performance ruled everything – the 1960s.
There are a few of us who have these great pieces of automotive history. A time caught in-between World War II and the imposition of regulations for safety, emissions, and the measurement of performance.
We found someone who had one of these icons of automotive history. And, he has a story to tell.
Earl Moore of Minneapolis acquired his 1969 Chevrolet Camaro SS in 2016 from a classic car dealer in Mankato, Minnesota. From what we gathered from the website of his ride-along business he launched recently, the Camaro is equipped with a 383 cubic-inch stroker engine that spews 432 horsepower and puts down 472 pound-feet of torque. It is matched to a five-speed Tremec manual transmission that replaced a Muncie four-speed with a bad second gear.
Moore had the entire car renovated with a new frame, lots of body work, new instrumentation, new suspension, new interior, and new Wilwood disc brakes all around. This is finished off with some chrome American Racing five-spoke wheels, Nitto tires, and a newly installed JVC console-mounted audio system.
The Camaro was a labor of love for Moore, but he had help in the process as a novice in rebuilding automobiles. "I had a couple of Sherpas," Moore explained, "some old muscle car guys. All these guys do on weekends is work on muscle cars.
"Tony Theiss is the main mechanic. He's been doing these cars for decades. And his protege is the kid that grew up in [the garage], now in his 30s, Skip."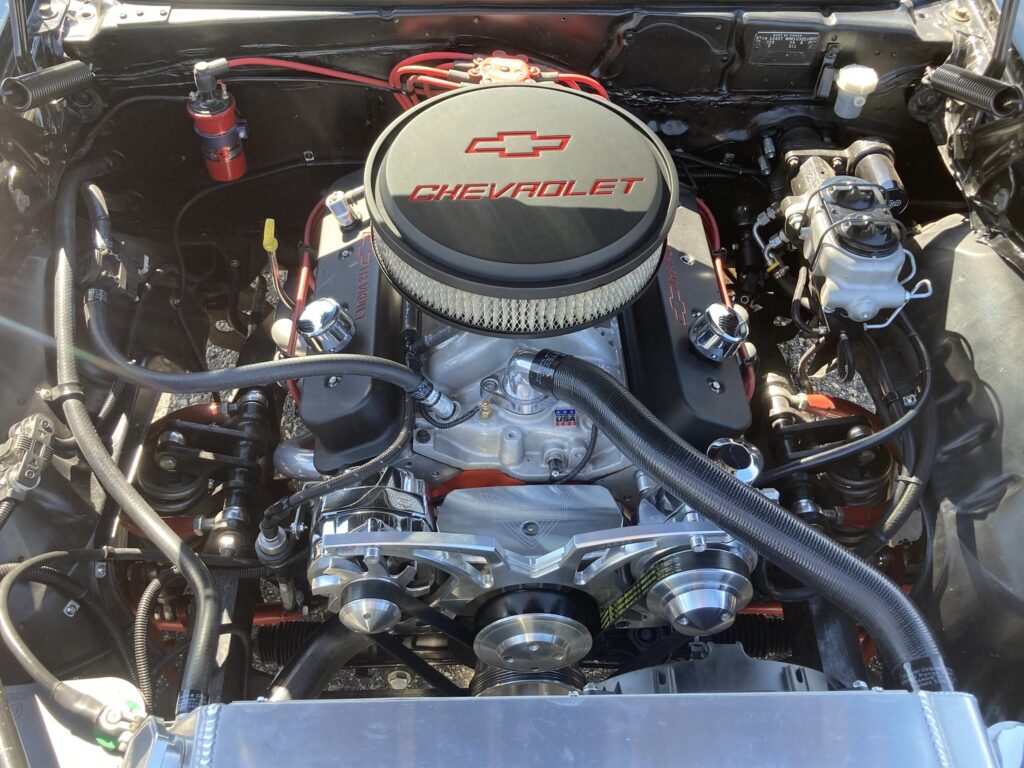 "I ran into Skip a couple of years ago," Moore continued, "just wanting him to look over the car. And after finding some really severe flaws with the frame and a lot of the mechanics, we decided to do a re-build. I dropped the car off at Skip's place last July and we started."
Every weekend for months and months," Moore explained, "I went down to New Prague, just under an hour South of the cities. And, we worked on the car."
The result is a collaboration where Moore, Theiss, and Skip renovated the car to modern standards. "They were guiding the whole way," Moore explained, "handing me tools, explaining to me what we were doing, why we were doing it, the extent to which we needed to do it and why, and kind of encouraging me this whole journey."
In the process, Moore had suspected that his collaborators knew of his sexual orientation. "You start talking about family and what's going on in your life and what you do at your day job," explained Moore. "And, so, it occurred to me that these guys have probably figured out that I was gay, but I wasn't sure."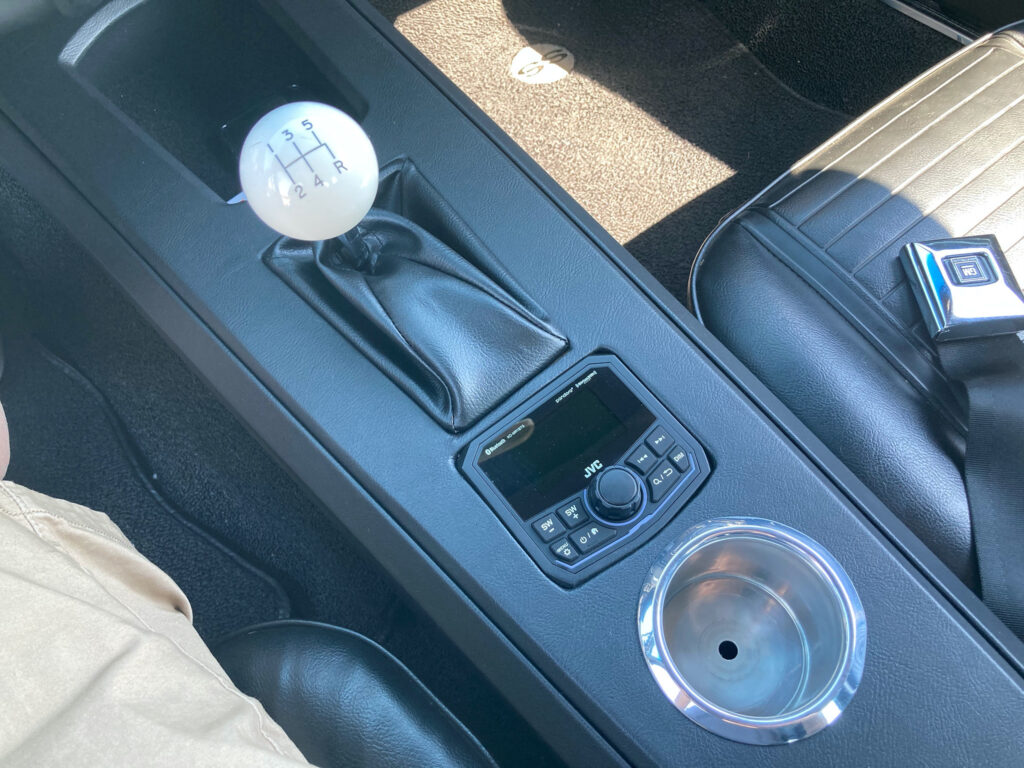 Moore continued: "So, this one day, I just got brave and I asked Skip if I was the first gay guy that had ever been in the shop and he laughed and said, 'Yes.' I think he was a little surprised that I asked, but he also seemed thankful that I brought the topic up so he could answer. And he brought Tony over and wanted me to ask him the same question.
"So," Moore said, "clearly those two had been talking about it. And they confirmed, yeah, I was the first gay person that they've ever actually known in real life. Within two or three months of meeting them, that opened a month's long Saturday dialogue about what it means to be different."
"These folks and I are politically very different, to put it mildly," said Moore. "These topics can be safely discussed in that shop without people losing their cool."
While talking about working with collaborators with divergent ideologies and lifestyles, it brought up another related issue we as LGBT automotive enthusiasts face – finding common ground within the community.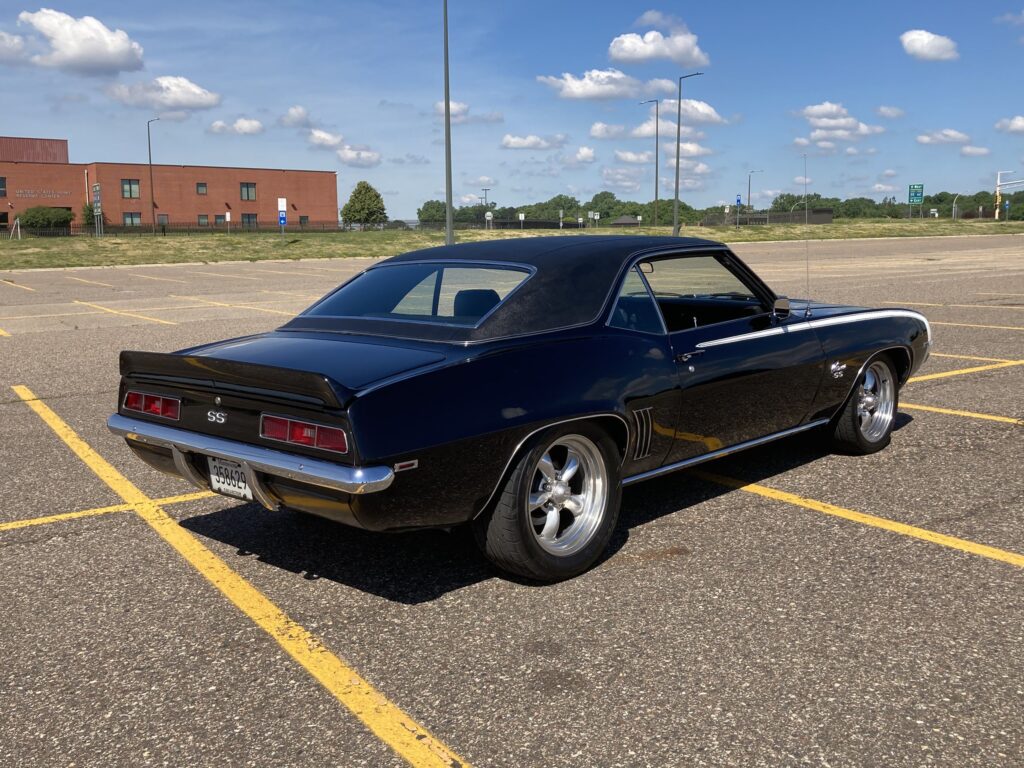 "[In] the realm of classic cars," explained Moore, "and I think muscle cars in particular, is very, what I would call, oriented to heteronormative people and kind of a closed community of people that don't always present as open-minded, to put it kindly. And it's also one of those things that are typically viewed as hyper-masculine, right? So there is a barrier that I've had as a gay man with anything that looks like that. Being in a muscle car and moving amongst the people in this world, I'm like a fish out of water.",
"But having grown up into the person who I am," continued Moore, "I'm more and more willing to give that a try. So, what I've learned is I still have a ways to go."
What was next for Moore was a bold move to include his car in last year's Twin Cities Pride parade with the Great Northern Region of the Lambda Car Club. He has been a member of the region and was looking forward to driving his 1969 Camaro SS in this year's parade, before it was cancelled due to the COVID-19 pandemic.
In the meantime, Moore has set up a business, called Classic Car Ride Alongs, to give people rides in his 1969 Camaro SS. If you're in the Twin Cities and have never ridden in a classic first-generation Chevrolet Camaro with a stroker engione, you will be in for a treat. It might just sway you to become another LGBT person owning a classic muscle/pony car of your own.